Sygic GPS navigation apps users in Poland can rely on Real-Time Traffic information provided by CE-Traffic. Combined with the Sygic app the Real-Time Traffic service is the perfect tool to view the situation on the road ahead, and adjust plans accordingly to save valuable time.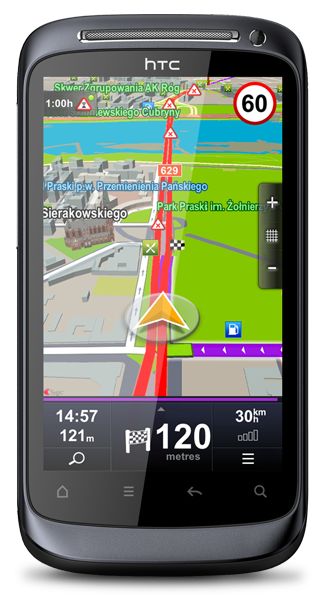 Unlike radio broadcasts, which only report traffic news at scheduled times, Sygic Real-Time traffic is constantly updated about heavy traffic flows, construction work sites, serious traffic accidents, and other situations that may cause a delay in your travels.
Integrated into the Sygic application, this on-line service saves users from long traffic delays by suggesting alternative routes. Sygic apps also notify drivers about the location of speed cameras and railway crossings, as well as of changes in speed limits for added safety.
"Sygic navigation with Real-Time Traffic is continuously updated about the situation on the road ahead and alerts motorists to traffic-causing delays and when to seek alternative route," said Jiří Novobilský, CEO of CE-Traffic, the company that counts Google among its customers. "With Real-Time Traffic information in Sygic apps, motorist in Poland can rely on the most accurate traffic data available." Real-Time Traffic is available as an add-on feature for Sygic navigation applications running on the major mobile platforms including the iOS, Android and Symbian. The 12-month subscription to Real-Time Traffic service Poland can be purchased at Sygic e-shop www.sygic.com for 9.99 EUR
Media contact: Simona Parnicka, sparnicka@sygic­.com
About Sygic: www.sygic.com
At Sygic we develop and sell turn-by-turn voice guided GPS navigation for a wide range of mobile devices. Our software is delivered worldwide in more than 30 languages. We are working together with map industry leaders for supreme mapping support. Our customers are considered a part of Sygic development family. We listen and respond to suggestions about application and ideas for features from our customers, to create the best product possible.
In 2010, Sygic was acknowledged as the 4th fastest growing IT Company in Central and Eastern Europe by Deloitte, based on business results from previous five years.¨

CE-Traffic, a.s. was founded in 2008 and is a provider of traffic flow information services in the region of Central Eastern Europe. CE-Traffic currently operates traffic systems in Poland, Czech Republic and Slovakia. More information on www.ce-traffic.com.