Features
Sygic Fleet Navigation is an efficient solution for professional use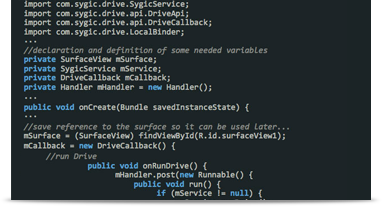 Easy SDK integration
With its comprehensive set of API functions,
Sygic Fleet Navigation can be easily integrated into any fleet
and workforce mobility solution.
Try Sygic SDK
---
Truck navigation with a set of truckrelated road attributes
Customize the route calculation by setting the maximum truck length, height, width, weight, hazardous materials restrictions, etc.
into the navigation system and avoid unsuitable roads.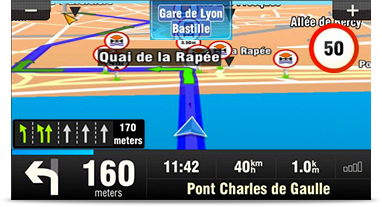 ---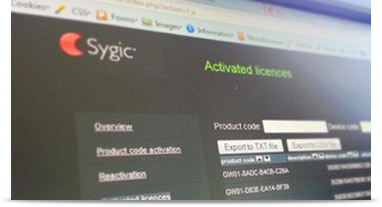 Volume licensing
Deploy navigation solution to the whole fleet, using a set of tools
and API function calls designed for volume licensing.
---
Special pre-planned routing
Design exact routes for your drivers to follow with Route designer. Best suits waste collection, newspaper distribution, road cleaning
and other businesses.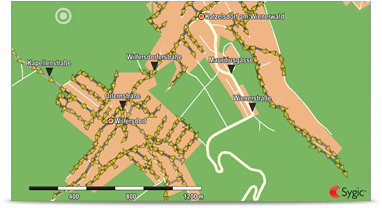 ---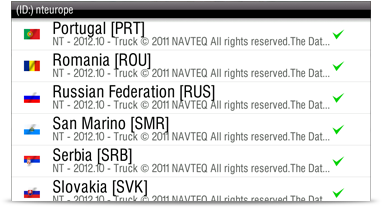 Comfortable delivery of map updates
Sygic Update Assistant is a powerful tool that enables users to update their maps or make additional map purchases quickly and comfortably from their home.
Learn more
---
Android,
Windows Mobile
Linux,
Windows CE, XP
In case you need more than 30 licenses, please contact our sales
---
Details
Maps

Sygic Fleet Navigation comes with the latest maps from premium global and local providers

Languages

User interface and voice guidance are available in 36 languages.

Arabic
Bulgarian
Croatian
Czech
Danish
Dutch
English UK
English US
Estonian
Finish
French
German
Greek

Hebrew
Hungarian
Chinese – simplified
Chinese – traditional HKG
Chinese – traditional TWN
Indonesian
Italian
Kurdish
Latvian
Lithuanian
Malay
Norwegian
Polish

Portuguese BR
Portuguese PT
Romanian
Russian
Serbian
Slovak
Slovenian
Spanish
Swedish
Thai
Turkish

Compatibility

Sygic Fleet Navigation can run on any fleet and logistics hardware that meets following system requirements:

| | | |
| --- | --- | --- |
| | Sygic Fleet Navigation | Sygic 3D Navigation |

Device memory
min 128 MB memory
min 512 MB memory
Storage
map stored on SD card
map stored on SD card
Supported processors
ARM, x86, x64, min 600 MHz
ARM, min 1GHz
3D chip
not required
PowerVR SGX, Adreno 200, or OpenGL ES 1.1, 2.0 compatible
Screen resolution
min 240x240,
up to 1024x768
min 480x320
Supported platforms
Windows CE, Windows Mobile, Windows XP,
Android, Linux
Android
Programming
languages for SDK
C#, C++, .NET, Visual Studio, Java
Java
---
Solutions place
Take an inside look into how the integration of Sygic Fleet Navigation enhanced
fleet efficiency for our clients across a diversified portfolio of industries.
AIS Advanced Infodata Systems GmbH

Founded in 1997, AIS GmbH is one of the market leaders in professional...

View full story

NEC Australia
Pty Ltd

NEC Australia is a leading technology company that delivers a complete...

View full story

TouchStar
Technologies Ltd

TouchStar Technologies Ltd has been supplying Mobile Computing solutions to...

View full story
Telecetera Ltd

Telecetera is a SMART mobile IT solution supplier with over 20 years industry...

View full story

FiveCubits Inc.

FiveCubits has been the leading bulk material supply chain solutions company for...

View full story

Vehco

Vehco Group specializes in the development, production and distribution of Fleet...

View full story
Become our partner and form Sygic Fleet Navigation
Sygic Fleet Navigation offers a wide range of solutions for your business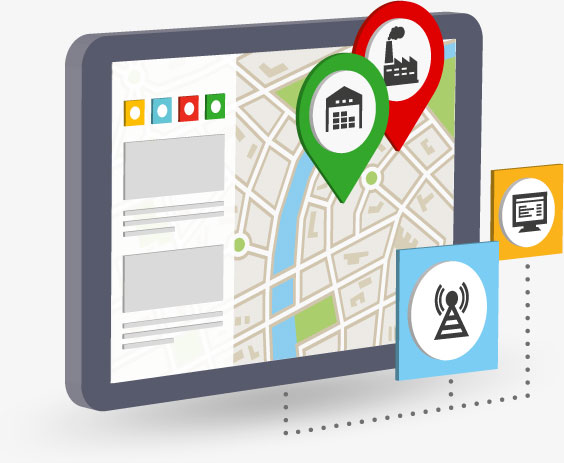 Customized solutions for your business
We can prepare a custom package with maps
and resources according to your needs
SDK for your own Sygic powered solutions
Sygic Fleet Navigation with SDK offers over 60 easy-to-use
API functions to help you create customized solutions
based on the individual needs of your customers.
High flexibility to comply various requirements
Sygic Fleet Navigation software is compatible with a wide range
of devices, from the basic to the most demanding.
Add your own data into our solution
To our partners we offer the unique option
to add content to our navigation.
You can add POIs to our Sygic GPS Navigation app
to promote your branches or add special POIs
for your Sygic Fleet Navigation solution.
Contact us
" Sygic has been the first choice for the Vehco Group in recent years. "
Ted Berggren, Vehco, vehicle communications
With each business product you will also get:
Comfortable delivery of map updates


Your customers can get the latest maps with our Sygic Update Assistant.

Professional support


Our dedicated support team is ready to help you configure our products for your device or integrate our SDK.
Contact us
Questions and answers
1
What is the minimum order quantity when contacting sales?
For integrators developing fleet management solutions, with Sygic Fleet SDK the minimum order quantity is 30 licenses.
For resellers the minimum order quantity is 500 licenses.
2
Pricing options, what is included?
The price includes navigation and chosen map. Additional features as truck attributes are available for additional fee.
Please,
contact our sales representative to get a quote.
3
How often are updates provided and at what cost?
Map update frequency depends on region, on average we deliver updates twice per year. You can choose to pre-purchase updates, or to
purchase updates later.
4
How is the license activated?
The license is always bound to the hardware – using some of the IDs available on the device (SD card, MAC address, IMEI, etc). Mass activation of licenses and remote activation is available. Our partners get analysis and solutions for mass activation
from our customer project managers.
---
Other professional products