If you are taking care of a fleet of vehicles, last few years you were talking mostly about cutting cost, growing productivity and improving operative efficiency. Well, welcome to 2014 and guess what?
According to recent survey on fleet-wide trends conducted by Automotive Fleet, a large number of fleet managers are reporting they are given a precise savings goal factored into their annual fleet costs again!
Since most of companies has already implemented technological advances such as telematics and tracking GPS systems and their fleets are now probably well-optimized, further optimization could be nearly impossible challenge.
How to squeeze even more from your fleet GPS systems? Integration of high quality professional navigation software might help.
Professional navigation
Generally, there is wide agreement among fleet managers that professional navigation systems are effective at providing benefits that outweigh the cost of providing the system.
Professional navigation aims to increase driver's productivity by improving route and operative efficiency, enhance fleet safety, improve customer service and delivery times, and reduce the miles being driven.
In Telematics Update`s Connected Fleet report 2014 corporate fleet managers and telematics vendors identified among most valuable connected service for fleet in future the ones provided by navigation software: routing 66,7% of surveyed fleet and telematics executives, fuel efficiency 52,5%, driver behavior 44,4%.
Sygic Fleet Navigation software allows fleet managers and telematics solution providers to deploy to whole fleet a set of tools and functions to meet this expectations:
Communicate with drivers directly via navigation
Remotely install, manage and control navigation
Assign jobs to drivers from fleet management application to navigation
Automatically avoid all roads unsuitable for specific truck, cargo, or hazardous materials
Add job related visual content to existing maps
Monitor drivers and route status by accessing information from the navigation
More detailed description of Sygic Fleet Navigation functionalities inspired by different industries needs is available in material below.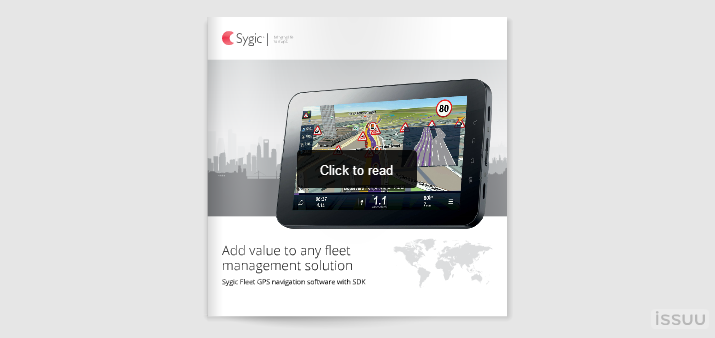 Compatibility with 3rd party systems
The integration of navigation to existing fleet management systems is possible using Sygic Software development kit (SDK) and API functions. Sygic developed first SDK for Android and is recognized among the best in the industry. It is compatible with most of existing platforms (Android, Windows CE and Linux). You are welcome to try it for free, downloading a Sygic SDK demo.