Sygic Professional Navigation helps to reduce your operating costs. Our offline navigation will reliably guide your drivers even in areas with little or no data coverage- faster and cheaper!
Every fleet owner's objective is to serve his customers in the most efficient way. Navigation plays an essential role in multiple processes of the fleet management's value chain. From planning to the point of delivery execution, Sygic Professional Navigation assists your drivers in this process offline and cuts costs on data plans, adding value to your business.
Be connected without wasting data
Viewed with a global perspective, the trade-off between a reliable data network and reasonable costs is not sufficient enough for most of the fleet owners. For example in the United States and Canada, even owners of small and medium fleets can save thousands of dollars in their annual OPEX when using offline navigation.
To run operations relying on online navigation, fleet managers need to acquire data bundles for drivers ranging from $20-$40 a month for the smallest data bundles resulting in $240-$480 data costs per driver a year in the US and $182-410 in Canada. A typical logistics service requires approximately 1GB of data per month.
Annual data consumption costs for fleets of 10, 30 & 50 vehicles
(Sygic Professional Navigation- lifetime license vs. data bundles in USA and Canada)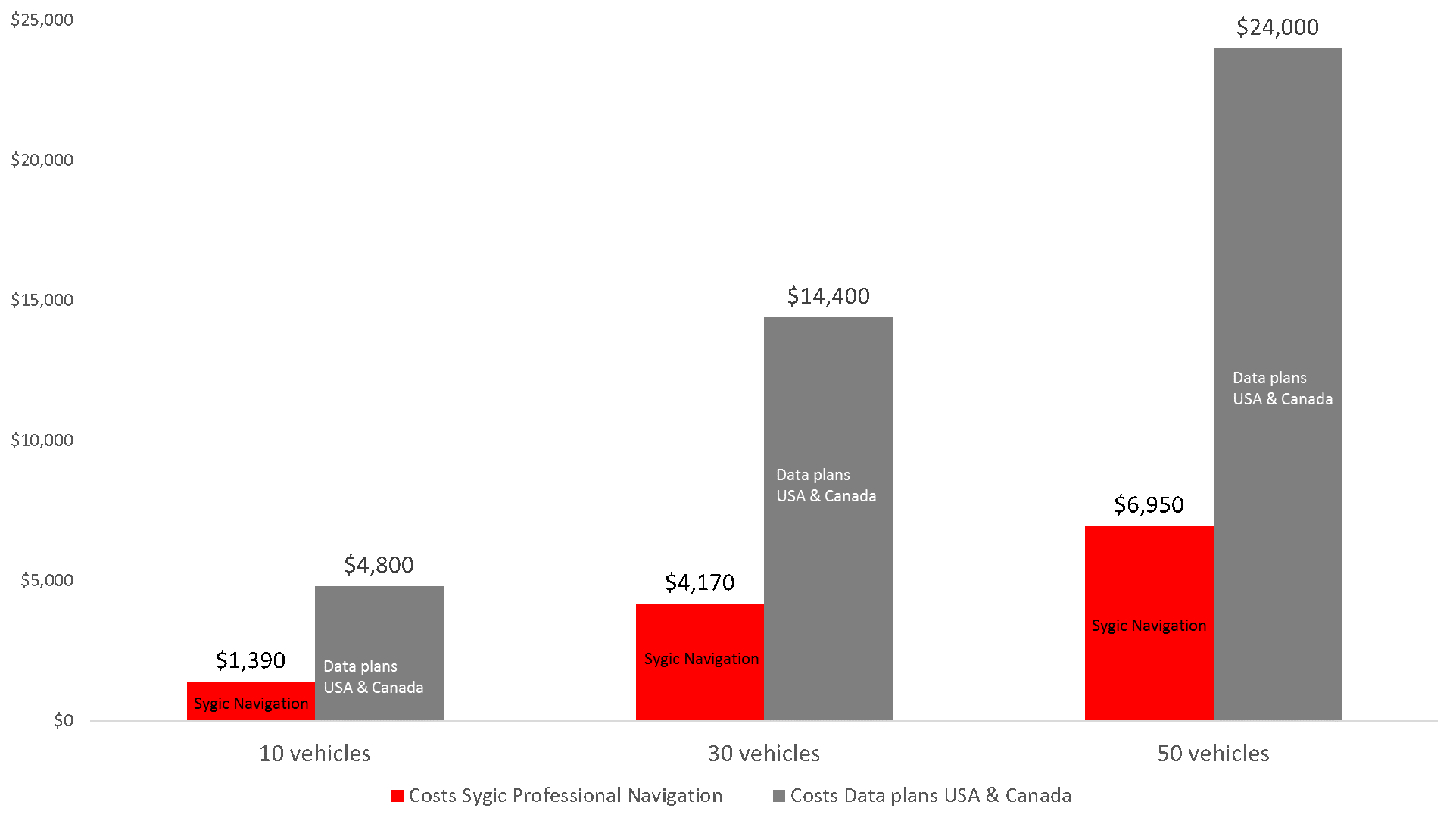 Easy calculations show that fleet managers can save thousands of dollars on navigation costs after implementing Sygic Professional Navigation! "The offline capabilities of Sygic Professional Navigation are saving us loads of money on daily basis. Our drivers are also more satisfied when they know that the navigation won't leave them on the lurch somewhere with no network."
To try Sygic Professional Navigation, please follow the links for Android or iOS.
To find out more, you can also contact our sales staff.
Calculated fees are for smallest data bundles in US from multiple network providers (Verizon, AT&T, T-Mobile US) and fees for smallest data bundles in Canada from multiple network providers Telus, Rogers, Bell), recomputed with currency rate at 22nd Sept. 2016