Every car should have an emergency kit and necessary safety items. There are, however, numerous other things that will make your life more comfortable on the road. So whether you just got a new car or just want to see what would come in handy, we've put together a list of 10 car must-haves.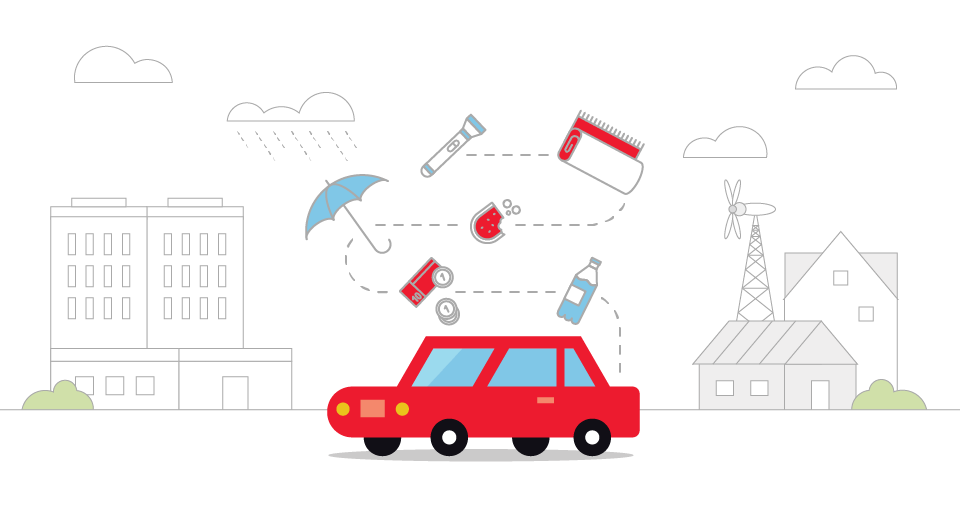 1. Water bottle
Even if you only do short drives, you never know when you get unexpectedly stuck in traffic or encounter someone desperate for hydration. Water is and always will be a necessity.
2. USB car charger
Charge your phone while you're using a navigation app, or whenever your battery runs a bit low while you're on the go.
3. Spare change & cash
Be prepared when you need pocket change for parking, unexpected tolls, or in case you forget your wallet at home and need some money.
4. Blanket
If you or one of our passenger gets cold, when you agree to drive a friend's dog, in case you need to lay down on the ground to get under the car… a blanket is an all-rounder and a true workhorse.
5. Shopping bags
Trips to the store don't need to end up with you getting another plastic bag. Not only will you save some money at stores that charge for bags, but you'll help the environment as well.
6. Umbrella
The weather is not perfectly predictable. Instead of getting soaked during a short walk from the parking lot to wherever is less wet, you can just get a spare umbrella you'll keep in your car.
7. Service & insurance company contacts
Write down the contacts for your insurance company and service provider for when you find yourself shaken from a car crash or just happen to be in an area with no internet coverage.
8. Jumper cables
Recharge a dead battery. You'll also be able to help other people who got into a pickle.
9. Mints or gum
The devil lies in the details and sometimes the detail that bothers you the most is a lack of fresh breath. A mint or gum then comes to the rescue.
10. Navigation App
There's no need to buy a standalone GPS system – your phone or tablet can do the job just as well, if not better. OK, we might be a bit biased, but we believe having a navigation app with offline maps like Sygic is all you need to get around.
Happy driving!