Each day, truckers drive the equivalent of eight times around the earth's circumference using Sygic Truck Navigation, now powered by HERE. Why does Sygic trust HERE with this important task?
All maps and GPS devices are not created equal. Today's professional truck drivers and fleet managers know it's simply not enough to hook up a consumer GPS device in the cab and expect to get from A to B reliably, safely and securely.
"Don't get me wrong, I think most consumer GPS devices or consumer navigation apps are perfectly fine in your car, but I would never trust one in my truck cab," says Andreas Hosinger, an experienced truck driver from Austria, "The last thing you want is to get on a truck-restricted road or approach a bridge that's clearly too low for the vehicle because you are following directions intended for consumer navigation."
When a truck driver mistakenly gets on a road that's not suited for the vehicle, not only does it compromise the driver's personal safety and security, it puts the company at risk, could damage the goods on board, or lead to traffic violations and fines.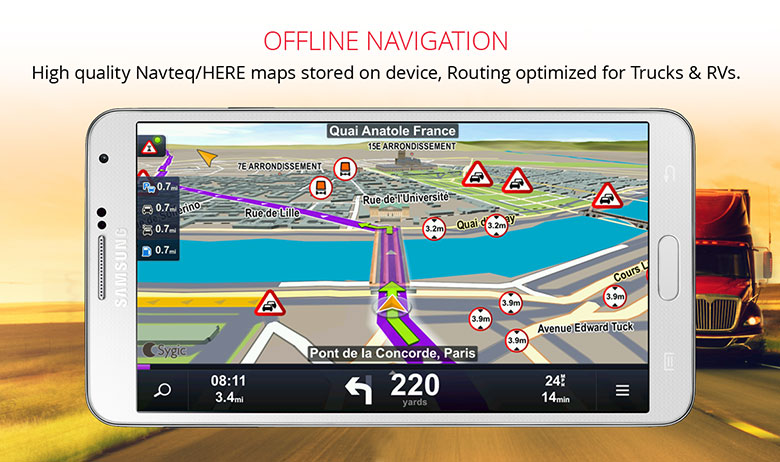 Keeping truckers on the roads
HERE is one of the few mapping companies that has collected dedicated truck-specific road attributes designed to help keep truck drivers on roads meant for them. That's why Sygic, a leading developer of hybrid navigation solutions, offers their Truck Navigation product exclusively with map content from HERE.
Sygic's truck routing product is a leader in its category and accounts for approximately 40% of the company's sales in the B2B market, so having accurate truck attributes is crucial for the company.
"When we were evaluating map content providers, HERE quickly came to the top of our list. Along with the accuracy of the data and excellent coverage with address points, we chose HERE for its truck-specific road attributes. This is very important to ensure we can offer high quality truck routing," explains Viktor Bielko, Head of Product Management from Sygic, "In addition to truck -specific map content, we've also included speed limits, extended lane information, point addressing, 3D landmarks, and traffic patterns from HERE in Sygic Truck Navigation."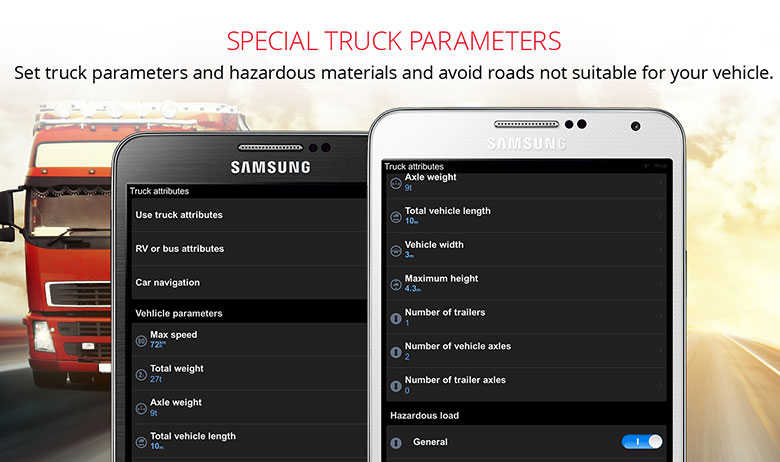 Unfamiliar areas
Even before a fleet manager or a truck driver has purchased a navigation product, it's important to give them the opportunity to build confidence in the product so they know they can trust it in their day-to-day operations, especially when driving in unfamiliar areas.
"It doesn't matter to the driver if something goes wrong due to routing or missing data in the map, they'll lose confidence in the entire system," says Bielko from Sygic, "Although our product is trusted to route truck drivers eight times around the world each day, we still give drivers a free trial period of our Truck Navigation so they can experience the system for themselves before making a purchase."
"I've been driving with Sygic Truck Navigation for two years all around Europe. I know my home territory really well, but every once in a while I need to drive to an unfamiliar place to make a special delivery," continues Hosinger. "It takes a great amount of trust and confidence in your guidance system to know you won't be routed onto any restricted roads when you are in a new place. Plus, every wrong turn is a waste of time and fuel. To perform with maximum efficiency I need tools I can rely on."
Once they experience a smooth ride, the drivers come to trust the navigation and also rely on the estimated arrival times and traffic information. The entire system then becomes a very effective tool, not only for navigating, but also for planning and reporting. All together, these features help drivers plan their work day better and drive more confidently and comfortably.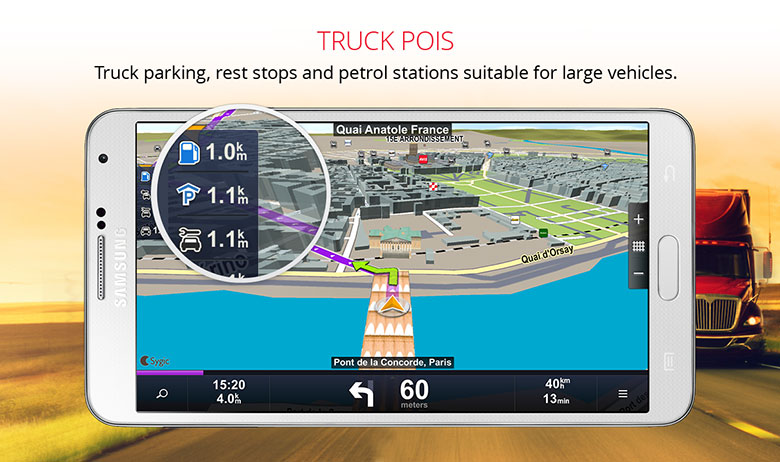 (Source: http://360.here.com/2015/05/26/sygic-chooses-truck-navigation/)