Dream about a summer full of adventure, new experiences, fun and exploring new places? All-inclusive 5* hotels not your cup of tea? You needn't be young and wild to experience such an adventure. Just a small backpack, spare t-shirt, jeans, socks, and some essential equipment that we list – and the trip can hit the road!
And most importantly remember to rent a van - which from outside looks like a regular delivery vehicle but in the inside has all the comforts of a camper. Get one from a used car lot and remodel it yourself as a fun project before the summer.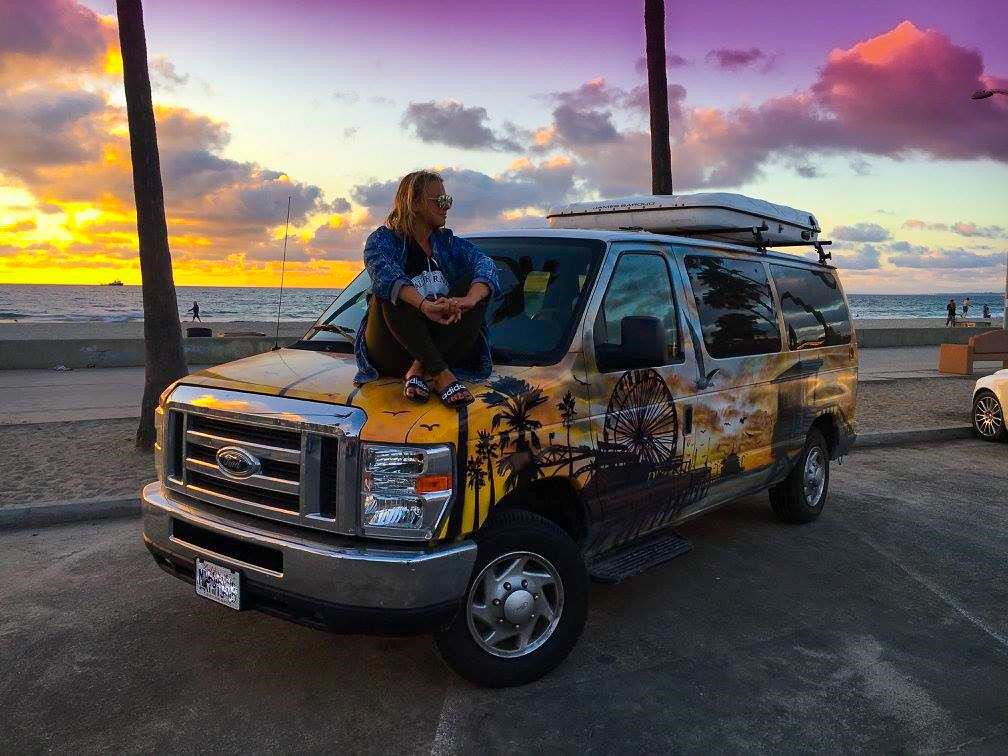 It's getting increasingly popular to travel and live in vans rebuilt as "stealth campers". It's such a great feeling to see sunsets from mountain high, and enjoy morning coffee by a secluded undiscovered lake.
A truck driver which uses our app to navigate through Europe has shared with us a perfect trip from Berlin, via France to Barcelona - with great places to sleep over. Let's check it out below.
Sygic GPS Navigation will become your best friend and guide throughout your journey. 😊
The best van trip from Berlin to Barcelona
We guess your van's ready…so now it's time for planning your route! Nature lover? Then the first stop should be Potsdamer forest and Havelseengebiet, a protected area with heaps of lakes and forests. Just sixteen minutes from the forest's heart you can find a perfect parking spot for the night.
Take a break after five hours' driving in Frankfurt am Main, where you can enjoy the historical city center and enjoy the breathtaking Palm Garden.
Fancy something exceptional and adventurous? Then spend the night at the parking place near Aldi Süd.
A big pro of sleeping at the store's parking lot is the fresh pastries and coffee for breakfast :)
Make you third stop of your Spanish road trip the home town of Victor Hugo and the Lumièr brothers, who changed the way of showbusiness.
Besançon is the capital of the Franche-Comté region. Check out inspiring views from La Citadelle de Besancon - surrounded by green hills and steeped in history.
Time flies and sometimes the best laid plans gather dust…especially at the end of a busy road trip…
Yet depending on your time and inclinations, try to take in fantastic French cities such as Lyon, Avignon, and Montpellier as you inch ever closer to beautiful Barcelona.
The last stop before your final destination (unless you decide to step on the gas and travel farther than Barcelona :)) is the gorgeous Narbonnaise en Méditerranée Natural Regional Park. It's sea lagoons, forest, villages, and hillside sunsets are picture-postcard perfect for your Instagram-happy camper van trip.
And then we roll into our final destination - Barcelona.
Send this route with all the waypoints we described directly to your Sygic GPS Navigation by using this link. Be sure to download all the maps (Germany, France, Spain) - and other countries too if your starting point isn't in Germany.
Why prefer a van over a caravan?
Traveling by van is much easier than by caravan for several reasons. Number one is that you can stay in category B and B1 parking places – so you don't have to splash out on designated and pricey spots for caravans and trucks.
So you can park pretty much wherever you like - from official parking spots to gas stations, where you nap, shower, shop, and wake up and smell the coffee. In most of Europe is available to sleep in the car out of driver seat.
Almost everywhere in Germany you can sleep in a car during the night. Want Wi-Fi, shower, and clean toilets – then the best solution is truck drivers stops along highways (in Germany "Raststätten" and France "Aires de repos"). But on a trip like this of course, we strongly recommend finding a perfect spot in the countryside…
Always remember
Want to survive more than one day in the van? Then check out these pro tips. First of all, be sure who your traveling companion is (just kidding :))
When you're on the road maybe you won't have the chance to eat healthy, cheap or even when you want. So just equip your van with a portable cooker and fridge – and you can eat simply and conveniently anytime anyplace.
And take plenty of drinking water for brushing your teeth and making hot drinks.
Tissues, wet wipes, cotton sticks, cotton pads, drops for clogged nose, and warm blanket are must-haves.
Besides "real traveling problems", decorative flashlights are an important part of every Instagram photo or romantic moment while star gazing under azure European night skies.
And when you're not using your van, it can make you money by hiring out on Airbnb – and save the earnings for your next road trip.
We know what we're talking about
In this blog post, we've briefly described how to get from Berlin to Barcelona and what to see along the way. I traveled in a VAN through California. The west coast was one of the best experiences in a van - how to survive in van without your regular morning routine, comfortable bed or regular change of clothes. Truly one of my best vacations - highly recommended!