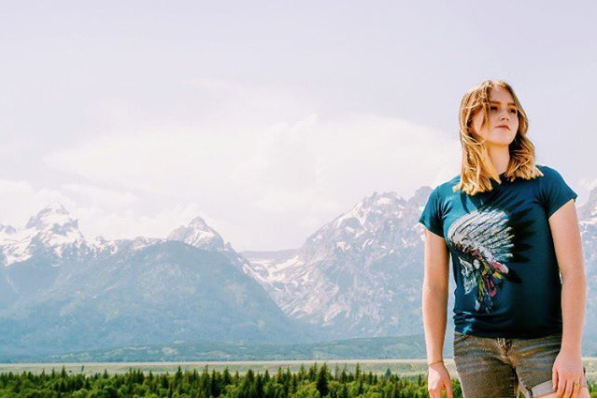 "There is a connection you make when you go somewhere new that is hard to replicate by any other means. Not only have I found new ways to appreciate things I previously didn't understand completely, but I have gained new friends all over the world who will keep in touch for years to come."
Traveler Rachael Leavitt Grow is sharing her story with trip and holiday planner Sygic Travel. Check out Rachael's blog Let's Grow There or follow her on Instagram.
How would you describe yourself in 5 sentences?
I'm an adventurous twenty-something that always needs to be in the great outdoors. My passions for travel, painting, food, and music know no bounds. I am always seeking learning opportunities and have a ton of goals for self-improvement, language learning, and the list goes on! Adventure is out there and I'm always seeking it, whether it be backpacking in the wilderness or doing something crazy like bungee jumping. I'm super driven and will do anything I can to help people or make them smile.
On your blog you say that you are up for anything weird, wild, and wonderful… What is the most wild and weird thing you experienced?
Wild and wonderful comes from West Virginia's state slogan. Since I'm originally from there, I decided to use it. I guess when I say "weird" I think about some of the weird things I've eaten in different countries, or maybe some quirky museum I visited once.
Two things come to mind when I think about my weirdest and wildest experiences, and they both happened in Peru. While I was there, my husband and I managed to do a ton of things, as well as crossing some things off our bucket list! I went bungee jumping for the first time (terrifying stuff, let me tell ya), and I rock-climbed up the side of a cliff and slept in an enclosed pod at the top. This was with Skylodge Adventures. The little pods are held to the side of the cliff by metal bars and hang over the Sacred Valley and a winding river. The bed in that pod was the comfiest thing we slept in during our whole stay in Peru! It was pretty wild to wake up in the middle of the night and stare down a 1,300 foot drop. But the stars were unreal as was the meal we had that night. The next day we took six ziplines to get back to ground level. I still can't believe that happened, and I totally need to do it again.
What was the moment you decided to become a traveler?
My first experience outside the USA was in 2014 on my honeymoon to the Bahamas (and a few of the Virgin Islands) on a cruise. While in the Bahamas we had taken a bus to get back to port and we had stopped at a stoplight. An old man with a long gray beard was shuffling along the sidewalk with a few groceries in tow, supposedly headed home for a nice meal. The man spotted me in the bus window, stepped off the curb into the street and placed his hand on the glass. He smiled a toothy, genuine grin and I put my hand on his and returned the smile. The only thing separating us was a thin layer of glass. I connected with him in such an intense, surprising way. In some ways I also understood him and his values. To this day it's hard to explain. That afternoon I decided I wanted to break borders like the one I had with the old man by traveling more. He did such a small thing that turned out to be such a huge influence in my life. Now I travel to learn more about people and diversity so I can let my experiences impact others like his kind gesture did for me that day.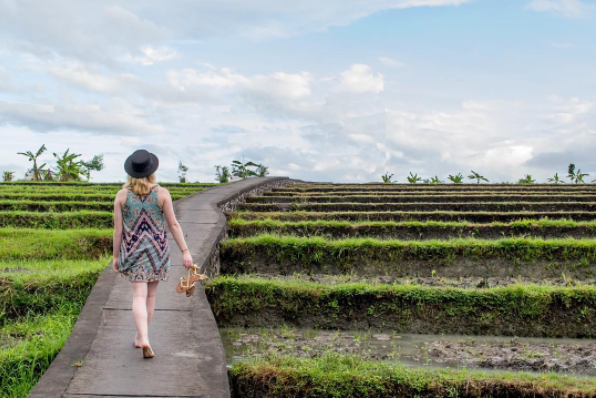 What is your greatest personal accomplishment?
I'd say, for me, it would be hiking the Inca Trail in Peru (if you can't tell, it's one of my favorite places!). Trekking those four days to Machu Picchu was both challenging and enlightening. I could tell why it is one of the most popular hikes in the world! The experience was a gold mine full of rich historical and religious significance. It was a lot to take in, not to mention the breathtaking views. We made a lot of friends on that trek, and there were some parts where I thought I would just fall down and die. But when we finally reached Machu Picchu, it was entirely worth all the struggle, sweat, and tears. I consider it my best travel experience to date.
What do you love the most about traveling?
Traveling has allowed me to step out of my comfort zone and be a little more fearless in the way I live my life. Each experience has taught me something new about the world, myself, and who I want to become. I have learned more about a destination by actually traveling there than I could ever learn in a book or course. There is a connection you make when you go somewhere new that is hard to replicate by any other means. Not only have I found new ways to appreciate things I previously didn't understand completely, but I have gained new friends all over the world who will keep in touch for years to come.
I also LOVE the planning stages of travel. Every aspect of my life is unorganized except when I plan a trip. That's why I love the Sygic Travel app so much. It lets my plans be flexible in that it entertains my OCD, letting me plan everything in great detail, or it can help me realize I need to schedule time to be spontaneous or just relax.
What is it you don't like about traveling?
The act of traveling itself wears me down. Hopping on three planes to get somewhere on the other side of the globe, barely able to sleep. Standing in cramped buses with a million stops to make before yours. Sitting in a tiny car for hours trying to make it home from the airport. Traveling is mentally and physically exhausting! So why do I keep doing this to myself? The places I've been, people I've met, things I've seen—it makes it all absolutely worth it.
What is the most common misconception about being a traveler?
That I have all the money in the world to be able to travel, which is totally not true! I have had to work crazy hours, take extra shifts, and work my butt off at a full-time job to be able to save up for the trips I've taken. My parents live a normal middle-class lifestyle and do not fund my trips. Together, my husband and I work hard to make our dream trips happen.
What is the best way to experience a foreign culture?
Do some research before you go, in order to be prepared for their customs and to respect their societal rules. Go there with an open mind and heart, so that you can soak everything up, appreciate, and understand it as best you can. Be willing to try new things!
What are the five things you can't travel without?
A travel neck pillow, my sketchbook, my journal, earplugs for falling asleep, and good music.
Which destinations are at the top of your bucket list right now?
New Zealand, Antarctica, South Africa, Japan, and the Maldives.
If you had an unlimited travel budget for 24 hours, what would your itinerary look like?
I would hop on a plane to New York City, do some shopping, eat all their food, and see a Broadway play. If I could see multiple Broadway shows in one day, I totally would.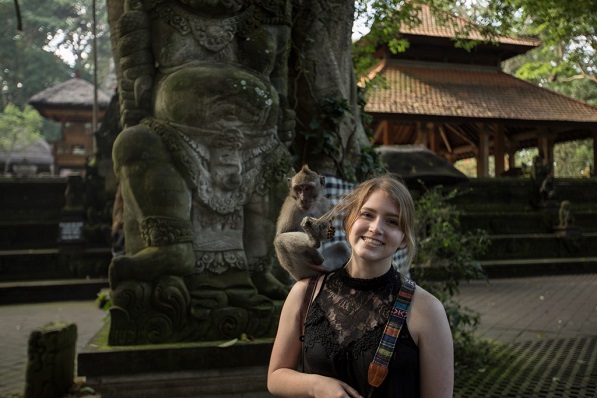 If you should decide today, which country would you pick for retirement?
I would probably head to Europe for retirement. Maybe some lovely city in Spain.
What is the most overrated country or location you've been to?
My husband and I took an awesome three-week trip to Peru in 2016 and were able to go to several parts of the country. We took a two-day tour of Lake Titicaca and its islands. It started off on sort of a sour note when our boat reached the Uros Floating Islands. These man-made islands are made of reeds that only have a few families living on them. It was cool to see how they live and still stick to some of their older traditions, but it was definitely a tourist trap. Tourism is their main source of income, so when we stepped foot on the islands we were swarmed by people trying to sell us things. We were brought into a woman's hut (cool, right?) only to be sat down by her as she slowly showed us each trinket and blanket she'd ever made. Queue the awkward silence as each of us sat there not wanting to be forced to buy anything. Don't get me wrong, I support the locals when I can, but these islands were just too much.
What is the most underestimated country or location you've been to?
I would have to say the West Coast Trail in Canada is a super underrated place. I feel like many people don't get to experience it if they aren't into backpacking or the outdoors. It is probably one of the most beautiful backpacking destinations my husband and I have ever been to. It is located on Vancouver Island and is 50 miles long in total. Half of the hike is on the coastal beaches, and half is in a gorgeous temperate rainforest. It is generally for intermediate hikers, but that was actually my first backpacking trip ever and I survived!
Thank you Rachael!
Simona from Sygic Travel
Sygic Travel has been helping people plan travel itineraries since 2011. Millions of people all over the world use their web planner as well as their iOS and Android apps.