It's that time of the year when we need to head out for a bit of sea, sand and sun. However, getting there can be far from relaxing. Enjoy a stress-free vacation without getting lost with Sygic GPS Navigation. Read on to find out why Sygic is the best choice for your travels.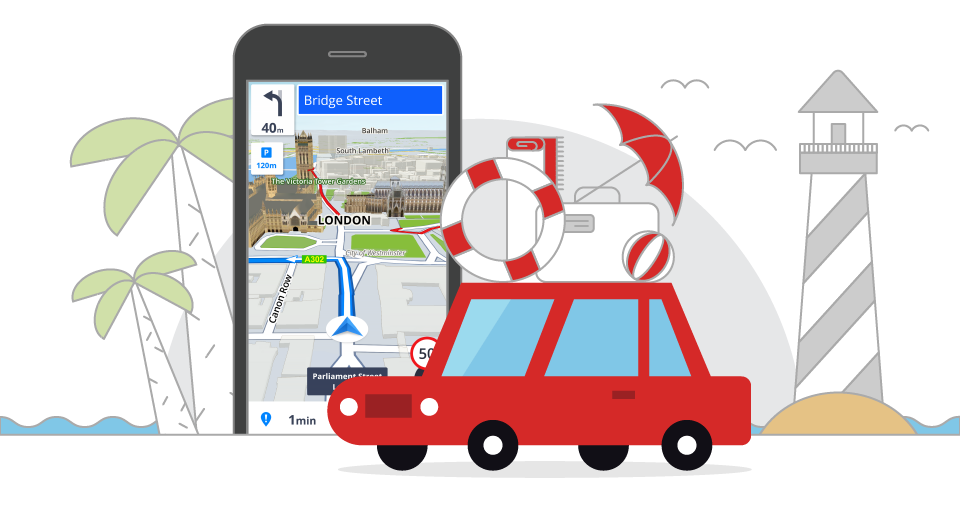 Take the best route to your destination
Before heading for your summer getaway, make sure to pack your trusty navigation app to arrive safe and sound wherever you go. Save the address of your accommodation to your favorites so you can easily navigate there. You can rely on Sygic to find the best way to get you there in the shortest time.
Focus on the road ahead
Following clear spoken directions makes it easier to keep your focus on the road while driving. Just listen to the accurate spoken directions and follow the instructions to reach your destination comfortably. Accurate driving instructions show you exactly when to make your turn, so you will never get lost. And even when you make a couple of wrong turns, Sygic GPS Navigation will quickly recalculate the route and find a new way to your destination.
Save on data costs on your vacation
Rely on offline navigation app to cut down roaming/data costs. You can navigate anywhere, without internet. With Sygic GPS Navigation you can choose from maps for all countries in the world and save those that you might need to your phone. Maps, millions of interesting places and software for route calculation will be stored on the phone in your pocket. You won't need a data signal, or roaming, to stay on the right path. Don't forget to download maps in the comfort of your home and use Wi-Fi to save on data costs.
Stay safe
Driving with Sygic GPS Navigation is more comfortable and improves the safety of you and your passengers. Driving in unfamiliar territories will be easier and less stressful thanks to our advanced safety features Lane assistant and Junction view. These features help you stay in the right lane, make your way through complicated intersections and drive smoothly.
Keep within the speed limit when travelling abroad
Vacationing drivers are often not familiar with the roads they are driving on, including speed limits in foreign countries. Sygic GPS Navigation includes Speed limits to help you drive safer when traveling abroad. Stay safe thanks to timely warnings if you are speeding, or approaching a sharp curve at a dangerous speed.
Find the perfect parking spot
Finding a good parking spot is always difficult in places you don't know. Our parking feature offers parking suggestions close to your destination, so you can make the best decision on where to leave your car. You can also look for parking possibilities by browsing through the Parking category in the Search section or directly on the map.
Explore and discover interesting places
Thanks to pedestrian navigation, Sygic can assist you with getting to know your holiday destination on foot. After roaming around for hours, it might be very useful to have a friend in your pocket who still knows the way to get back to your hotel. And you can also take advantage of millions of interesting places stored on your phone, so you can easily find tourist attractions, restaurants and or really anything you need. All that without the use of the internet connection.
Sygic Premium includes everything you need for safe, comfortable and fast navigation in one super-value package. Visit our e-shop to find out more about our lifetime licenses.