Sygic Professional Navigation is coming up in its latest release (13.8.0) with a convenient feature for all truck drivers who get often lost within a factory they are supposed to reach.
The feature called "Last mile off-road," or as some might call it "Yard navigation," will help all truck drivers to get oriented within an unmapped area of any factory. It is especially useful since every navigation can get a truck driver to the entrance gate of this area, and not to the point, where the truck needs to be loaded/unloaded for instance.
In order to use it, you need to know:
the location of the entrance gate
the exact location of delivery inside the factory
the way between the gate and the final destination
The picture below perfectly displays the way this time-efficient feature works. In the left, there is a satellite picture of a random factory while the right picture shows the route with the polyline in geofile. In case you want to start testing this functionality, please contact our Sygic team to provide you with a proper license.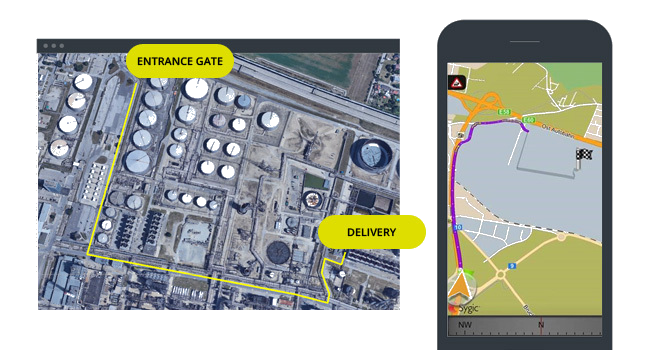 Another time-saving thing for truck drivers, who share the same truck for their routes, is a possibility to define up to three Truck profiles within the application. You can save your truck settings for the future, such as the total weight of a truck or axle weight and then switch between them when necessary. This feature and also Last mile off-road feature are included in the license price.
For more information contact our sales.
Download Sygic Professional Navigation and try it yourself for 14 days for free!
Get your app for iOS or Android.
Thanks to you, our devoted team of developers always do their best to get closer to your requirements.
Drive safe!