Calls for sustainable urban mobility have opened up opportunities for operators of sharing platforms, but not all cities are ready for the influx of bikes and e-scooters. As the market grows and these modes of transport are becoming a natural part of many cities' traffic, the question arises – how can we make shared urban mobility safer for all participants involved?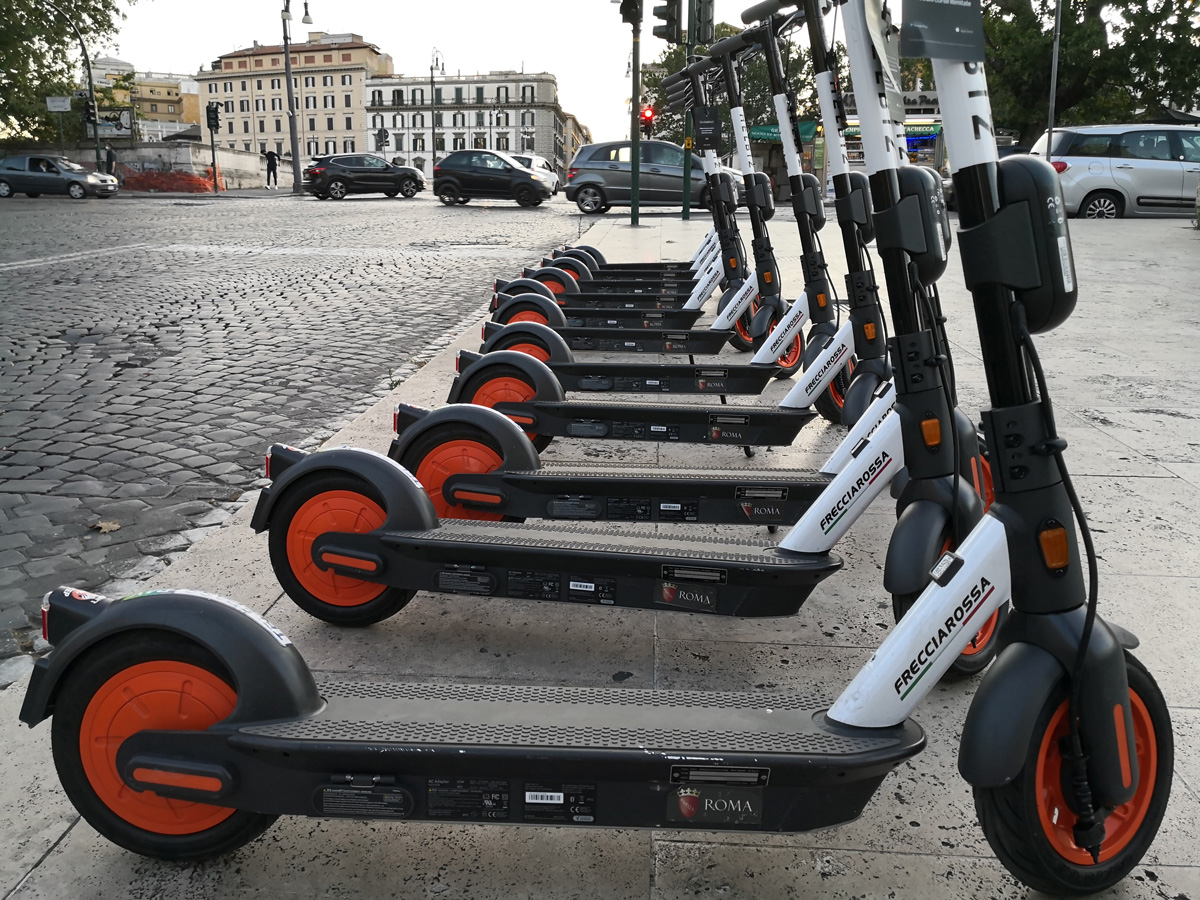 Challenges of shared urban micro-mobility
The global bike and scooter rental market is on the rise and projected to grow at a CAGR of 18.9% between 2019 and 2027, as stated by MarketsandMarkets. In addition, the pandemic has only added to the popularity of bikes and e-scooters. For example, the e-scooter sharing market in the US and Europe has seen a ~93% conversion rate from new to regular rider, which is an increase since pre-COVID times (Mobility Foresights). The ride duration per trip has also increased.
Despite these numbers, shared mobility is yet to reach mainstream popularity and holds only a modest portion of the modal split. One of the reasons are the increased safety concerns. For example, one research team found that, in US cities employing a public bike-sharing program, the odds of a bicycle-related injury being a head injury increased by 30% after the rollout. And that's not mentioning scooters, which are electric.
This has led some cities to ban these programs altogether, significantly reduce the number of providers and fleet sizes, or allowing only limited trials.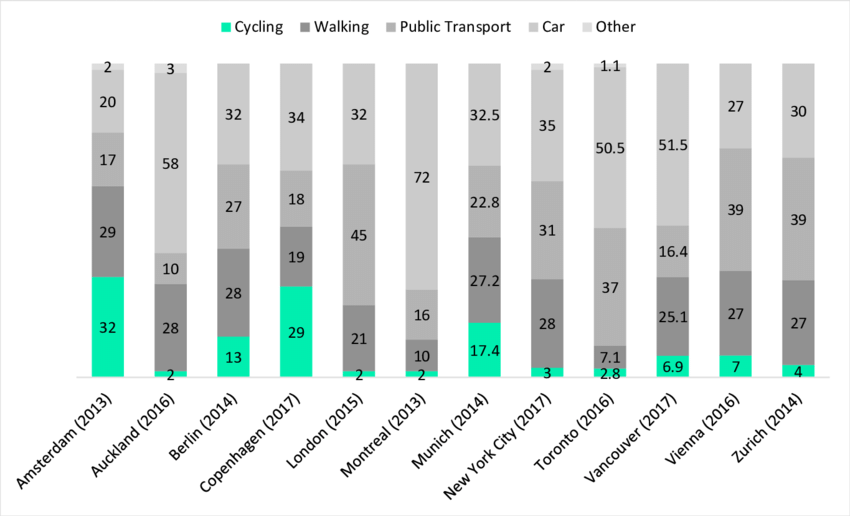 Modal split comparison of cities worldwide in recent years (Source)
While no mode of transport is without risk, several factors are contributing to the injury rate:
Missing space for bikes and scooters. Not all cities are like Amsterdam and can easily accommodate anything other than drivers and pedestrians. Missing lanes mean riders either share the roads with cars or sidewalks with pedestrians – none of which is ideal or safe.
Missing regulations. The growth of bike/scooter usage has been so dramatic that local authorities often haven't managed to respond in a timely manner. For example, in Slovakia, where Sygic has its headquarters, e-scooter riders have been deemed pedestrians until 2020.
A driver's license isn't always required, depending on the local laws. This lack of a barrier may lead some to the conclusion that riding must be 100% safe if it's so readily available.
Customers of these platforms are primarily casual riders or tourists. This means that customers may lack the necessary experience for operating the vehicles, not be versed in the traffic laws that concern them, or react impulsively in risky situations. Tourists may also lack knowledge on how to get around or the local driving customs.
Knowing these challenges, platform operators and manufacturers can work with city officials to deploy both motivating and restrictive measures that would lead to fewer accidents.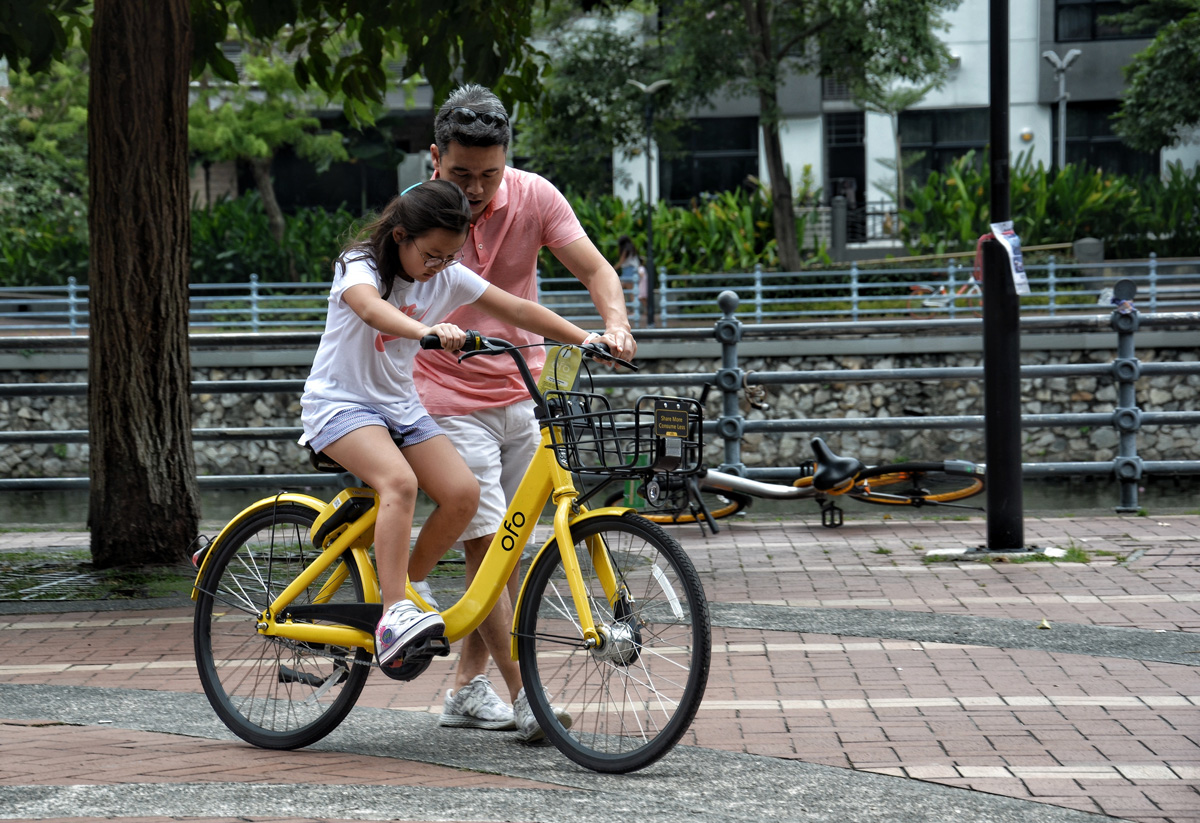 Learn as you ride
Our riding know-how naturally improves as we use a vehicle more and more, but that doesn't mean providers should leave learning to mere chance. Gamification is an obvious choice since it has been shown to foster habit building and positively influence human behavior. Providers can gradually involve customers and motivate them to build safe riding practices. By rewarding them for perfecting their style, they can also build loyalty programs and achieve higher conversion and retention rates.
This reward system can take many shapes and forms. It is, for example, possible to measure basic driving events such as harsh braking. If the phone is connected through Bluetooth, the platform can penalize users for texting or taking calls. Image recognition can be used to evaluate whether the user is wearing a helmet. All of these can be translated into scores or points and give customers positive reinforcement.


Restricting speed limits flexibly
E-scooters can have an in-built geofencing system that lowers the speed limit once the scooter enters a pedestrian-heavy area. This allows for the creation of safe zones within the city while not restricting the speed in other places where it's unnecessary. Bird, one of the top scooter rental service providers, has been testing this feature in Miami, Marseille, and Madrid.
Although bike speed can't be limited this way, bikes fitted with on-board computers can at least show a notification prompting the rider to slow down.


Getting around safely
It may sound basic but including GPS navigation in the app/on-board hardware can help users arrive safely to their destinations and avoid mistakes during the ride. The map view can also include docking stations, relevant Points of Interest for easier orientation, and even the aforementioned geofences.


Conclusion
Despite some hesitation from local authorities, the trend is clear – sustainable micro-mobility is here to stay. And while we are still in an extended adjustment period, all stakeholders need to do their part in ensuring the safety of both riders and pedestrians. Providers who crack the code will have an easier time negotiating with governments and insurance companies and will, therefore, have an easier way to the top.