The worldwide long-haul industry is currently experiencing a significant shortage of truck drivers. In Europe, up to 425,000 truck driver positions, or 10% of the total, remained unfilled in 2021*. In Germany alone, 80,000 positions have been unfulfilled.
Truck transportation makes up the largest part of European logistics services today. But no industry can operate without people showing up to work every day.
Denise Schuster, Business Manager at Park Your Truck, explains that the issue is about to get even more pressing: "More than 30,000 drivers leave the market each year."
Yet, even significant salary increases have not been enough to lure the new workforce into the profession. If throwing money at the problem doesn't solve it, what does?
Is there anything else to entice potential drivers to take on the job?
One of the main challenges is to improve the work conditions. Finding available, well-equipped rest areas where truck drivers can take their breaks is key to these efforts.
"German rest areas are in a state of emergency from 5 PM onwards. That is when 90% of the truck parking spaces are already occupied. Those who arrive later stand on side lanes, entrances, and exits of parking lots or drive into industrial parks or other places that are not designated truck parking spaces. After 4-5 daily attempts to find a space, often their driving time is up, resulting in fines." described Schuster.
And similar phenomenon occurs all around Europe.
To help find secure parking with proper infrastructure, Park Your Truck connects parking space owners and providers with drivers who can easily reserve a suitable parking spot in advance. That increases the driver's comfort, eliminating the need to search for parking when the time to make a stop comes around.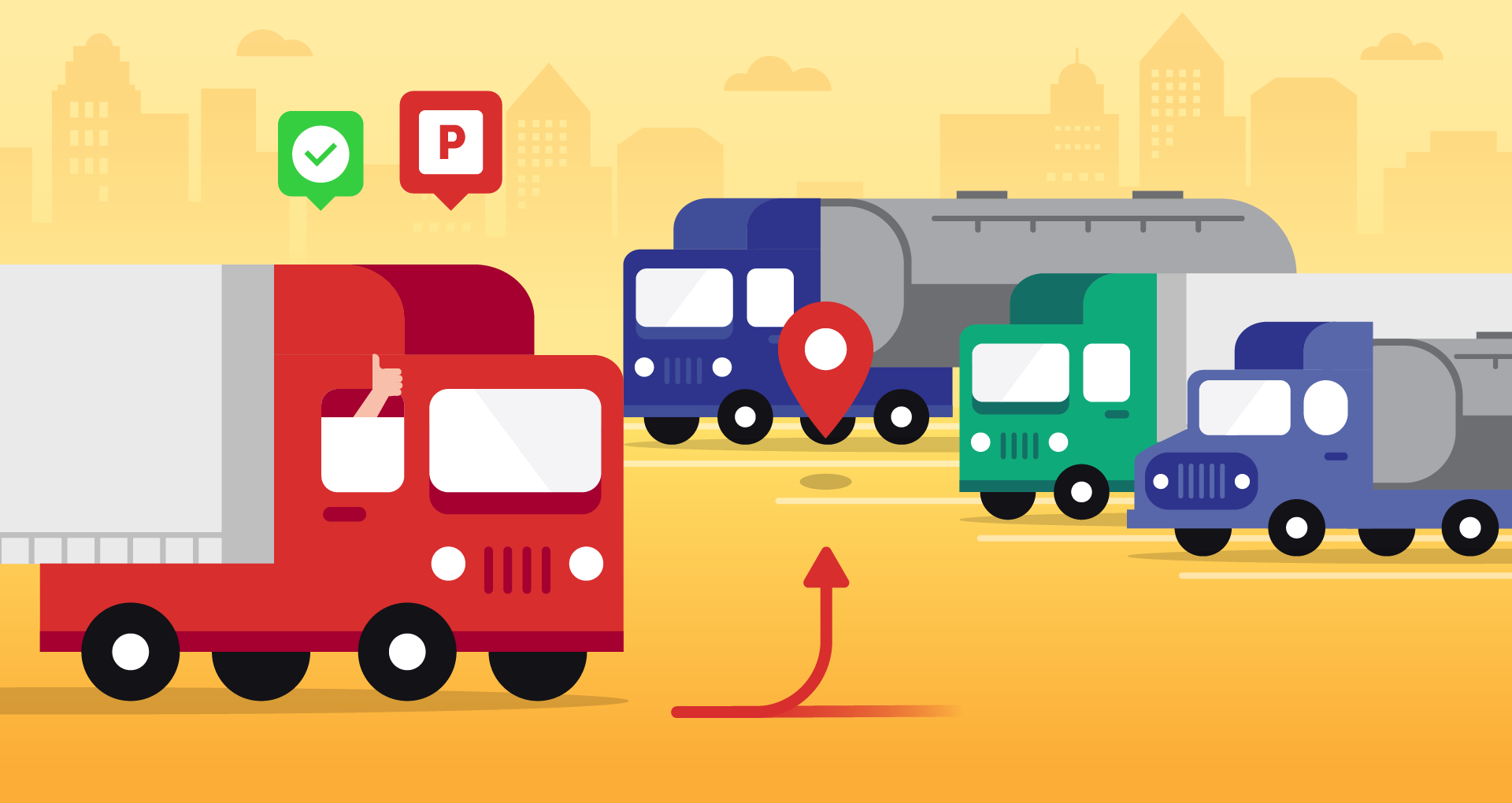 Let's not forget the environmental impact.
Furthermore, sustainable transport is being called for, as Trucks are the biggest CO2 emitters in Europe. "During attempts to find parking and repeated braking and acceleration of the 40-ton vehicles, massive amounts of diesel are consumed," Denise Schuster added.
If the parking search traffic could be limited, 16 kilograms of CO2 emissions would be saved per truck every day. As calculated by Prof. Dr. Jochen Baier of the Steinbeis Institute, with 50,000 drivers looking for a parking space daily, 290,000 tons of CO2 could be saved annually. By comparison, an average household produces about 11 tons of CO2 yearly.
Additionally, if Europe is to meet the global climate targets, third of the trucks will need to be electrified by 2030. Finding a parking space with a suitable charger will become even more critical.
Deep breath; we're here to help.
At least 20,000 new parking spaces with compatible chargers, high- and low-speed, need to be built in Germany alone. To make this ecosystem accessible to as many drivers as possible, Sygic and Park Your Truck are currently exploring the possibility of integrating a truck parking database & reservation system into Sygic's Professional Navigation. So, while using the app to navigate, drivers will be able to find and secure parking spots, complete even with EV charging availability for a greener future.
*According to the IRU's annual global driver shortage survey published on 07/07/2022
---
Ready to improve the efficiency and safety of your fleet?
You can do just that with GPS navigation for trucks and commercial vehicles by Sygic. Contact us today to see how.