When you picture a firefighter, what image pops into your head? Of one holding a hose, battling a raging fire, or of one grabbing an axe while running into a smoking building. Now, let us paint a different picture. A pretty unusual one. A firefighter holding a... tablet? Yes, that's right—a tablet.
What does a firefighter do with a tablet, you ask? See it for yourself.
Solution
GINA Tablet is a field response application explicitly designed for fire and rescue, emergency medical services, and law enforcement organizations. Sygic plays a crucial part in navigating first responders to the emergency site as fast as possible-literally saving lives, nature, and properties as a result.
"Amongst our customers are first responders who need to get to the scene of an incident as quickly as possible. That is made possible with emergency routing in Sygic Professional Navigation, which we fully integrated into our GINA emergency tablet. What's more, Sygic provides long-term reliable support."
Boris Prochazka, Executive Manager at GINA Software
Once an emergency call is received, the dispatcher pushes addresses from dispatch central directly onto the navigation. The drivers no longer have to manually fill in addresses, making the process more accurate and quick. Offline maps are stored on the tablet and do not eat up internet data, plus they offer reliability when the connection is lost.
What is crucial is that fire trucks can use roads that are restricted for regular use, make forbidden maneuvers or go against the direction of traffic. All the while taking into account the vehicle's dimensions which don't allow for specific paths, so no fire truck will get stuck under a bridge. They will get there come hell or high water.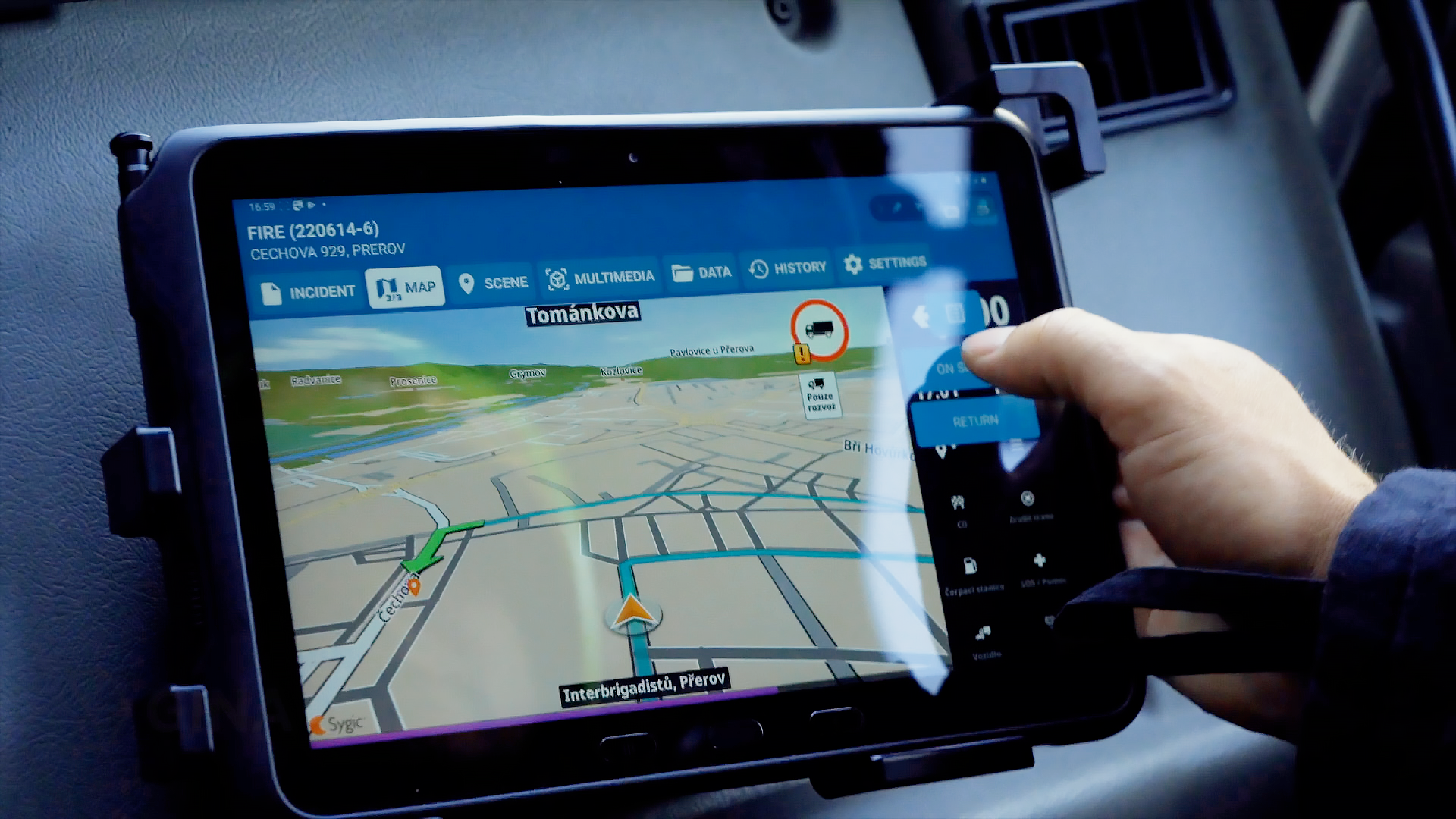 GINA offers a split screen of Sygic maps with an Esri map to show crucial elements such as hydrants and the locations of facilities with dangerous substances. Exact door-to-door navigation maps with house numbers are a no-brainer; it just makes sense.
Back at the station, the dispatcher sees what is currently happening in the field in real-time, the status of the vehicles, field report channels, photos, and live streams.
Utilized features
Emergency routing
Custom routing for large vehicles
Exact door-to-door navigation
Offline maps
Turn-by-turn navigation
Live traffic information
Real-time position
Embedded integration
SDK integration
API functions NavigateTo and ReverseGeoCoding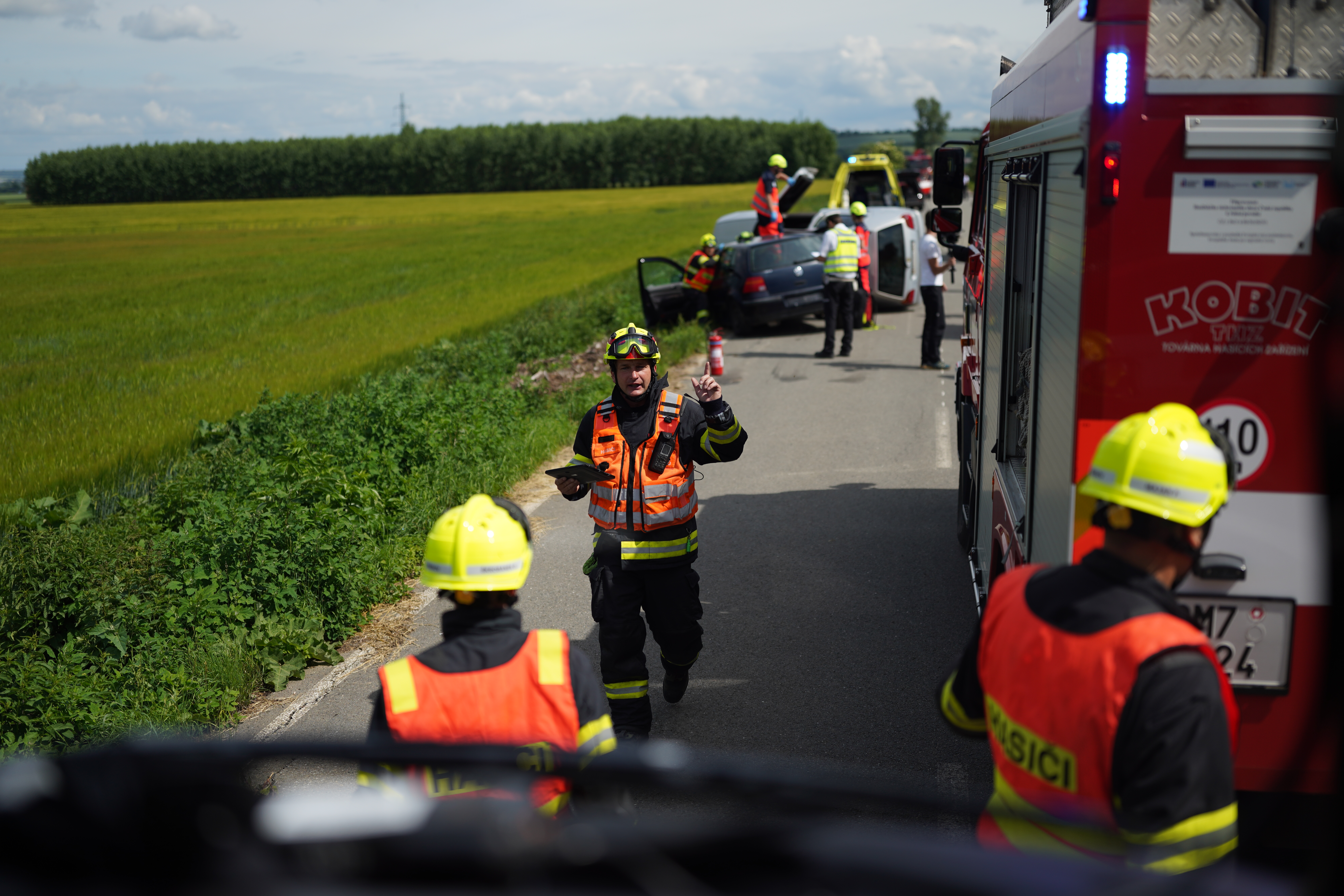 The results
Faster arrival on a scene in 1/3 of cases
Improved response time
70 % less radio communication
Assign jobs to the nearest available unit
Streamlined processes
Increased level of cooperation between all responding units
"Partnering with solution providers, such as GINA System, who create products that truly answer the needs of people and communities has been pretty amazing. Seeing how technology makes a difference in the real world is why we do what we do. And the results speak for themselves."
Katarina Cipakova, Head of Sales at Sygic
About GINA
GINA Tablet is a field response application designed specifically for fire and rescue, emergency medical services and law enforcement organizations. The system provides commanders with live data feeds and variety of management and decision support tools.
GINA Tablet significantly improves the efficiency of both routine and special operations, reduce arrival times, provides a real time information support and increases the level of cooperation between all responding units. Thanks to built-in emergency navigation GINA Tablet automatically navigates first responders to the scene, provides live data feeds including video streaming and information support directly on scene and serves for reporting and evidence collection after the response. More information at ginasystem.com/gina-tablet


About Sygic
With its vision to guide every person on the move, Sygic GPS Navigation has reached over 200 million downloads and its solutions for enterprise sector are navigating more than 3,000 fleets and 4 million professional drivers globally. The company was the first offline navigation vendor supporting Apple CarPlay and Android Auto. Learn more at www.sygic.com/enterprise


Are you dealing with a similar use case?