Last year from June to September,Czech firefighters responded to more than 5000 fire incidents and Sygic Professional Navigation helped them get to the scene faster saving countless lives (nature and properties) at stake.
More than 500 fire trucks in all 14 Czech regions are integrated with Sygic Navigation with truck attributes and emergency vehicles routing. Specially defined emergency maps allow fire trucks to enter and get navigated in pedestrian zones, parks, or on unsealed roads which are usually closed to regular vehicles. Truck attributes allow drivers to avoid roads not suitable for fire apparatus thus improving their elapsed time from dispatching to arriving to the incident scene.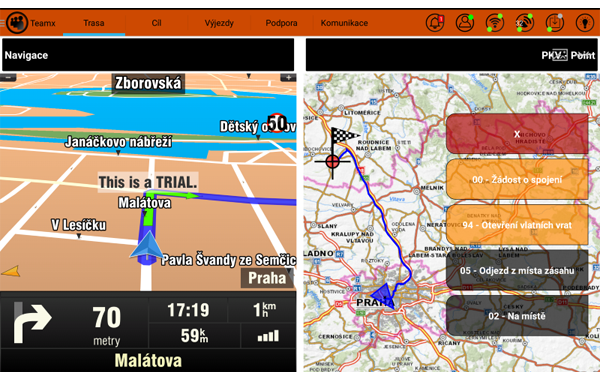 Drivers appreciate the navigation mostly when they are assisting at an incident which is outside of their response district. Sygic's exact door-to-door navigation saves them priceless minutes during the last mile navigation. "It is crucial to arrive precisely to the incident as fast as we can. Last 2-mile navigation is the most critical. Wasting minutes or even seconds by arriving to wrong destination can sometimes distinguish life from death."
Czech firefighters also benefit from other operational capabilities of Sygic Professional Navigation as-
Offline navigation enabling units to provide reliable service and arrive exactly where they are needed even in areas without broadband connectivity.
Text-to-speech function allowing drivers to focus solely on the road while approaching the incident.
Ability to push destination straight to navigation saving time by eliminating erroneous inputs by drivers.
Assign jobs to the most suitable unit- this is possible thanks to Sygic API "GetActualGpsPosition", which allows the emergency dispatchers to monitor drivers' position, behaviour and get notifications about speed, direction, estimated time of arrival and distance to the next stop.

Last but not least, Sygic Professional Navigation was chosen as the best solution for Czech firefighters because of the seamless integration of Sygic SDK with central Czech FF dispatch system and high quality support from our Sygic team.
To learn more about Sygic Professional Navigation with emergency routing click here.
To get in touch with our sales team clicke here.