Sygic prides itself on having the most advanced route calculation algorithm tailored for different kinds of vehicles like trucks, vans or busses or for different use cases like deliveries, emergencies, taxis or smart cities.
This legacy has allowed us to look deeper into the traffic rerouting topic and come up with a rerouting solution that would consider different particular requirements for different types of vehicles.
We are introducing the pro level traffic rerouting feature into Sygic Professional Navigation in order to make fleet operations even more efficient.
Different vehicle parameters (Vans vs. Trucks)
Applying the rerouting feature to professional fleet operation required a whole new approach to this topic, which led to including a wider complexity of variables into the route calculation.
Considering the different requirements of the two most demanding use cases – delivery fleets and long-haul vehicle fleets – Sygic automatically decides whether or not to reroute depending on the route ahead.
In the case of trucks, the default relevant boundary set for the route being offered is when the new route is at least 10 minutes faster, while for delivery fleets the faster route is offered when this is just a minute.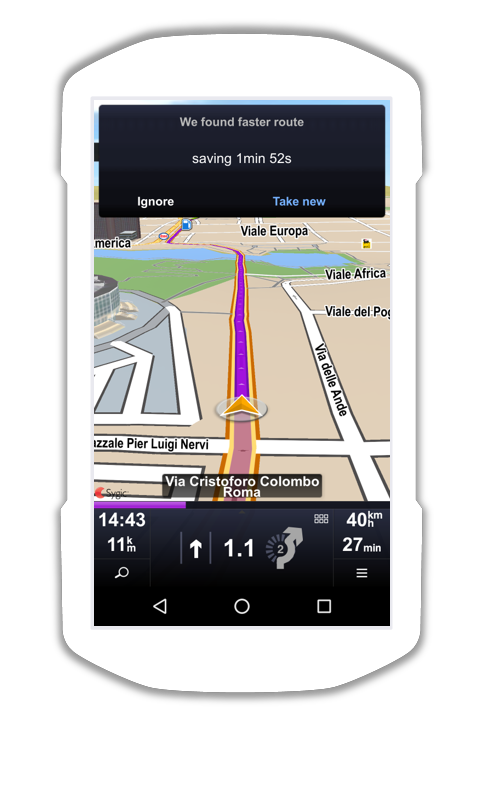 Traffic delay prediction (Historical vs. Real-time data)
By combining real-time and historical traffic data in the route calculation, we can predict congestion well ahead of when you reach it. This way Sygic can start to consider alternative routes long before the congestion point and avoid even future congestion.
If the traffic is further than 2 hours from the driver's current position, the navigation assumes that before you get there, the traffic will be gone and does not include this delay in the route. This is when Sygic Professional Navigation uses historical data about traffic, not real-time data. If the driver is only 15 minutes away from traffic, all calculations are based on real-time data instead of historical data.
The algorithm verifies the traffic data and alternative routes every minute, considering the actual distance and ETA from incidents.
Fully customizable settings for the rerouting feature
Many fleet solutions do not allow their drivers to manipulate the navigation while driving for safety purposes.
That is why you can set up whether:
you want to be automatically rerouted – in this case, the dispatcher can set up how much time they want to save with rerouting
ignore all alternatives along the way no matter the traffic situation, or
let the driver decide if they want to be informed about the time-saving route. In this case, they can set up how much the route must be shortened in order to get rerouted.
For more information contact our sales team.
Download Sygic Professional Navigation and try it yourself for 14 days for free!
Get your app for Android.