With Sygic Truck Navigation, drivers do not need to worry about their driving time and hours-of-service rules anymore. That means no more watching the clock and thinking about obligatory rest periods.
The latest release of Sygic Truck Navigation (v.13.5.3) gives your drivers more comfort by providing a list of fuel stations and highway rest places on the route within the time interval of obligatory stops provided by a tachograph (EOBR unit).
Introducing new SDK functionality
The rest stop planning functionality is available to integrators via the SDK function ApiPoi.getPoiOnRoute starting from version 13.5.3.
When planning a route, the driver can pick a rest place of his choice within given time of obligatory rest and add it to the itinerary as a waypoint. He will be navigated to the best suitable restplace at the right time, thus improving his safety. Transportation companies on the other hand will improve their ability to comply with the regulations.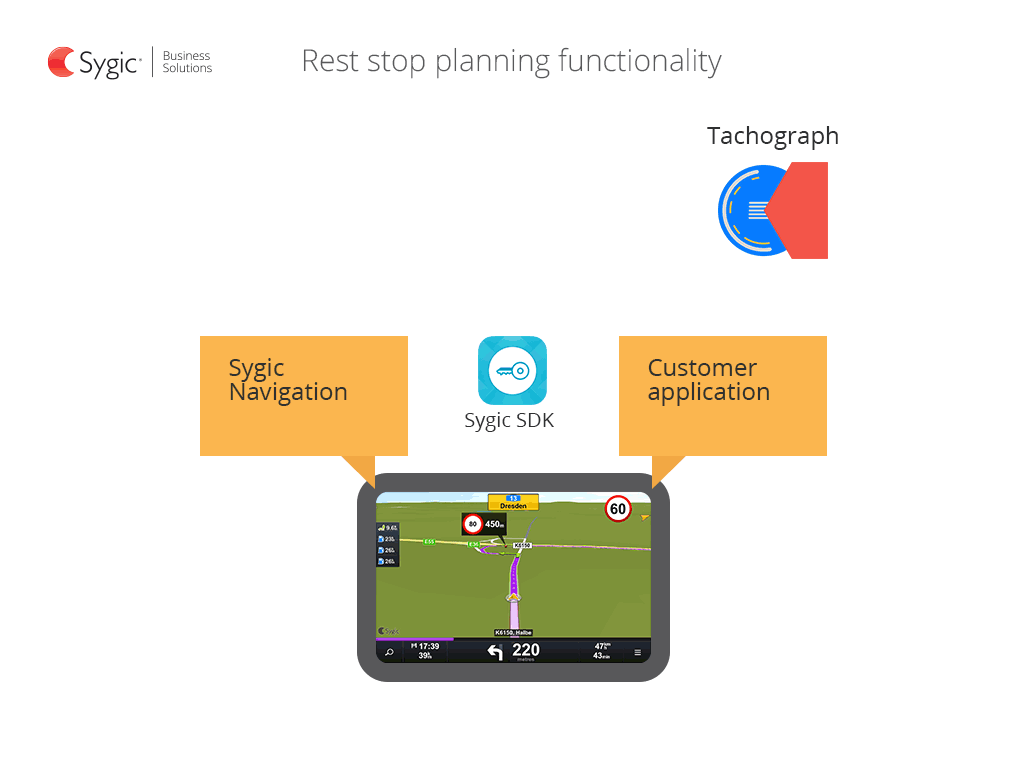 For more information, please check out our SDK documentation:
New SDK function ApiPoi.getPoiOnRoute and other updates of 13.5.3. version of Sygic Professional Navigation for fleets are available for the following products:
13.5.3. version changelog:
new SDK function GetPoiOnRoute
POIs on route can be displayed with ETA instead of distance
select a storage to install on first run
adjusted speedlimits for Finland and Sweden
time domains for trucks effective after 2015.12 map update
added Google Navigation URL
itinerary optimization includes time windows
bugfixes and stability improvements
improved route computing