We are happy to introduce this amazing feature that comes in the latest version of Sygic GPS Navigation. Predictive Routing is a brand-new way to calculate your routes. This feature forecasts traffic based on data collected during a two-year period, enabling you to follow the most efficient routes to get to your destinations.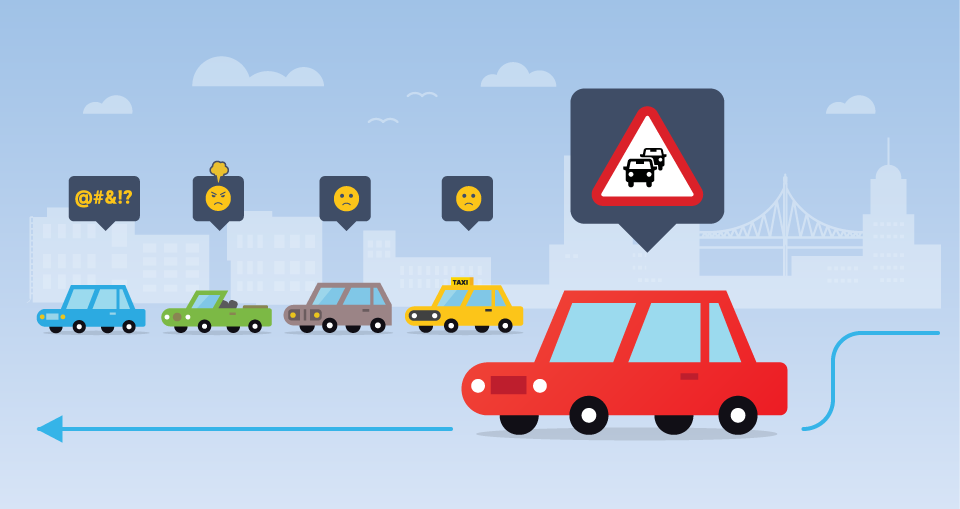 Until now, GPS navigation systems have relied on real-time traffic data in order to show the most efficient routes. When disconnected from the internet, these systems are only capable of showing possible routes -- without being able to accurately identify the best route.
From now on this will change. With our Predictive Routing feature, which is included in the latest map update, you can enjoy the benefit of traffic-based route calculation even with no internet connection.
One of the biggest benefits of this new routing algorithm is faster route calculation with more accurate arrival time. You will get several route alternatives to choose from so that you can find the route that suits you best.
Our maps are filled with traffic data which are collected during a two-year period. This will be considered in route calculation so that you can get the best possible route to your destination. This means less waiting in the traffic, even if you are traveling with no internet connection.
Predictive Routing is available to all Sygic users for free. This feature is available in the version 17.4 and higher of Sygic GPS Navigation. All you need to do is update your app and update your maps to get the latest road information and enhanced routing.
Predictive Routing is available in these countries:
Asia:
Brunei, Cambodia, Indonesia, Japan, Laos, Malaysia, Myanmar, Philippines, Singapore, Thailand, Turkmenistan, Vietnam
North America:
American Samoa, Antigua and Barbuda, Bahamas, Belize, Bermuda, British Virgin Islands, Canada, Cayman Islands, Costa Rica, Cuba, Dominica, Dominican Republic, El Salvador, Grenada, Guatemala, Haiti, Honduras, Jamaica, Mexico, Montserrat, Nicaragua, Panama, Saint Pierre and Miquelon, St. Kitts and Nevis, St. Lucia, St. Vincent and The Grenadines, Trinidad and Tobago, US - Alabama, US - Alaska, US - Arizona, US - Arkansas, US - California, US - Colorado, US - Connecticut, US - Delaware, US - District of Columbia, US - Florida, US - Georgia, US - Hawaii, US - Idaho, US - Illinois, US - Indiana, US - Iowa, US - Kansas, US - Kentucky, US - Louisiana, US - Maine, US - Maryland, US - Massachusetts, US - Michigan, US - Minnesota, US - Mississippi, US - Missouri, US - Montana, US - Nebraska, US - Nevada, US - New Hampshire, US - New Jersey, US - New Mexico, US - New York, US - North Carolina, US - North Dakota, US - Ohio, US - Oklahoma, US - Oregon, US - Pennsylvania, US - Puerto Rico, US - Rhode Island, US - South Carolina, US - South Dakota, US - Tennessee, US - Texas, US - Utah, US - Vermont, US - Virgin Islands (U.S.), US - Virginia, US - Washington, US - West Virginia, US - Wisconsin, US - Wyoming
South America:
Argentina, Brazil, Chile, Uruguay
Africa:
Egypt, Morroco, South Africa
Europe:
Albania, Andorra, Austria, Belarus (transit roads only ),Belgium, Bosnia and Herzegovina, Bulgaria, Croatia, Cyprus, Czech republic, Denmark, Estonia, Finland, France, Germany, Gibraltar, Greece, Hungary, Iceland, Ireland, Italy, Latvia, Liechtenstein, Lithuania, Luxembourg, Macedonia, the former Yugoslav Republic of, Malta, Moldova, Republic of, Monaco, Montenegro, Netherlands, Norway, Poland, Portugal, Romania, Russian Federation, San Marino, Serbia, Slovakia, Slovenia, Spain, Sweden, Switzerland, Turkey, Ukraine, United Kingdom, Vatican City State (Holy See)
Australia:
Australia, Fiji, Micronesia, Nauru, New Caledonia, New Zealand, Niue, Palau, Papua New Guinea, Pitcairn, Samoa, Solomon Islands, Tonga, Tuvalu, Vanuatu, Wallis and Futuna
Middle East:
Kuwait, Saudi Arabia, United Arab Emirates