Travel maps for trip planning from the navigation company Sygic are now available in Hungarian. Both the web planner Sygic Maps and the mobile apps for iPhone and Android, which help people plan travel itineraries and discover interesting places, can be used by Hungarians in their native language.
"Adding new translations is a part of our preparations for the summer season, during which more than a million people use the Sygic Travel apps every month," says Barbora Nevosádová, Senior Business Developer in Sygic.
"Both in the mobile apps and on the website the language is set automatically based on the default language settings of the phone or the browser respectively. In addition to translating the user interface, we have also translated tourist descriptions of the most important sights," continues Ms Nevosádová.
The Sygic Maps web planner and the Sygic Travel mobile apps are available in 17 languages: Hungarian, English, Czech, Chinese, Dutch, French, German, Italian, Korean, Polish, Portuguese, Russian, Spanish, Slovak, Swedish, Turkish and Ukrainian.
About Sygic Maps
Sygic Maps is the first online map focused on traveling. Unlike other online maps, Sygic Maps displays places of interest directly on the map, making trip planning and navigation easier than ever. Thanks to its integrated itinerary maker, travelers can build a day-by-day trip plan or just save interesting places for later. The website also features handy travel guides for more than 10,000 destinations, photo galleries, 360° videos, a hotel search, and recommended tours and tickets purchase options. Planned trips and favorite places can be synced directly with the Sygic Travel app, which is available for iOS and Android.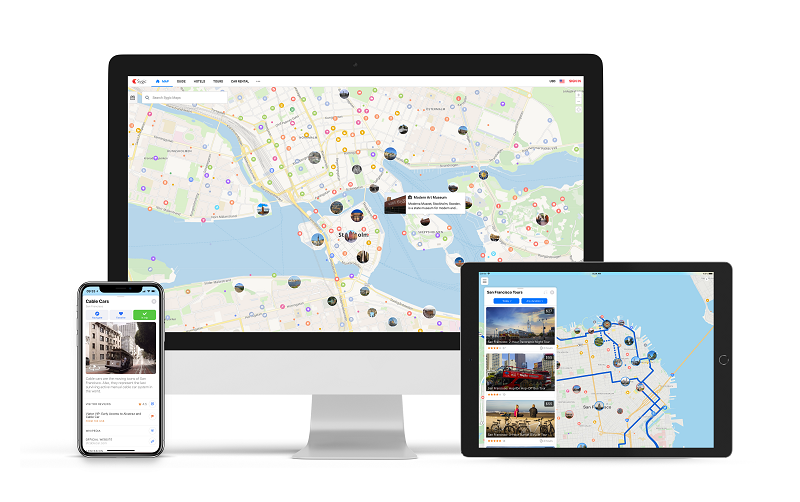 Hungarian version:
A Sygic online térképei mostantól magyarul is elérhetők
A Sygic navigációs szolgáltató által készített, utazástervezésre összpontosító térképek mostantól magyarul is elérhetőek. Az online utazástervező Sygic Maps, illetve az Android és iPhone alkalmazások segítségével a magyar felhasználók anyanyelvükön tervezhetik meg utazásukat, vagy fedezhetnek fel érdekesebbnél érdekesebb helyszíneket.
,,Az új nyelvek hozzáadásával a nyárra szeretnénk felkészülni, mert ilyenkor több, mint egymillió ember használja aktívan a Sygic Travel alkalmazásait." – mondta Barbora Nevosádová, Senior Business Developer a Sygicnél.
,,A mobilappok és a weboldal nyelve automatikusan igazodik a telefon és a böngésző nyelvi beállításaihoz. A felhasználói felület mellett a legfontosabb turisztikai látványosságok leírásai is elérhetők lefordítva." – folytatta Nevosádová.
A Sygic Maps utazástervező és a mobilalkalmazások használata során tehát most már 17 nyelv közül lehet választani: magyar, angol, cseh, francia, holland, kínai, koreai, lengyel, német, olasz, orosz, portugál, spanyol, svéd, szlovák, török és ukrán.
A Sygic Mapsről
A Sygic Maps az első utazásra összpontosító online térkép. Más hasonló alkalmazással ellentétben a Sygic Maps közvetlenül a térképen jeleníti meg az érdekesnek ígérkező helyeket – sose volt könnyebb a tervezés és a navigáció összeegyeztetése! A beépített programtervező segít összerakni a napi vagy heti programot, illetve elmenteni bizonyos helyszíneket, ötleteket későbbre. A weboldalon ezenkívül több, mint 10 000 úticélhoz kereshet útikönyveket, hangolódhat lenyűgöző 360° videókkal, kereshet szállásokat, illetve rátalálhat a legelőnyösebb túra- és jegyajánlatokra. Az online megtervezett utak, a kedvenc helyek listája és egyéb tartalmak pedig szinkronizálhatóak bármilyen okoseszközzel az Android vagy iOS Sygic Travel app segítségével.