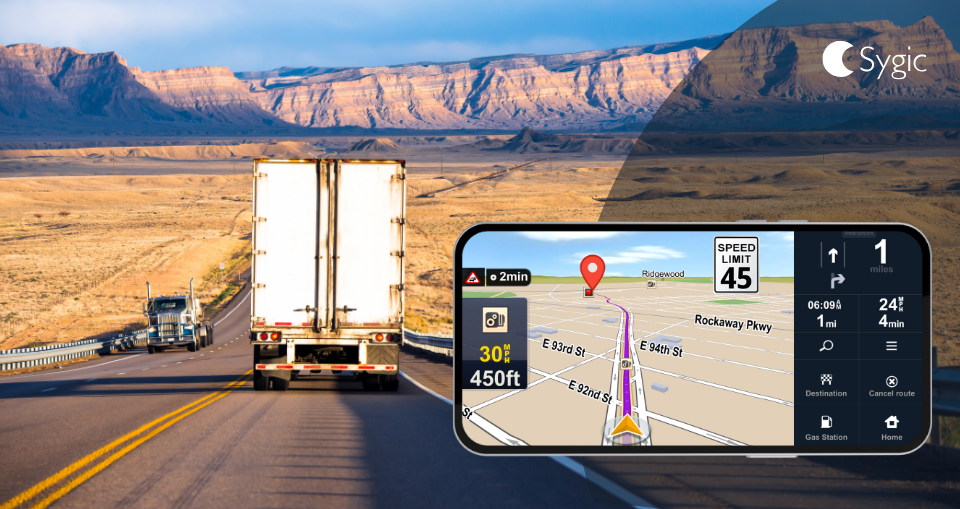 Hey there! Are you an IT company looking to gain a competitive edge in the transportation industry? Well, I've got something that might just be the game-changer you've been searching for — Sygic's Professional Navigation, a perfect addition to your Transport Management System (TMS) and Fleet Management System (FMS).


Let me break it down for you:
1. Seamless Integration into Your FMS/TMS: Here at Sygic, we understand the importance of hassle-free integration. That's why we've gone the extra mile to make it as effortless as possible. Our software seamlessly integrates into your existing Fleet Management System (FMS), providing a seamless and unified experience. Whether you prefer custom URL integration for quick communication or embedded integration for a unified user interface, we've got you covered. And if you want to offer a dedicated navigation experience alongside your FMS platform, our standalone integration option is the perfect fit. It's all about flexibility and finding the integration approach that suits your unique requirements and customer preferences. We provide comprehensive API documentation and user-friendly SDKs to support you every step of the way, making the integration process smooth and straightforward.
2. Safety First on the Road: When it comes to the safety of your drivers, Sygic Professional Navigation has got you covered. Our software ensures their safety during journeys by making sure they are only navigated on roads that suits their vehicle, offering real-time traffic updates, HAZMAT routing and efficient rerouting options. No more delays or potential hazards! We've also included Lane Assistant, a feature that provides clear visual cues, minimizing confusion when changing lanes and reducing the risk of accidents. And let's not forget the real-time speed limit displays, reminding drivers to stay within legal limits and promoting responsible driving.
3. Staying on Schedule: We know how important it is for your drivers to stay on schedule. With Sygic, they'll be able to do just that. Our software provides estimated time of arrival (ETA), allowing fleet managers to track vehicle progress and plan operations more efficiently. We also offer specific routing options tailored for large-sized vehicles like trucks and buses, ensuring drivers are guided on paths suitable for their vehicles' dimensions, weight restrictions, and road suitability. It's all about keeping things running smoothly and maintaining optimal productivity. Plus, with our comprehensive offline maps, even areas with poor connectivity won't be an issue.
4. Cost Efficiency and Risk Mitigation: At Sygic, we're all about helping your business save costs and mitigate risks. Our navigation software takes into account factors like toll roads, optimizing routes for cost-efficiency and avoiding unnecessary expenses. By providing accurate and reliable guidance, we also reduce the likelihood of incidents and accidents, which can lead to higher insurance premiums. With Sygic, drivers can confidently navigate, minimizing costs and risks for transport companies.
5. Dedicated Project Manager: We understand the importance of ongoing support and seamless integration. That's why we provide you with a dedicated project manager who will be there every step of the way. Any questions or issues that arise, rest assured they'll be addressed promptly and effectively.
6. Stay Ahead of the Competition: In a constantly evolving transportation industry, staying ahead of the curve is crucial. By incorporating Sygic's cutting-edge navigation software into your portfolio, you can offer innovative solutions that keep you ahead of the competition. It's all about providing your customers with the best.
I invite you to reach out and discover how Sygic Professional Navigation can seamlessly integrate into your offerings. Let's have a conversation about the possibilities it opens up for your business. Don't hesitate to contact us today and let's explore how we can work together to enhance your transportation services.