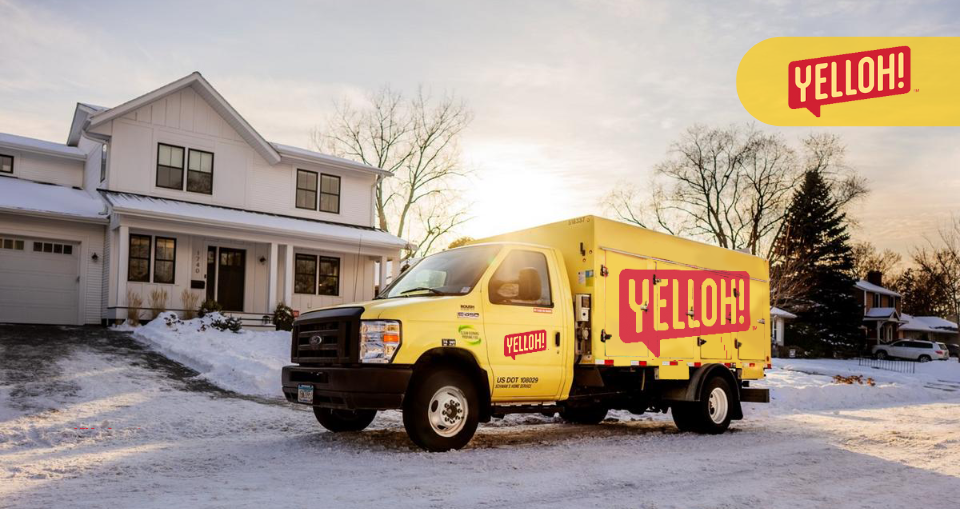 Becky Swanson, Manager of Operations Support at Yelloh (formerly Schwan's Home Delivery), shares her insights on how Sygic Professional Navigation is helping Yelloh's RSRs (Route Sales Representatives) stay safe and efficient on the road.
With around 3,000 freezer trucks and the goal for each driver to make about 50 to 55 stops per day, Yelloh faces quite a logistical challenge. "We needed a navigation system that would help our drivers get to each of our customers in a more efficient way than they were doing in the past," said Becky Swanson, Manager of Operations Support at Yelloh.
Prior to Sygic, Yelloh's delivery drivers were given lists of customers to visit and had no reliable navigation system to guide them. The older devices they were given were used mainly as a point of sale. This meant that new drivers had to rely on alternative ways, like paper maps, to navigate in unfamiliar neighborhoods. However, they recognized the need for an efficient and effective navigation system. As they moved to a newer handheld device, they decided to incorporate Sygic navigation to assist their RSRs (Route Sales Representatives).
In What Ways Do Route Sales Representatives Utilize Sygic?
The RSRs are given a list of customers prioritized by their delivery windows and likelihood to purchase. When they use the "navigate me" function, they are directed to each customer's location in sequence, but they can also rearrange the order if needed. The system is adaptable to the RSR's preferences. Customers can also request same-day delivery or accept a message to have the driver stop by. The system updates the itinerary accordingly and notifies the driver to make the necessary stops.


How Does the Customer's Journey Look Like?
From the customer's side, they can place an order online and choose a time window for delivery based on their past purchasing behavior. If they are not available during the suggested time window, they can select another available time window. Loyal customers who prefer to buy in person are scheduled amongst the already placed deliveries. Customers who have not placed an order but are on the route get a message altering them their driver is coming their way. If they accept, the driver will add their stop to their route to make sure they will get to meet their driver.


Revealing the Logic Behind
Yelloh's delivery drivers are routed using sophisticated software that considers various factors, including customer delivery time windows, purchasing probability, and recency-frequency-monetary value. The routing logic also takes into account customer preferences when they place an order online, using past purchase patterns to suggest appropriate delivery time windows.
Scheduled customers receive a "wheels up" message, a notification that the delivery truck is leaving the parking lot and on its way to their location. This message serves as a reminder for customers and helps them prepare for the delivery.
Yelloh uses the digital doorknock (DDK) system to communicate with unscheduled customers, sending messages to gauge their interest in a visit from the driver. This added convenience appeals to customers who may be interested in making last-minute purchases during the driver's route.
The recently introduced same-day delivery allows customers to place and receive orders faster than ever. The delivery drivers carry a fully stocked freezer truck with around 300 different products, which enables them to provide customers with a wide selection of items when they make in-person sales. The routing software is designed to be flexible, allowing drivers and customers to make changes as needed.


The Bumps on the Road & Lessons Learned
The company had a minor issue with the navigation system where the flag indicating the house's location was not showing on the map, causing some confusion for the drivers. However, they worked with Sygic to fix the problem and upgrade to the latest version of the software. Since then, they have rarely heard of any issues regarding navigation, and it has become a crucial aspect to consider when looking for new handheld devices. The team has worked hard to gain the drivers' trust and confidence in the system, and they want to do their best to keep committed to that trust.


What Drivers Have to Say About It
The issues Yelloh faced in the past with navigation vanished after implementing new handheld devices. Swanson has since heard very few complaints. "The drivers are like, 'this is great, it brings out the map, it's way more accurate, it's faster'," she says.


Safety is the Top Priority: A Commitment to the Customers
Yelloh's drivers rely on Sygic navigation to alert them to potential hazards such as railroad tracks, school zones, and speed limits. The accurate directions provided by the navigation system ensure that drivers reach their intended locations, which not only enhances their safety but also helps maintain customer satisfaction through timely deliveries. This is especially important as drivers operate in residential areas where safety is a top priority.


What's New and What's Next: Roadmap for the Future
Making sure the navigation functions well on a new device they'll consider is just one of the plans for the routing system. The company is currently working on incorporating historical traffic information to plan the routes better and avoid congested areas. In the future, the company may also consider adding real-time traffic information to the navigation for metropolitan usage so the drivers can choose their routes based on delays. Based on the feedback, they might look into creating a map on the handheld that displays the neighborhood with an icon on top for houses that need to be stopped by. With this idea and many more to come, Yelloh continues to improve its customer service to ensure a more efficient and enjoyable experience for everyone.


About Yelloh
Yelloh, formerly known as Schwan's Home Delivery, is a direct-to-consumer frozen food delivery company that provides customers with exceptionally delicious frozen foods for every mealtime occasion, including premium meats, poultry and seafood; a variety of side dishes and appetizers; breakfast items; pizzas; ice cream, desserts and more. Based in Minnesota, the company has about 2,800 dedicated employees and nearly 300 neighborhood delivery hubs nationwide delivering in their iconic yellow trucks to millions of customers each year.
For additional information or to shop, visit Schwans.com
To learn more about the transition to Yelloh, visit Yelloh.com


About Becky Swanson
Becky Swanson is the Manager of Operations Support at Yelloh. She has been in the logistics business for 27 years and has worked in various roles including helpdesk support, IT analyst, and routing team lead. In her current role, she is responsible for coordinating changes, enhancements, and improvements to the handheld devices used by drivers. Swanson also serves as the main point of contact for driver feedback and recently implemented Yammer to facilitate direct communication between drivers and the support team.


About Sygic
Sygic specializes in GPS navigation software and location-based services for smartphones, tablets, and in-dash infotainment systems. With over 200 million downloads globally, it's one of the world's most popular offline navigation apps. Its solutions for the enterprise sector are navigating more than 3,000 fleets and 4 million professional drivers. The company offers turn-by-turn navigation, real-time traffic information, speed camera warnings, truck-specific routing, and other advanced functionalities that help drivers safely reach their destinations. Learn more at www.sygic.com/enterprise


Discover the road to efficient and safe deliveries.
Contact us today
to learn more about Sygic Professional Navigation. Let's explore the possibilities together!