Critical path for profitability
Sygic and Honeywell delivered a joint presentation at the European Post and Parcel Services conference in Vienna on how technology can help post and parcel services to succeed in the first time delivery challenge.
Successful first time delivery can significantly reduce your operating costs (for example in UK, reducing re-deliveries by 1% is estimated to cut delivery costs by £65.2m), and adds a significant competitive advantage with better quality of service.
Quality matters
There are little or no remaining obstacles for the exploding e-commerce market outside of the "perfect delivery". According to Honeywell's latest research, some 40% of online shoppers are willing to pay extra for "perfect delivery" where and when they specify.
Successful first time delivery is, in other words, the key to taking advantage of e-commerce opportunities and benefitting from the momentum in the delivery business market.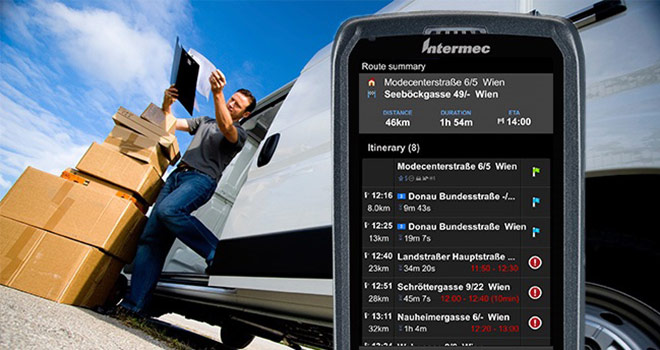 The technology helps
Honeywell and Sygic have joined forces as technology partners, and together they exposed at the European Post and Parcel Services conference in Vienna the edge that the latest technology can deliver to post and parcel services in order to succeed in the first time delivery challenge.
Using professional Sygic GPS Navigation software with Dynamic Itinerary allows you to predict an exact estimated time of delivery which is constantly updated, and the courier can immediately see if deliveries will be on time. In the event of any delays, the Sygic Navigation software notifies courier and the dispatch center about the delay for each delivery.
Focusing on importance of first time delivery, the courier or the dispatcher can take appropriate action using Dynamic Itinerary feature to edit the delivery list and re-optimize the itinerary maintaining high efficiency in the field.
In addition, the navigation can share in real time the position of courier with the recipient using Track my Parcel Plugin from Sygic Navigation. The recipient can track the courier's location and see constantly updated estimated time of delivery enhancing the quality of service and reducing time at each stop.
Sygic Navigation in the hands of the courier can deliver significant benefits addressing the operating costs and the quality of service of post and parcel companies such as:
Providing accurate delivery times updated every second
Easy to train new couriers allowing them to work efficiently from the first day
Sending and dynamically optimize route itineraries in case of changes
Allowing recipients to track their parcels in real-time
Check the performance of the courier and influence his productivity
Collecting proof of delivery
Request details about Sygic solutions for Post & Parcel Delivery companies from our sales team.