Sygic Professional Navigation is now integrated into the popular GPS tracking platform on Russian market called Navixy providing its field employees to operate in faster, safer and more efficient ways than ever before. Managing a mobile workforce is becoming more challenging in any aspect of the process due to vehicles' individual characteristics, traffic jams or road restrictions.

We see a trend when it is no longer enough to provide a detailed task description and itinerary - fleet managers call for a special approach towards cuts in time and costs. Sygic Professional Navigation offers Navixy a perfect solution with the main aim to optimize field employees' workflow alongside with saving money on fine, fuel and reduce delivery time.
Integration
Navixy integrated Sygic Professional Navigation to make it easier when optimizing field employees' workflow alongside with saving money on fine, fuel and reduce delivery time. Having received a task on the smartphone, a mobile employee can choose a navigation app to navigate him to the task point. A driver simply opens the needed task and taps on the Sygic navigation icon. The main benefit for Navixy fleet drivers was truck restrictions, which is missing in Google Maps. Thanks to this unique "truck attributes" feature, operators can set specific parameters of vehicles and hazardous materials to help keep truck drivers on roads meant for them.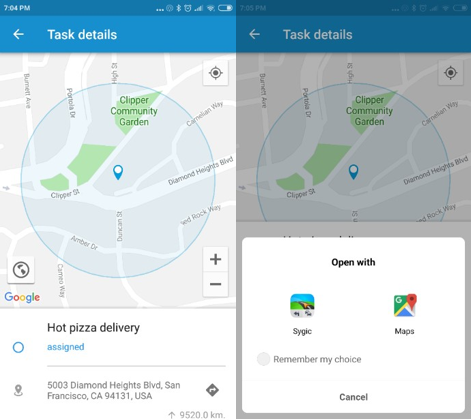 Results
Sygic Professional Navigation is helping Navixy with fuel prices to save their fleet drivers on fuel costs. It allows drivers to find the cheapest gas stations along the route and plan where to fill up. Besides, real live gas prices will surely help out when navigating in an unknown region.
Sygic has also helped with its truck attributes feature to increase driver's personal safety. It's possible for Navixy's drivers to enter parameters for up to three vehicles. The parameters include: fuel type, axle load, number of trailers, hazardous materials etc. The route will be then calculated based on set parameters. Therefore, the drivers do not get on a road that is not suited for the vehicle.
About company
Navixy team develops software solutions for LBS and M2M service providers. Ever since 2005, the company has offered its specialized products designed for professional use and heavy load.
Navixy GPS Tracking Platform is our #1 worldwide known all-in-one software product. It can be either installed on customer's server hardware or provided as a cloud service. Today more than 300 service providers across the world exploit our solution and we continue its further development to meet the needs of the modern world.