The economic crisis triggered by COVID-19-related restrictions on transportation and changes in customer behaviour has disrupted the global supply chain. How can efficient and smart waypoint optimization help your business?
The low-hanging fruit of business management in a crisis is cost optimization of established processes and practices. It doesn't matter if you're a big company or a self-employed carrier: every detail matters.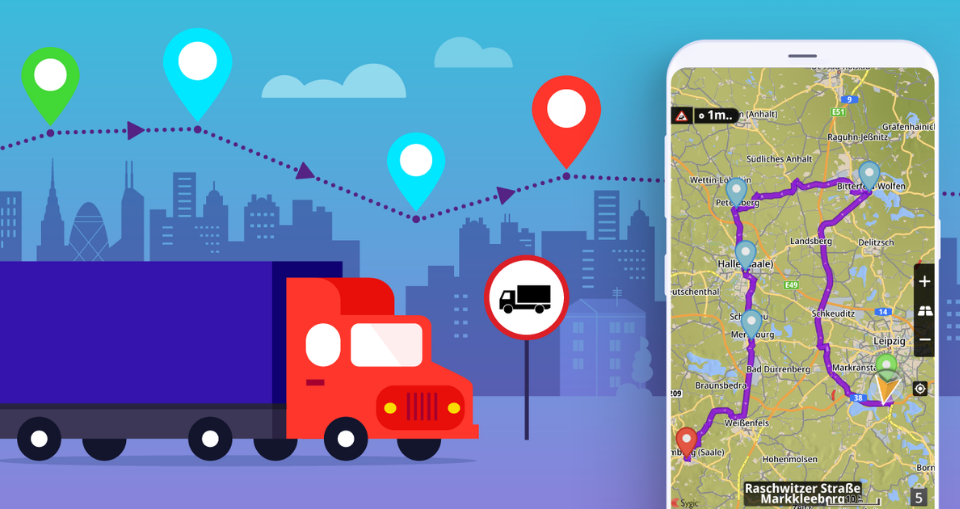 Adding multiple waypoints without optimizing your route can result in higher expenses for fuel, vehicle maintenance and delivery delays.
According to a survey by Deloitte, 79% of companies with efficient supply chain management achieve revenue growth that is significantly higher than the average for businesses in their sector.
Tailored turn-by-turn offline navigation
Sygic Truck Navigation is a mobile navigation solution explicitly developed to meet all the needs of the transportation business. To make it work, you don't have to invest in any expensive hardware: you or your drivers can easily install it on your personal or company smartphones and tablets.
It comes with a variety of safety and smart features. Its full-featured offline maps work in rural areas with slow – or no – internet connectivity, and its 3D-modelled landmark buildings allow for convenient orientation in cities.
Drivers can also customize vehicle parameters, including type, fuel, axle weight, vehicle dimensions, tunnel codes, number of trailers and emissions categories, in order to avoid restrictions, narrow roads, and low bridges or tunnels.
Smart waypoint management
Sygic Truck Navigation can optimize up to 150 waypoints, typically saving you 10% of the driven mileage in comparison with manual sequencing.
Just add the planned stops and in the route summary choose the 'Optimize' option. Our unique in-app algorithm will then re-arrange the waypoints to achieve maximum efficiency.
If you prefer to work with the route in Google Maps, download the Google Chrome or Firefox Sygic Truck Route Sender extension. This allows you to set and update multiple waypoints and to send them directly to your device or the devices of your drivers.
The app then immediately calculates the route in the smartphone or tablet, and tailors it to meet the specific parameters of your vehicles.
Optimize your operational expenses with efficient waypoint management by trying Sygic Truck Navigation – the all-in-one professional navigation for large and medium vehicles, trusted by millions of drivers worldwide. Download it now from Apple App Store or Google Play.