Sygic Travel White Label is an online travel planner that can be added to anyone's website under their own brand. With its help, various companies, such as hotels, tourist offices, travel agencies, airports or travel bloggers, can easily offer a simple interactive tourist map or a fully fledged tourist portal to their customers.
Check out the Sygic Travel White Label demo.
One such example is JB, a travel blogger from Will Fly for Food. Thanks to Sygic Travel White Label, his readers can plan their trips, search for hotels or book tours right on his website. But there's much more. Your customers can also search for flights, rent cars, display sights in the vicinity of their accommodation or get emails with ready-to-use itineraries.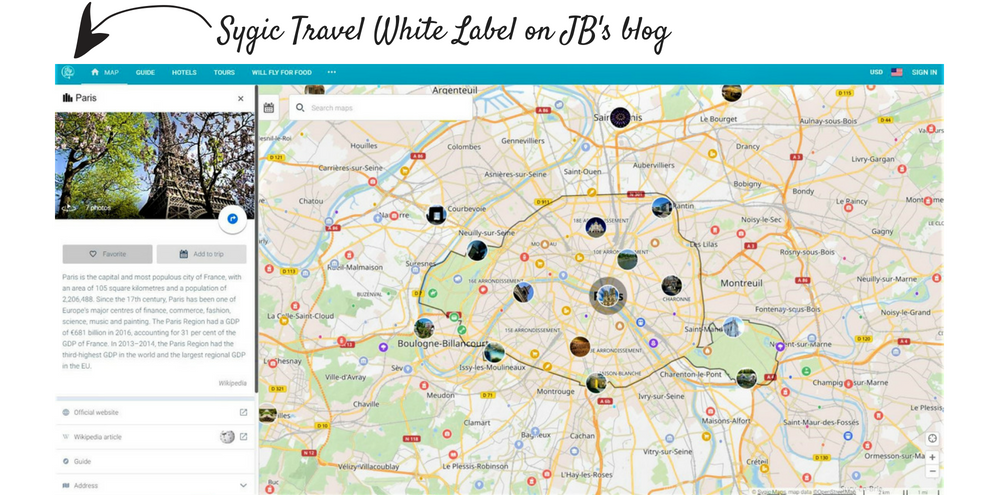 Planning trips with Sygic Travel White Label
Let us assume you have already launched Sygic Travel White Label on your website (you can learn how to do that in the last paragraph below). The first thing your customers need to do is to create an account. Once they have done that, they should click on the icon in the upper right corner of their screen to bring up the menu and choose My Trips. To start planning, they will need to click on Plan a new trip, choose the destination, the trip's name and dates. The map will then appear.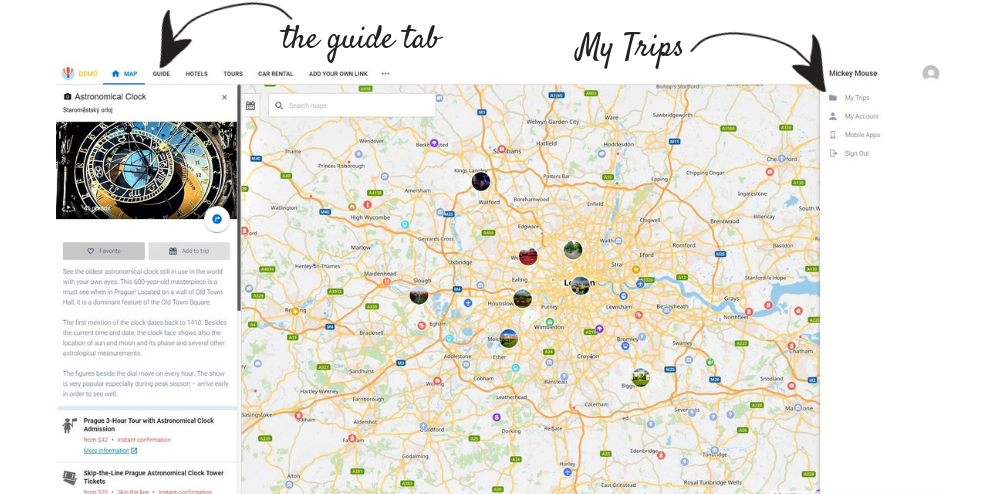 Clicking on the Guide tab will give them an overview of all the available resources that can help them plan their trip, such as popular attractions, tours, 360° videos or hotels in the area. Clicking on an attraction or a hotel will bring them back to the map to show them exactly where these are while clicking on a tour will open a new booking page.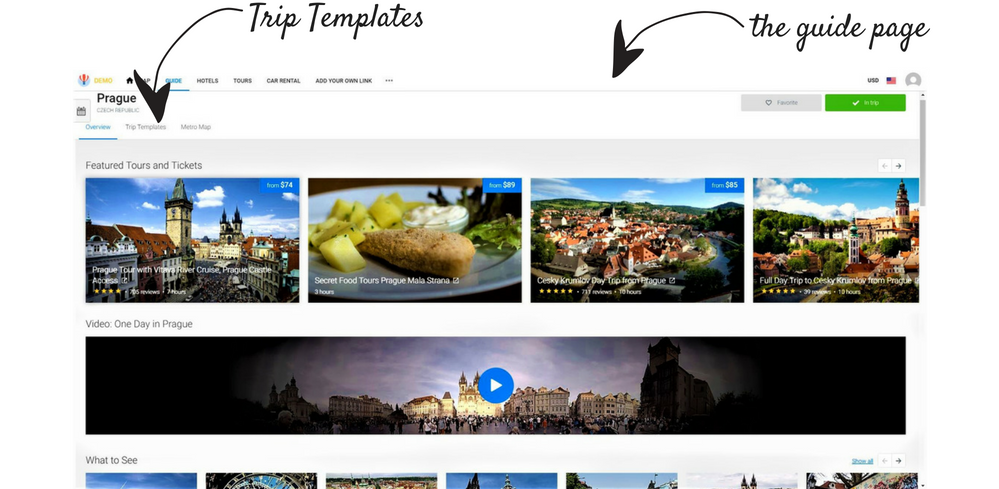 At the top of the guide page, they will find a tab called Trip Templates. Clicking on that will show your customers pre-made itineraries for the chosen destination. If they don't want to plan their itinerary from scratch, they can easily use one of these. They just need to click on Use and choose the days.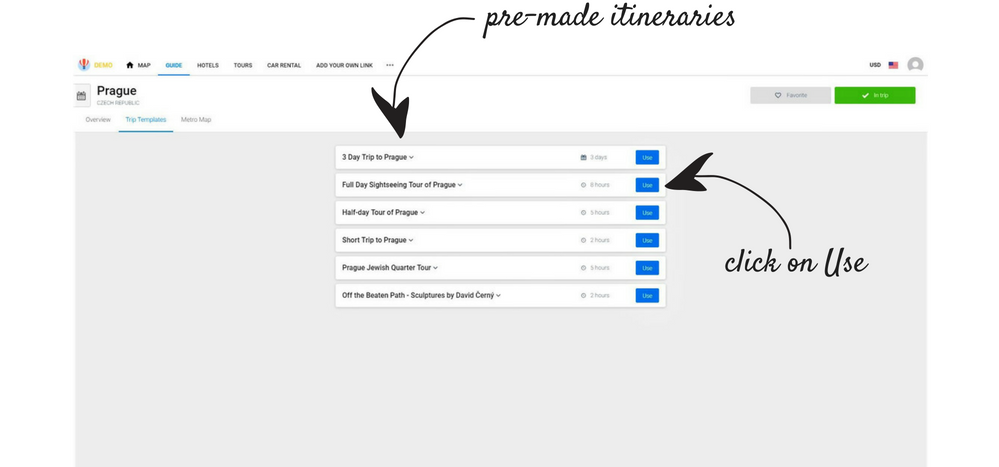 The itinerary will then appear on the map. Zooming in on the map will display popular attractions, restaurants or cafes. Clicking on any of them will show their detailed information in a panel on the left. To find a specific place, your customers can use the search box. Once they find the place, they can add it to their itinerary.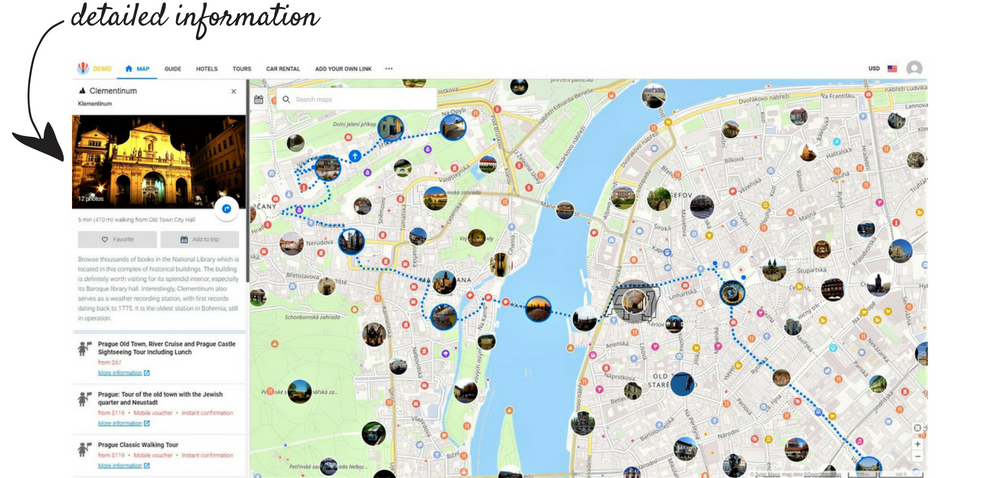 Accommodation booking
The Hotels tab will allow your customers or blog readers to filter accommodation by property type, star rating, price range, review score, and facilities. All hotel bookings are powered by Booking.com.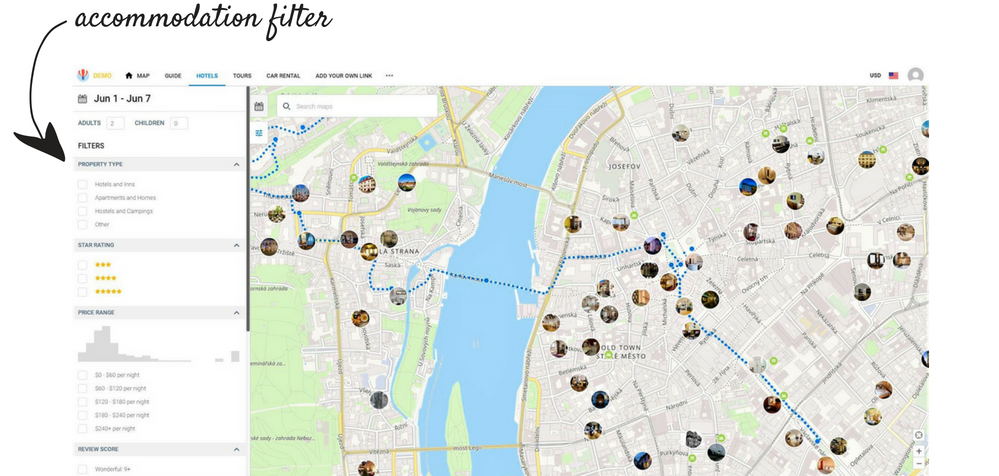 By clicking on any hotel on the map, your customers will open its profile in the left panel. They can also click on See rooms or Add to trip. Clicking on See rooms will take them to the Booking.com website (using your affiliate ID to get you commission on any booking) where they can finish their booking. Clicking on Add to trip will allow them to add that hotel to their itinerary without having to book it first.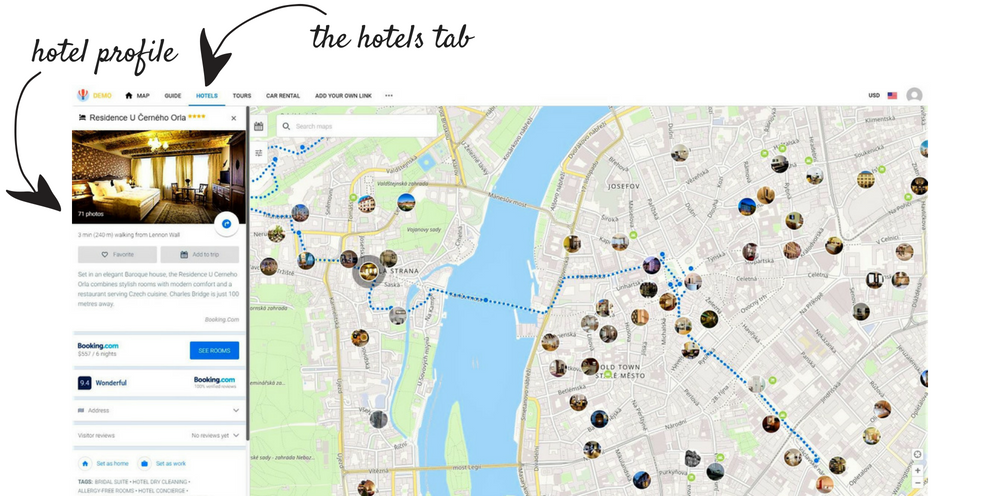 Tours booking
All tours offered in Sygic Travel White Label are provided by Viator or GetYourGuide, the biggest and most reliable tour providers. Clicking on the Tours tab will show your customers all the available tours for the chosen destination and clicking on any tour will take them to the affiliate website powered by Viator/GetYourGuide where they can make the booking once they have made a decision.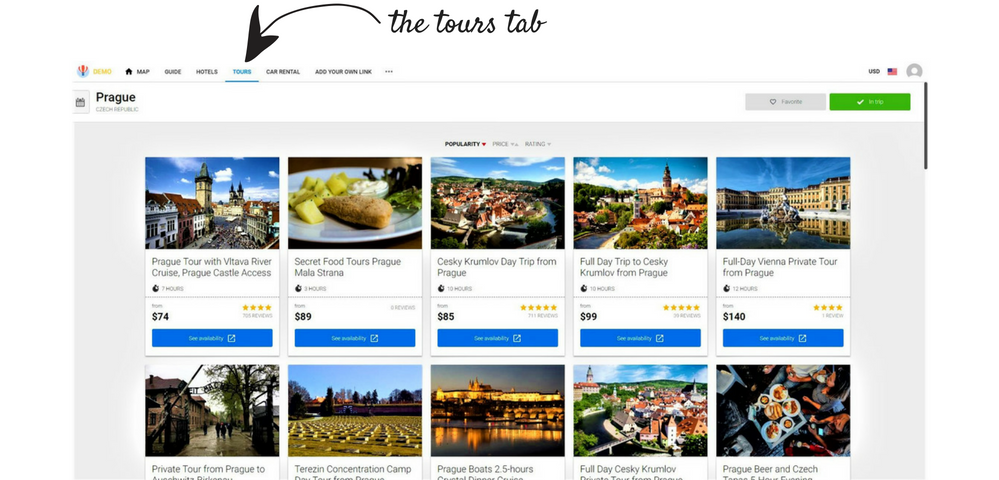 Trip sharing and printing
All the itineraries created in Sygic Travel White Label can be shared with others and downloaded in the PDF format. To do that, your customers need to go to the left panel and click on the trip's name to get a set of options.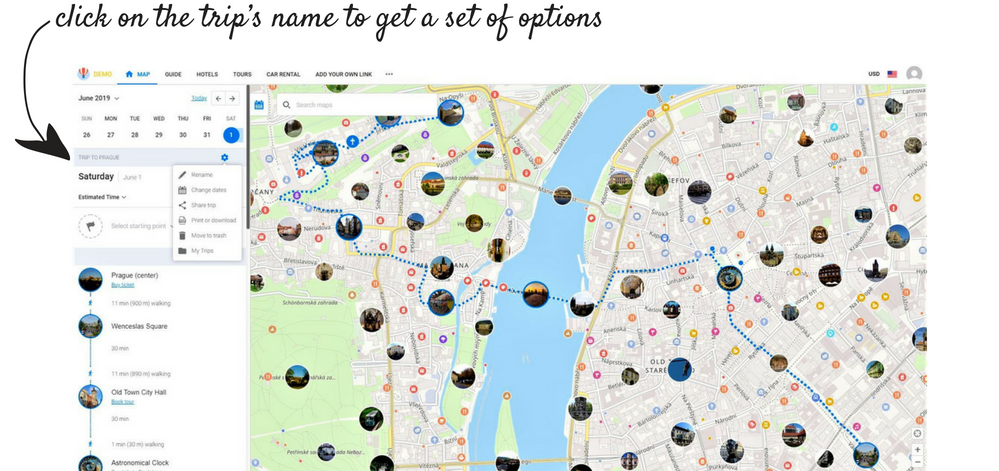 To share a trip, they will just need to select the Share trip option. Choosing that and setting the trip as Shareable, anyone who has the trip's link will be able to access it. The link can be simply copied from the web browser's address bar.
Choosing the Print or download option will allow your customers to export their trip itinerary to a PDF, or to export it to Google Earth (KML) or a navigation software (GPX). They can keep the downloaded itinerary on their mobile devices or print it out.
How to launch Sygic Travel White Label on your website?
Adding a travel portal to your website is easy. Sygic Travel White Label is developed as a ready-to-use product, which means that launching it takes only a couple of minutes. First you need to choose which countries or areas you want the planner to cover and which products you want to display. You can for example offer itineraries for the customer's destination or show points of interest in the vicinity of your hotel. We will then customise the trip planner to meet your company's color scheme, add your logo and make everything ready to be released on any domain you wish. Contact us for more information.