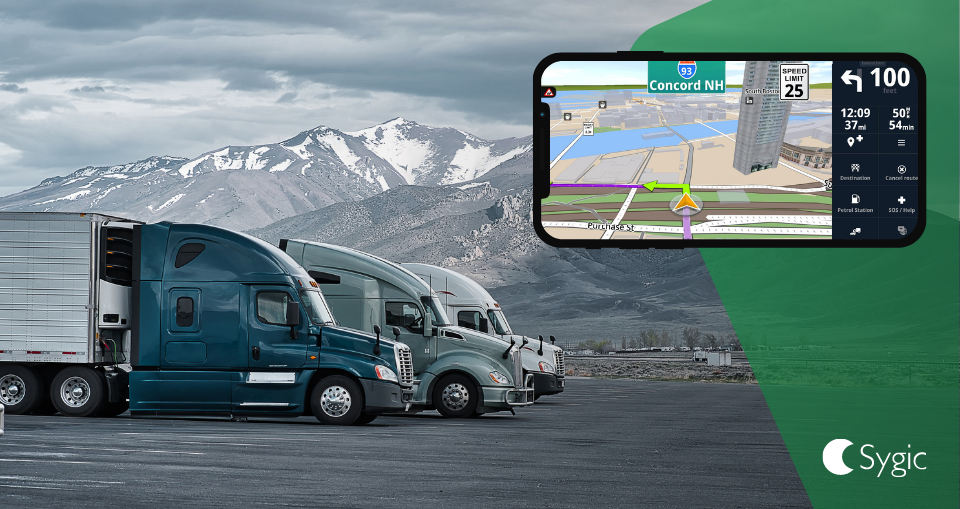 Managing a fleet can be a tough job, but with the right approach, it can also be a rewarding one. Many responsibilities come with the territory, from coordinating schedules to keeping up with vehicle maintenance and driver management. On top of that, as a fleet manager, you hold the key to keeping your fleet running smoothly and ensuring the safety of your drivers and vehicles. But don't worry; we're here to help!
Rest assured, we can help you make the right choice for a navigation app that fits the requirements of your drivers and vehicles.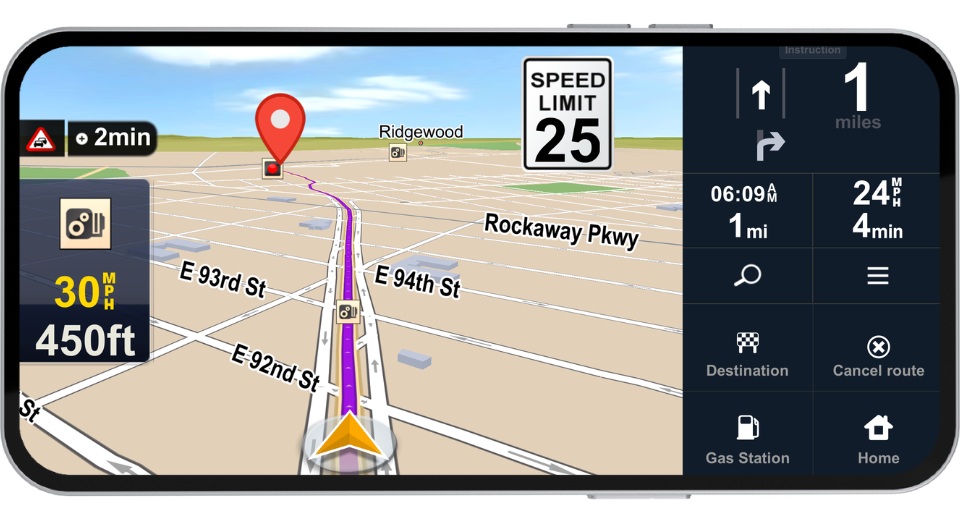 Sygic Professional Navigation is a versatile and reliable professional GPS navigation app that helps drivers in North America navigate their routes with ease. Whether you're a fleet manager, a solutions provider, a consultant, or have a family business that grew over time, Sygic might be a great choice for you. Here are a few reasons why:
Accurate Maps and Navigation
Sygic Professional Navigation uses up-to-date, best-on-the-market maps from trusted providers (Here, TomTom). The app's maps are regularly updated with the latest traffic information and road closures, ensuring that drivers can focus on driving knowing the route is safe and accurate. Sygic also offers real-time traffic information, which helps drivers avoid congestion and delays.
Driver-focused Features
Sygic Professional Navigation offers a range of features specifically designed for drivers. For example, speed limit warnings and voice-guided turn-by-turn directions can help drivers stay safe and avoid costly tickets. The app also includes a lane assistant, which allows drivers to navigate complex highway interchanges and exits.
Offline Navigation
One of the biggest advantages of Sygic Professional Navigation is its offline functionality. This means drivers can use the app without an internet connection, which is particularly useful in areas with poor cellular coverage. Offline maps are also helpful for drivers who travel to remote areas where internet connectivity is limited.
Great for Large-sized Vehicles
Routes are optimized for specific vehicle types, which can be easily set in the application, avoiding roads with low bridges, weight restrictions, or other hazards that could damage the vehicle or pose a safety risk.
Supports a Wide Range of Devices
Sygic Professional Navigation is a versatile solution that supports a wide range of devices, including smartphones, tablets, and specialized rugged devices. The solution is compatible with a variety of operating systems, including Android, iOS, Windows, and Linux, making it a flexible option for businesses of all sizes.
Hazmat Compliant
Sygic Professional Navigation is Hazmat compliant, supporting all Hazmat classes. The app includes Hazmat-specific routing and mapping, as well as other tools and features to ensure compliance with regulations.
Real-time Traffic Information
Real-time traffic updates provide drivers and transport managers with current information on traffic congestion, accidents, road closures, and other factors that could impact travel times, allowing them to plan their routes more effectively and adjust to changes on the road. This technology is especially beneficial for fleet managers, who can optimize their vehicles' performance and maintain punctual deliveries.
Integration with ELD Software and Hardware providers: e.g., Geotab & Samsara
Sygic Professional Navigation can be integrated with telematics providers, such as Geotab and Samsara telematics platforms, making it an excellent choice for commercial fleets. This integration allows fleet managers to send routes to the Sygic app, and with just a few clicks, the driver knows where to go and which way to take.
Great Track Record of Working with Integrators
Sygic has a great track record of working with integrators such as Descartes or FiveCubits, who provide supply chain and logistics solutions to customers. This partnership allows customers to seamlessly integrate Sygic's navigation technology into their existing workflows, improving overall efficiency and reducing costs.
Affordable Pricing
This app is competitively priced, making it an affordable option for companies who need a dependable navigation solution. Sygic Professional Navigation is available for purchase with a yearly or variable subscription, with no hidden costs or extra fees to worry about. With its affordable pricing and commitment to transparency, Sygic Professional Navigation is the go-to choice for companies seeking a top-notch navigation experience without breaking the bank.
Reliable Support
Sygic offers reliable 1-to-1 customer support for its Professional Navigation app, with a dedicated support team available to answer and resolve your queries. The company also provides regular app updates, including improvements, new features, and updated maps.
Smart Choice for Your Fleet
Sygic Professional Navigation isn't just a complete solution for commercial fleets; it also delivers outstanding customer support from a team of knowledgeable and helpful representatives. With various features and customization options, competitive pricing, and proven credentials, Sygic Professional Navigation is the obvious choice for anyone searching for a dependable and adaptable Commercial navigation app that can cater to their specific requirements.
Sygic Professional Navigation is an excellent choice for companies and drivers in the US and Canada seeking a reliable, feature-rich Commercial navigation app.
This app provides accurate maps and routing, customizable features, and driver-focused tools, enabling drivers to navigate their routes easily. In addition, Sygic Professional Navigation offers affordable pricing, offline maps, and safety features, making it an incredibly cost-effective solution for overcoming many of the challenges encountered on the road.
Have questions or want to learn more?
Say goodbye to the stress of finding the right application scenario for your navigation needs. Sygic's got you covered.
Fill out this form to start the conversation
.
Are You a Solution Provider? Explore These Customizable Features
Sygic Professional Navigation is highly customizable via custom URL functions or provided SDK, allowing integrators to tailor the app to the specific needs of their customers.
Customize maps: Businesses can add and edit custom points of interest, set geofences and create custom routes.
Load jobs & precomputed routes: Send the destination, series of stops, or predefined route that should be exactly followed to the application.
Set vehicle parameters and other setting: The API allows you to read and overwrite application settings, so the drivers won't need to set it up on their own. This can be also easily executed via MDM.
Integrate the solution with other software: The Sygic API can be easily integrated with other software systems, such as dispatch software, CRM platforms, or fleet management systems.
Communicate with the driver: The Sygic API supports calls which enable flash messages to be sent to the navigation screen, convert text messages to speech, and display important messages that a driver is able to confirm by having them read.
Activate licenses as you see fit: Sygic Professional Navigation offers different options for the mass activation of purchased licenses. Based on the project requirements and type of software you can choose among online, offline or even manual activation.


So, what's next?
Let's keep the conversation going!
Fill out this form to get in touch with our team.


Take advantage of our free trial offer and see why businesses are choosing Sygic.
Well-suited for heavy-duty trucks, including:
Dump Trucks
Concrete Mixer Trucks
Tanker Trucks
Refrigerated Trucks
Flatbed Trucks
Tractor Trailers
Pickup Trucks
Box Trucks
Tow Trucks
Garbage Trucks
Fire Trucks
Concrete Pump Trucks
Bucket Trucks
Fuel Trucks
Logging Trucks
Livestock Trucks
Platform Trucks
Stake Trucks
Water Trucks

And:

Buses and coaches
Car Carriers
Delivery Vans
Cargo & Passenger Vans
Utility & Service Vans
Ambulances