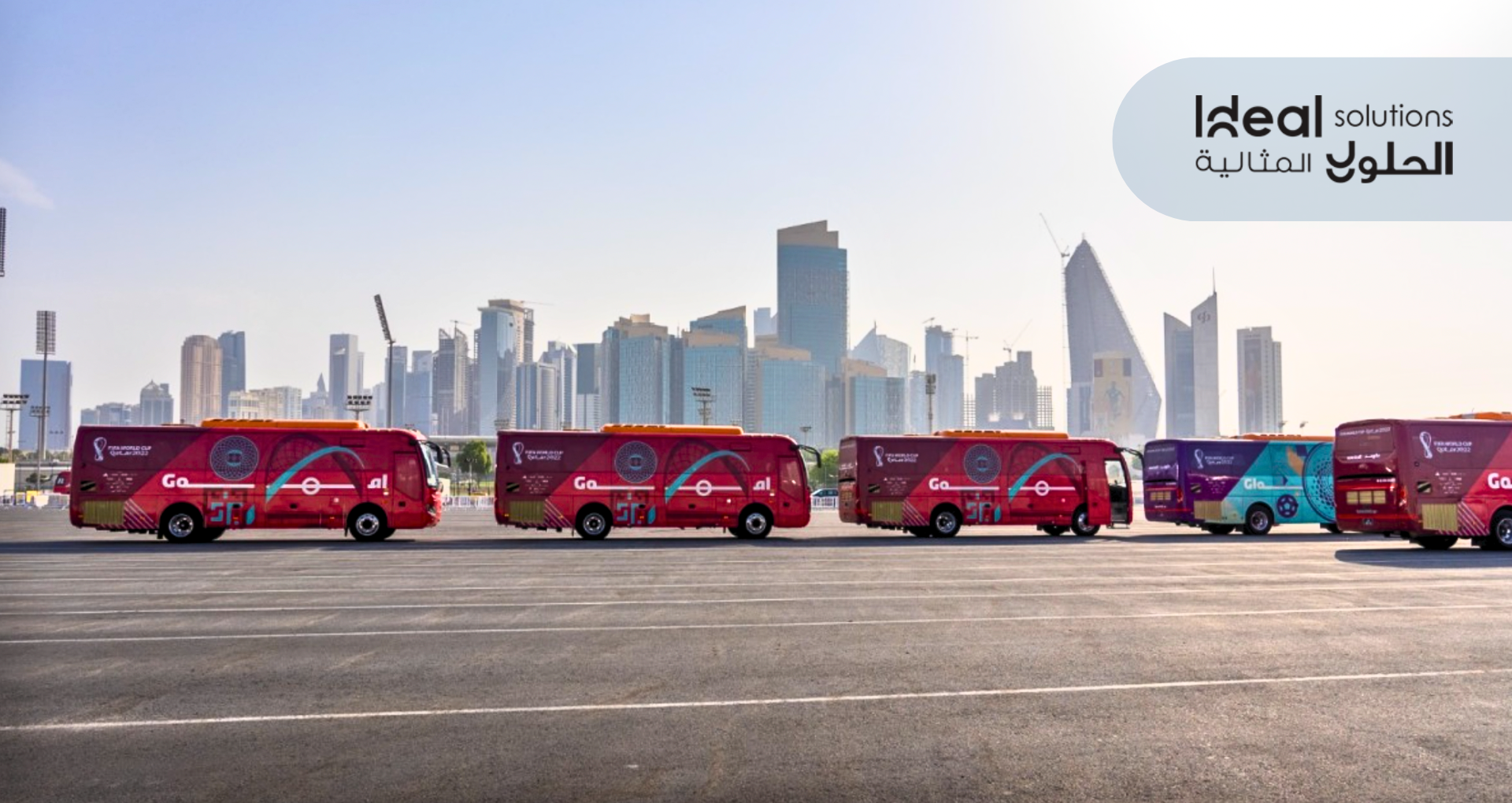 When most people think of the FIFA World Cup, they envision an electrifying arena filled with fans, adrenaline-charged matches, and nations vying passionately for the ultimate soccer crown. Yet, hidden behind this dynamic spectacle is a multifaceted logistics puzzle, ensuring that everyone—from players to VVIPs—is precisely where they're supposed to be, punctually. The Qatar 2022 FIFA World Cup showcased these exact logistical intricacies.
Amid the continuously shifting labyrinth of Qatar's road networks and the critical importance of on-time transportation, a game-changing solution arose.



iEYE Fleet Management System:
A cutting-edge platform expertly tailored to manage every aspect of fleet operations. It rigorously monitors speeds, delineates zones, and provides real-time status updates for each vehicle. Central to this system is a mobile app, seamlessly integrated with Sygic Professional Navigation, arming drivers with the tools to traverse Qatar's diverse terrains with unparalleled accuracy and assurance.
Customer Background:
The Qatar 2022 FIFA World Cup (FIFA Q22) presented a unique challenge to ensure the seamless transportation of VVIPs, VIPs, referees, and players between hotels, stadiums, and airports.
With over 600 different routes and more than 1400 drivers, the task of managing transportation logistics was monumental.
Challenge 1: Navigating Construction and Road Changes
The client expressed concern over map data accuracy, particularly in mirroring Qatar's evolving road network. As ongoing road construction and diversions played out in the run-up to FIFA Q22.
Solution
Ideal Solutions recognized the importance of reassurance. Sygic provided map update frequency information, but the Ideal Solutions team went beyond and created a Proof of Concept (PoC) mobile app. This app underwent real-world testing with iEYE Fleet Management, meticulously comparing planned routes with actual ones, quelling concerns regarding data accuracy.
Challenge 2: Flexibility in Starting Points and Route Adjustments
A significant hurdle emerged when the client mandated that drivers could initiate journeys from any location, not just the starting point. Additionally, drivers needed to modify predefined routes to connect with their current location. While Sygic's magnetic waypoints partially addressed this, a persistent issue emerged during testing. The solution seemed to overlook predefined routes at times.
Solution
Ideal Solutions' team persevered, dedicating weeks to brainstorming, testing, and refining custom solutions. This bespoke answer hinged on real-time vehicle location, iEYE Fleet Management algorithms, and a tailored mobile app behavior, leveraging iEYE's unique APIs. Rigorous road testing confirmed the solution's reliability, proving instrumental during FIFA Q22 transportation.
Challenge 3: Course Correction for Wrong Turns
A similar challenge arose concerning driver deviations from predefined routes.
Solution
The team ingeniously resolved this problem, ensuring that drivers were guided back onto the correct path via dynamically generated shortest routes.
Implementation:
FIFA Q22 approached Ideal Solution to address their transportation challenges. Recognizing the need for an efficient navigation system, Ideal Solution partnered with Sygic. Sygic's navigation solution stood out due to its advanced features, accuracy, and its capability to handle complex route structures.
Benefits and Achievements:
By leveraging Sygic's navigation solution, the transportation team achieved several key outcomes:
1. Timely Delivery: The integration ensured that passengers were delivered to their destinations, particularly stadiums, promptly, avoiding traffic bottlenecks.
2. Operational Efficiency: The elimination of manual route training and the use of turn-by-turn navigation optimized transportation operations.
3. Driver Convenience: The iEYE E-Map Driver Navigation App made navigation seamless for drivers, ensuring they followed FIFA Q22's mandated routes without confusion.
4. Reduced Traffic Incidents: The navigation system helped prevent drivers from getting stuck in traffic, contributing to smoother operations.
5. Client Satisfaction: FIFA Q22 expressed their appreciation for the successful implementation, acknowledging Ideal Solution's crucial role in making the event a success.


After the FIFA World Cup Qatar 2022, Naoufel Amor, Transport Group Leader – Fleet Management at FIFA World Cup Qatar 2022 LLC, shared his gratitude with Ideal Solutions for their outstanding efforts. He praised their contributions to what he termed the "best FIFA World Cup ever." Reflecting on their history, Amor expressed his confidence in Ideal Solutions, recalling their consistent deliveries from past events."Different entities during the world cup have been using the tracking software with almost no issues as well the implementation of the new technology which is the drivers navigation via an electronic map application, made a huge difference." Naoufel Amor emhesizes.
Pilot and Implementation
The pilot phase was executed successfully, and the implementation process was relatively smooth. The integration took place over a reasonable timeframe, aligning with the event's preparation period.
User Impression and Concerns
Initial user impressions of the navigation app were positive, as it simplified navigation and reduced the risk of deviations from designated routes. The main concern addressed was ensuring that drivers adapted to using the navigation app effectively and followed the specified routes.
Conclusion
This partnership between Ideal Solution and Sygic showcased how innovative technology solutions can overcome complex logistical challenges, facilitating the success of high-profile events like the FIFA Q22 World Cup.
About Ideal Solutions
Founded 25 years ago in Qatar, Ideal Solutions has earned a distinguished reputation as a leading provider of innovative smart solutions, dedicated to delivering exceptional quality and punctuality. Our guiding principle, encapsulated by the acronym "DTQ – Deliver on Time with Quality," informs our client-centric approach, guaranteeing unparalleled service and client satisfaction.
With a portfolio boasting over 200 trailblazing projects, Ideal Solutions is acknowledged for its profound expertise, sound business practices, round-the-clock customer support, and an unwavering dedication to excellence. This commitment is reinforced by our attainment of the esteemed "CMMI Level 2" and ISO 9001:2015 certifications, underscoring our commitment to maintaining the highest standards of quality and performance.
Learn more at https://idealsolutions.com/