We are very happy to introduce our latest feature that provides users a unique way to navigate the world. We have designed a brand new Augmented Reality feature so you can see the road even when you are looking at the navigation instructions on your device. Driving with Real View Navigation is not only more intuitive, it's also safer than traditional navigation systems.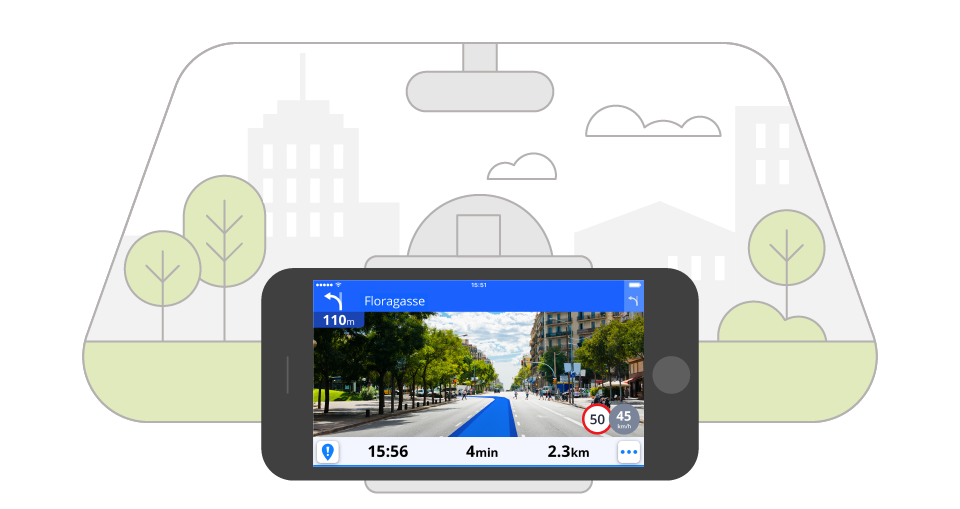 What is Real View Navigation?
Use the power of augmented reality and replace the classic map with the real-world view. You won't see the navigation instructions on the map, but directly on the street you are driving on. This innovative feature uses your phone's camera and displays the navigation instructions over the view from your car.
How to use Real View Navigation?
Simply plan and start your route. You can launch the Real View Navigation right from the Quick menu, just tap the 3 dots in the right bottom corner of your navigation screen.
Keep in mind you have to mount your device, so you can see the road in front of you through your phone's camera. We recommend using a windshield mount and placing it close to the middle of your car's windshield.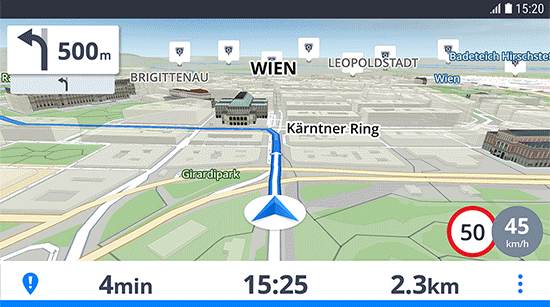 How to buy Real View Navigation?
Real View Navigation is an add-on feature available for every user of Sygic GPS Navigation, version 17.2.1 and higher. This feature is not included in our Premium licenses, it can be purchased separately in the Sygic Store. Simply go to the Sygic Store and choose Real View Navigation. This great feature is a lifetime license and costs 9,99EUR only.
Please note that that you will see turn by turn instructions and traffic information only if you have already purchased one of our Premium licenses.