After the current measures to limit the spread of coronavirus are lifted, the world of logistics and goods transportation will change. Public pressure to maintain clean air in cities will rise. Will there be even more low-emission zones in cities? How can you and your company prepare?
COVID-19 outbreak-related measures have significantly slowed down the whole world, resulting in less traffic and less air pollution. According to Stanford University's Professor Marshall Burke, improvements in air quality during China's lockdown may have saved between 50,000 and 70,000 people from dying prematurely.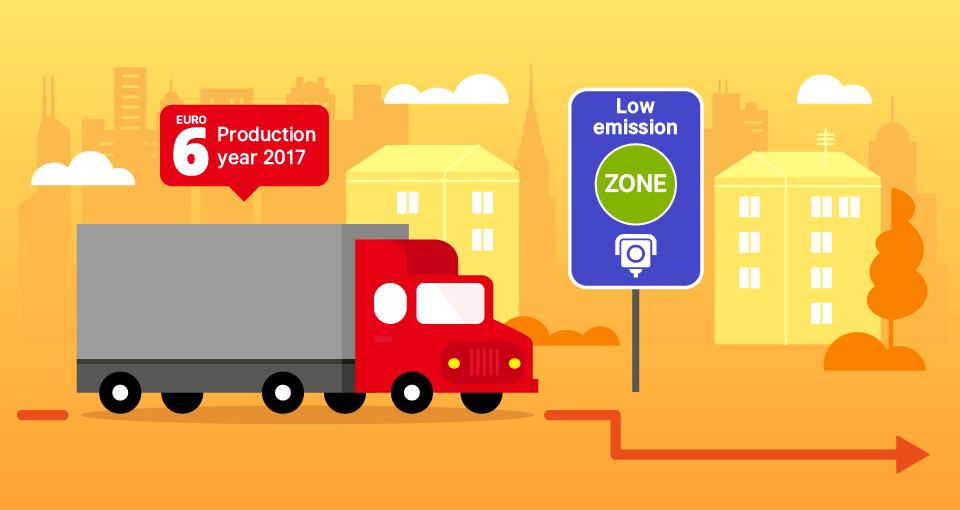 Similar statistics are now emerging elsewhere and will continue to emerge in countries that are currently under lockdown and where industrial activity and transportation have been curtailed.
Lockdown = huge environmental precedent
When all this ends, we can expect emissions to increase temporarily compared to even the pre-corona period, as businesses ramp up supplies in order to restart industries that are currently in a state of enforced hibernation.
At the same time, we can also expect pressure on politicians to rise – from experts who will, more than ever, emphasize the negative effects of emissions on public health, and will be able to point to the positive effects that coronavirus restrictions have had on air pollution. And this is not to mention the so-called European Green Deal and the obligations arising from it.
We believe that in the next few years we can expect to see the number of low- and zero-emission zones to increase significantly, from the current 250 areas in Europe alone. For truck drivers, this means that planning a trip could require hours of Googling in order to be sure of avoiding prohibited or restricted areas.
Emission zones routing
Sygic Truck Navigation is the most downloaded GPS navigation app, trusted by more than two million truck drivers, couriers, and caravan enthusiasts.
Users benefit from cutting-edge 3D offline maps from renowned map providers, and dedicated features including tailored routing and live traffic updates which use data from over 500 million vehicles. Drivers can easily set important vehicle parameters, along with maximum speed, to avoid restrictions, narrow roads and low bridges.
Additionally, Sygic Truck Navigation allows you to add emissions standards (Euro 1,2, ... 6), the production year of your vehicle, as well as the nature of your load (e.g. harmful to water).
Based on these variables, our advanced algorithms can navigate you around emissions zones automatically, without any further input from your side. If your destination is inside a zone, it will guide you to the closest point of entry, and notify you that entry restrictions are in force.
Wherever you need to go, during these troubled times or after, make sure that you are safe and that your navigation solution allows you to avoid unnecessary fines and complications en route.
Find out more about Sygic Truck Navigation – and try it now, commitment-free. You'll never need to Google emission zones before a trip ever again.