Rallo Logistics Services optimizes its operations with SYGIC´s navigation and M.SOFT Worldwide's mobile technology.
SYGIC is pleased to announce its collaboration agreement with M.SOFT Worldwide, a developer and implementer, provide high-quality solutions of Business Information Systems (ERP/TMS/WMS) and process mobilization software (MOBILITY) for the Transport and Logistics sector.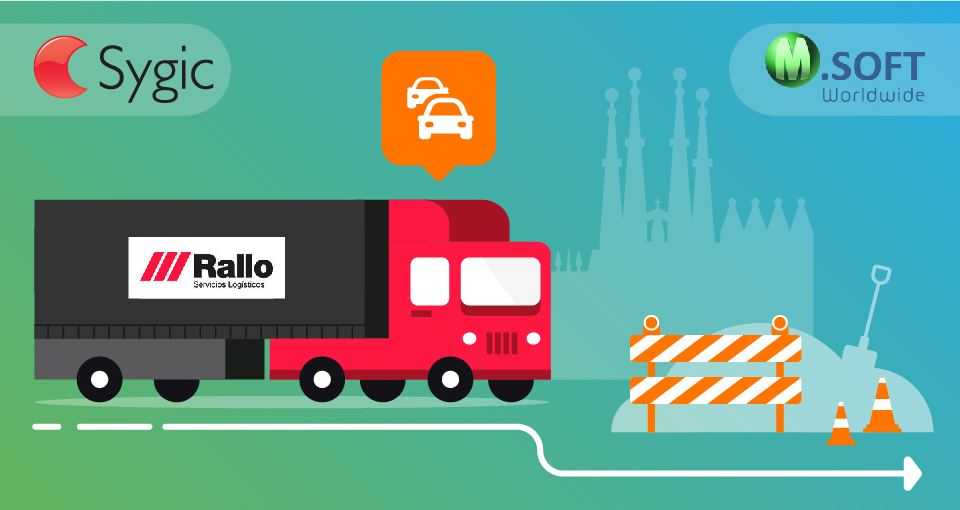 Before the integration
Since 2019, Rallo Logistics Services has had the M.SOFT Worldwide mobility application with which its drivers, among many other functions obtained information from its services in real-time, point out the tasks already carried out and open incidents as they occur. For Rallo the safety of manpower and goods is an number one priority. The floatation of its vehicles through via the most suitable routes is one of the tools to guarantee the security, the reliability in driving and the development of the service in the most efficient way.
Improvements
In line with this, and to complete the solution of M.SOFT Worldwide, Rallo has recently contracted the services of SYGIC, an international company leader in the development of GPS navigation applications.
With the combination of our solutions, we offer our diverse customer base an excellent opportunity to optimize the work of its carriers, facilitating the performance of its operations in a more optimal, fast and secure way.
SYGIC solutions, in combination with the mobility application of M.SOFT Worldwide, allows tackling road restrictions in accordance with particular characteristics of each vehicle, as well as reduction of fuel consumption and transit times.
Results
The dispatch operators can incorporate the specific characteristics of the vehicles and hazardous materials if necessary, to automatically discard all unsuitable routes based on those values. Thus, when drivers receive a new task from M.SOFT Worldwide Mobility application on their mobile device, they can easily activate SYGIC Professional Navigation, according to the parameters previously entered by the dispatch department, establishing the most optimal route possible. Furthermore, it calculates the optimal route to the destination according to a series of parameters such as the logistic restrictions of the assigned truck. At the same time, the application provides information about the estimated time of arrival of the vehicle at its destination.
From this cooperation, a solution has emerged to the challenge of being able to reach the destination in the fastest, most comfortable, and safest possible way, always taking into account logistical constraints.
About the company
M.SOFT Worldwide has over than 30 years' experience and knowledge developer and implementer of its solutions, with exclusive dedication to Business Information Systems ( ERP /TMS/WMS ) and process mobilization software (MOBILITY) for the Transport and Logistics sector and the entire Industry in general. It offers a scalable framework, with reliable and widely tested solutions installed in our customer base and always adapted to the latest technologies and market needs.
To find out more about Sygic Professional Navigation, feel free to contact our sales team.
You can try it for 14 days for free.
We appreciate any of your inquiry!