The newest release 13.9.5 of Sygic Professional Navigation & Sygic Truck Navigation bring to the table advanced Last Mile feature dedicated primarily to big trucks that has permission to reach forbidden destinations such as construction site in the city centre or loading stations in the protected areas. Since there are growing pains in last-mile logistics, Sygic plays a significant role in simplifying last minutes of navigation to restricted zones.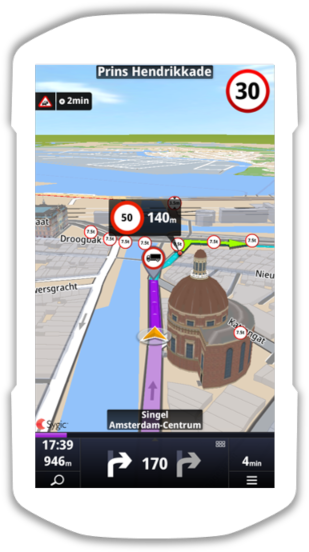 When you need to head to a restricted zone where your type of vehicle is forbidden, the most truck navigations would navigate a driver only to the point where it's permitted, i.e. to the beginning of a pedestrian zone. But not with Sygic Navigation.
Sygic Professional Navigation (or Sygic Truck Navigation) will notify the driver that he is entering the zone where he is not supposed to be due to restrictions. After that, the color of the route itself gets turquoise as a sign that the driver is in a restricted zone. The added value of this feature is that the app doesn't leave a driver on a halfway to the final point exactly where restriction zone begins but continues in turquoise color to the final destination. The enhanced Last Mile feature will be available in 13.9.5 release from July 30.
Integrators need to be prepared
This new enhanced features also means an important change in routing so integrators should be aware that this release may affect their business logic. We recommend every integrator using Sygic Professional Navigation firstly check if the new Last Mile feature will not affect their navigation and business processes.
For more information contact our sales or your dedicated Sygic support contact.
Download Sygic Professional Navigation and try it yourself for 14 days for free!
Get your app for Android.