We often get asked about the precision of app-based driver scoring compared to hardware solutions. About ten years after the launch of the first mobile telematics solutions, they still get a bad reputation and are often seen as less than their black box counterparts – unfairly, in our opinion. In this blog post, we look at some of the methods that can improve the precision of driver recognition, trip identification, and the actual scoring, thereby bringing software solutions on par with the hardware solutions.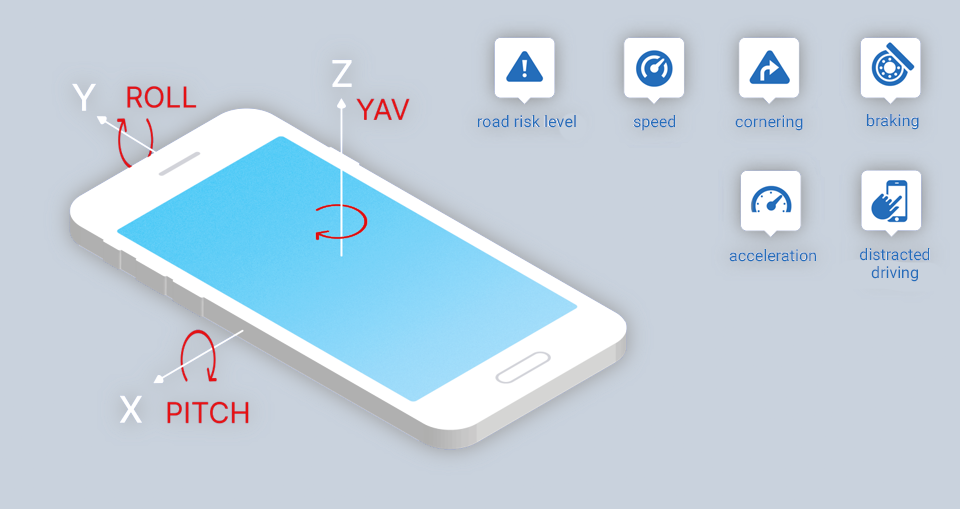 Freebie: The evolution of smartphone sensors
Before we begin delving into the actual methods, we shouldn't neglect to acknowledge that technological progress has already bridged the gap to some extent. This generation's motion activity sensors on both Android and iOS devices have been tuned with the help of millions of users and can provide a range of reliable information:
GPS sensor – identifies position
Accelerometer sensor – measures acceleration and helps determine whether you are walking, riding a bike, traveling by car, or flying. It also enables the recognition of hard braking.
Gyroscope sensor – adds more information to the acceleration data by helping the phone understand its orientation. Helps with the identification of tight cornering.
Barometer sensor – provides altitude data that improves the precision of the GPS signal.
The touchscreen and proximity sensors also enable the identification of distracted driving, which is a unique feature of mobile solutions. We have written more about the benefits of app-based driver scoring here.


Driver identification through Bluetooth
Where hardware solutions have a vehicle-oriented approach, mobile solutions place the focus on the user. This means additional considerations have to be made, e.g. to distinguish between a driver and a passenger. A Bluetooth connection can be used to match the vehicle to a specific device, thereby enabling correct identification.


Trip filtering
Since GPS is not 100% accurate and the signal can be weak in certain areas, various methods have to be used to filter out fake trips. A basic one is to disallow trips that are shorter than an allowed length. A more nuanced approach is to draw a rectangle over the measured trajectory and look at the length of each of its sides. That filters out most of the problems faced with an inaccurate GPS signal.
Users can also be given the option to manually delete incorectly recognized trips.
Advanced trip segmentation through map matching
Map matching is an approach in which the position data that is gathered through GPS is compared with the map data, thereby providing additional context.
As an example, you can distinguish between car trips and train trips. Or you can recognize public transport trips by matching the route to the network of stops.
After this segmentation, you can choose to work only with trips that match your goals. If your goal is to design a safe driving program for consumers or commercial drivers, you can work with car/van/truck trips and disallow the rest. If, on the other hand, you'd like to design a green mobility program, you can create a reward scheme based on accepting "green" trips only. You can also create complex multi-channel insurance schemes, following the user as they switch between various modes of transport.
Map matching can also be used to identify speeding by comparing the current speed from the accelerometer with the speed limit information from map data – also mentioned in this blog post.


Conclusion: Let's not pigeonhole mobile solutions
Mobile telematics offers an interesting advantage in today's world of fast-paced and sustainability-focused mobility. It would be a shame to dismiss it based on how we remember technology from the era of iPhone 4. If you are searching for a road safety solution, define your goals, ask which technology can address them the best, and don't be afraid to ask potential providers about accuracy.


Free whitepaper
Learn more about app-based scoring technology and its business value