Digades, a German-based company, has partnered with Sygic to develop an innovative head-up display explicitly designed for motorcycle riders. The system utilizes Sygic's Mobile SDK to offer personalized routing and turn-by-turn navigation tailored for motorbikers. This system allows riders to stay on course without taking their eyes off the road.


Here Comes the Tilsberk Head-Up Display
Tilsberk, a brand of Digades, developed a head-up display designed to project critical information onto a motorcycle rider's sight, including speed limits, actual speed, upcoming turns, and the time & distance traveled. The device can be connected to a rider's phone via Bluetooth Low Energy and has a battery life of up to 12 hours. The system also supports route import through GPX files or direct connection to the calimoto app. The device uses high-quality TomTom maps to offer personalized routing and turn-by-turn navigation in a compact format.


The Tilsberk head-up display can be customized and controlled through a dedicated app, where riders can customize the display, start a route, and access other features. Riders can choose between modules named city, navigator, explorer, or minimalist according to their intended usage and preferences.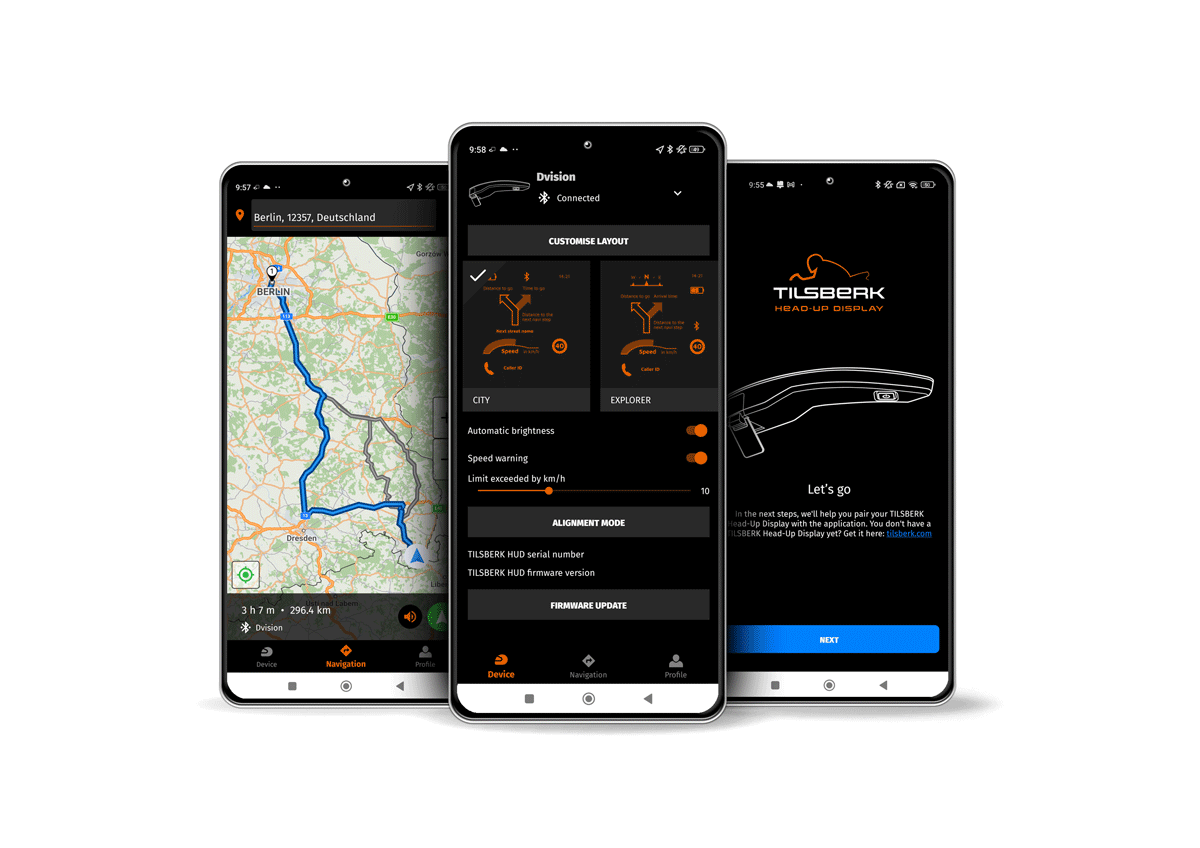 The Challenges Along the Way
Developing a head-up display for motorcyclists presented several challenges that Digades had to address while creating T he Tilsberk HUD (head-up display). One of the key considerations was ensuring the device was compact enough to be mounted on a motorcycle helmet while also being durable enough to withstand various weather conditions and vibrations. Additionally, the device needed to provide accurate and personalized routing and turn-by-turn navigation to enhance the rider's overall experience. Digades also had to figure out how to attach the head-up display to different types of helmets securely and create a high-contrast display that is easily visible in the sun without distracting the rider. The device also had to be easily removable for charging. Despite these challenges, and with over 7000 hours of development, the resulting Tilsberk head-up display is a compact and reliable device that offers real-time critical information to riders, allowing them to stay focused on the road and enjoy a safer, more enjoyable ride.
Ellen Kox, an editor from Motormeiden and avid motorcyclist, sums it up "Because you can keep your eyes on the road, you can see what's happening in front of you at all times. That gave me a very nice and safe feeling."
About the Digades and Sygic Collaboration
Sygic played a small but significant part in the development of the Tilsberk head-up display with its Mobile SDK. Digades utilized Sygic's technology to streamline the development process and to create a product that meets the specific needs of motorcyclists.
The Digades and Sygic collaboration serves as a great example of how technology can be used to enhance safety and improve the user experience. With both companies bringing their expertise to the project, Digades was able to create a head-up display that is both innovative and user-friendly.
According to Digades Product Owner Christoph Lebelt "Working with Sygic is a pleasure. Their Mobile SDK provided the perfect platform for our head-up display system, allowing us to create a product that is truly unique in the market."
According to Štefan Jančiga, Managing Director of Sygic Navigation, "Our collaboration with Digades demonstrates the versatility of our Mobile SDK and its ability to help companies expedite their development and execute their vision. We are excited to see the benefits that the Head-Up Display will bring to motorcyclists around the world."


The Plans for the Future
Digades has made remarkable progress in the motorcycle industry with its inventive solutions and aims to advance further in this niche. The company plans to expand its influence by collaborating with motorcycle producers, specialized shops, hardware manufacturers, and OEMs to develop customized products that enhance the overall riding experience for motorcyclists.


Over to You
Whether you're a tech-savvy motorcyclist or a travel enthusiast who wants to upgrade your riding experience or an OEM looking for custom solutions, Digades has you covered.
To explore Tilsberk HUD's features and capabilities, and to get your very own, go to tilsberk.com/hud
If you're interested in learning more about Digades ' brand TILSBERK and their custom solutions for motorcyclists, contact TILSBERK today.
By harnessing the power of the Sygic Mobile SDK, your company can create a navigation solution that meets the specific needs of your customers, whether they're motorcyclists, truck drivers, or anyone in between.
If you're interested in creating a custom solution using Sygic Maps, contact Sygic today.





About Digades

Digades GmbH, a full-service provider and RF specialist, has been developing and manufacturing high-quality electronic system solutions in the areas of high-performance wireless controls, HMI with special features as well as comfort and safety electronics since 1991. With 150 employees, the company develops and manufactures primarily for the automotive and motorbike industries. This increasingly includes its own products and product platforms. From idea to development to series production, every step takes place at the three German company locations in Zittau, Dresden, and Nordhausen. Digades currently produces around 1.2 million electronic devices with high specific requirements per year.
Tilsberk stands for high-quality motorbike accessories made in Germany, with the aim of making motorcycling easier, safer, and more comfortable. Sascha and Tim Berger are the founders of Tilsberk and, as managing directors of Digades GmbH, can draw on more than 30 years of experience in the field of electronics development and manufacturing. Learn more at www.digades.de/en



About Sygic

Sygic is a leading provider of navigation software and apps for automotive, mobile, and enterprise customers. With over 18 years of experience in the industry, Sygic has a proven track record of delivering innovative, reliable, and user-friendly navigation solutions to millions of users worldwide. Whether you're driving a car, riding a motorcycle, or running a fleet of vehicles, Sygic has the perfect navigation solution for your needs. Learn more at www.sygic.com