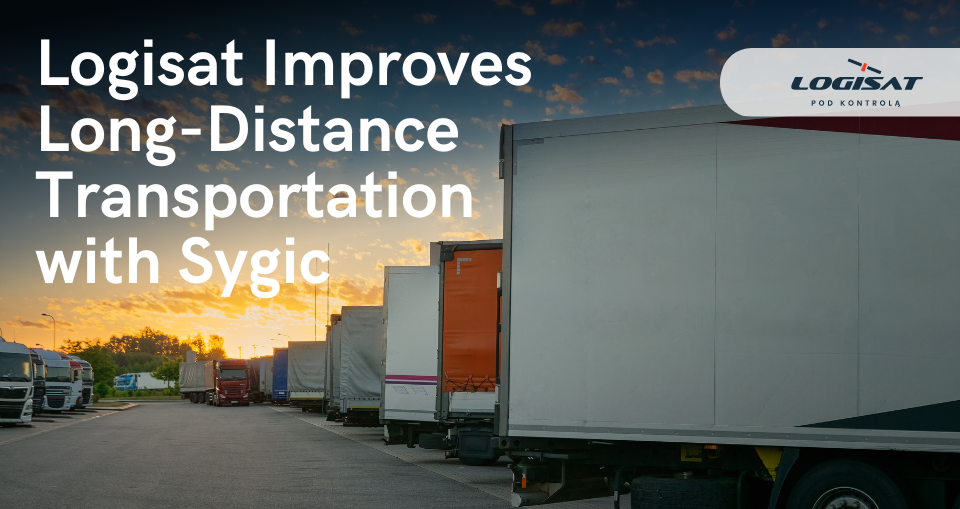 Logisat offers a fleet management solution designed for commercial vehicle fleets including a mobile application for drivers to view plans, submit reports, and communicate with dispatchers. Logisat has successfully integrated Sygic Professional Navigation into its fleet management system. The integration has allowed Logisat to offer customers accurate routing for large-sized vehicles, HERE map support, ETA shown on the back end, and affordable pricing.


The Challenge:
Before switching to Sygic, Logisat had used Garmin and TomTom for navigation, which had errors in truck restrictions and estimated time of arrival. These were not an issue with Sygic. In contrast, Sygic's navigation system has proven reliable and accurate, meeting the needs of Logisat's customers.


The Integration with Logisat's Solution:
The integration of Sygic within Logisat's solution has enabled the company to display the route with just one tap on a button. The transport manager sets the route in the web app using HERE Maps, and the route is then sent to Sygic, which also runs Here Maps. There are a few differences between the two routes, which are generally minor and the customers are usually okay with a reroute due to traffic or other reasons.
Logisat also displays the estimated time of arrival (ETA) in the web app. The ETA is important to customers in the last 100 kilometers of the journey, as it helps them check if the driver has the correct time of arrival. If the driver is late, they can inform the customer and provide a new estimated arrival time.


Real-World Customer Scenarios:
Logisat's customers primarily use Sygic for long-distance transportation of heavy loads. They rely on Sygic's truck restrictions estimates to ensure smooth and efficient delivery. Logisat's customers range from small to medium-sized transport companies that use Sygic throughout Europe, mainly in countries like Italy, France, Spain, Poland, Lithuania, and Latvia.


Obstacles on the Way:
Logisat encountered an issue with the Sygic navigation system, where it did not register a waypoint as visited, even though the driver had already been there. This caused the navigation system to reroute the driver back to the waypoint. Sygic's support team offered to check if the waypoint was visited within the hit radius of 50 meters. And although there is a possibility to manually mark the waypoint as visited by the driver, Logisat opted for a more convenient workaround, which is to expand the waypoint radius to make it easier for drivers.


Customer Feedback:
Logisat offers its potential customers one device for a month to test the solution, which is usually sufficient as drivers typically drive for three weeks and then have one week off. The initial feedback from customers is positive, with many finding the app helpful and reliable. What's especially praised is the ease with which the system can be used.


Conclusion:
The integration of Sygic within Logisat's solution has been successful in improving delivery efficiency and accuracy for long-distance transportation of heavy loads. The flexibility and user-friendliness of the Sygic navigation system have helped Logisat and its customers to plan and execute deliveries smoothly with accurate ETA information.
About Logisat
Logisat provides fleet monitoring solutions and is a leading telematics and vehicle monitoring software provider in Poland. The company works with transport companies and businesses to offer customized fuel and driver time tracking, route optimization, communication, and event monitoring solutions. Logisat is committed to providing high-quality products and excellent customer support while focusing on continuous development and improvement. Learn more at https://logisat.pl


About Sygic
Sygic specializes in GPS navigation software and location-based services for smartphones, tablets, and in-dash infotainment systems. With over 200 million downloads globally, it's one of the world's most popular offline navigation apps. Its solutions for the enterprise sector are navigating more than 3,000 fleets and 4 million professional drivers. The company offers turn-by-turn navigation, real-time traffic information, speed camera warnings, truck-specific routing, and other advanced functionalities that help drivers safely reach their destinations. Learn more at www.sygic.com/enterprise
Want to experience the benefits of Sygic Professional Navigation firsthand?