Fuel prices fluctuate like never before and it's getting very hard to keep an overview of what is a good price and what's not. Lack of information can cost you a lot, as fuel prices vary significantly from one gas station to another. It is hard to keep up with local fuel prices, not mention how difficult it is to compare petrol prices when you are traveling. But from now on you don't have to drive around looking for cheapest gas station or to spend time looking for current prices on the internet.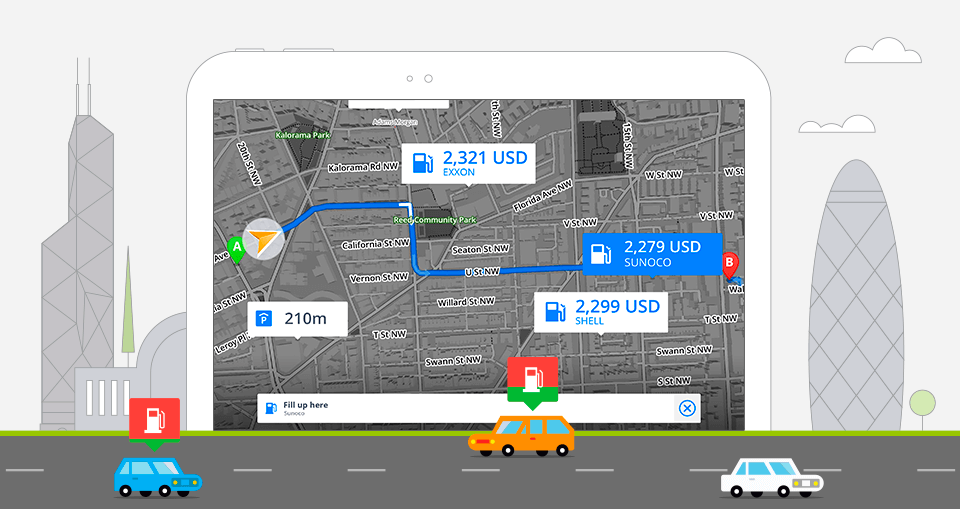 Sygic allows you to compare fuel prices and find the nearest and cheapest gas stations. You can find the best offers within seconds and Sygic will show you the fastest route to the petrol station of your choice. Just set up your fuel type and Sygic will automatically suggest nearest gas stations with their current prices. The fuel prices are frequently updated so you will always have an up-to-date overview of where you can get the best price. Please note that you need internet connection to see the current prices.
With this Premium feature you will never again regret paying for overpriced fuel, wondering if there is a cheaper gas station just around the corner. Sygic uses one of the most comprehensive databases of fuel pricing in the world, provided by OPIS. This service will allow you to compare petrol prices in the United States, Canada and most of the European countries*.
Keen to save some money on fuel with Sygic? Download Sygic GPS navigation from Google Play or App Store and try the app and all its Premium features for 7 days for free.
*Countries included in the service: USA, Canada and Europe (Austria, Denmark, Spain, Finland, France, Germany, Italy, Norway, Poland, Switzerland, Portugal, Sweden, Turkey, Romania, Czech Republic, Slovakia, Greece)