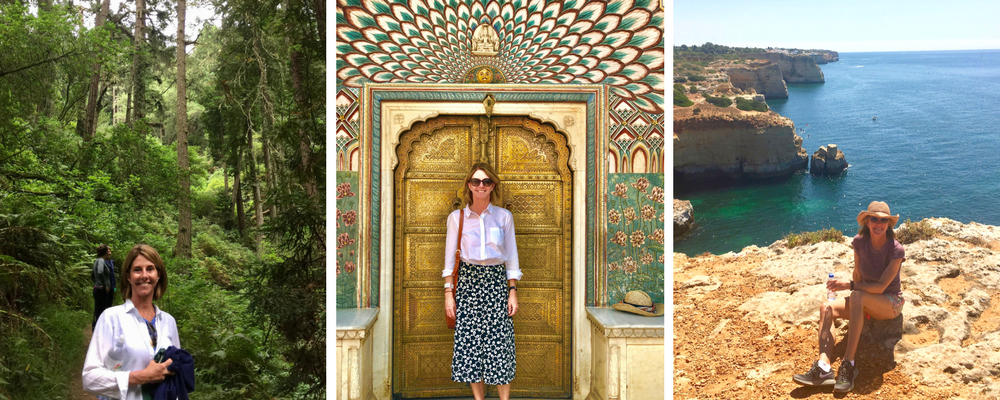 "Those moments of real wonder when you see something so different and so striking that you lose yourself…" Driven by curiosity, Elena loves to meet new people and hear their life stories.
An interview with traveler Elena Bowes (elenabowes.com, @elena_bowes) by a trip and holiday planner Sygic Travel.
How would you describe yourself in 5 sentences?
I am naturally very curious and visual so I am always looking around for pleasing images, whether it's in nature or man-made. I just came back from India and was overwhelmed by the beauty and vibrant colours. Some of the best photos I took were not of the palaces although they were stunning but of the often smiling and stylishly dressed men and women at the morning fruit and vegetable market. I am also very curious about people's life stories, what makes them tick, turning points in their lives. I just want to see and learn as much as I can usually through experience as opposed to second hand. If I can merge beautiful scenery with interesting people, I am in nirvana.
What was the moment you decided to travel?
I went on a bike trip through England and Scotland when I was 16 and loved the foreignness of it all, the undecipherable accents, the wet weather in July, the green rolling hills, even the beer was all new to me. Every day was an adventure, and when I got back home to San Francisco I felt different, like I had gotten a glimpse of the great big world out there. I still feel that I have barely scratched the surface.
What is your greatest personal accomplishment?
Without a doubt my three children Kate (25), Thomas (24) and Julia (19). I've traveled with them a lot to places as far-flung as Uruguay, Thailand and Japan. I think they all have inherited the travel bug so I hope we have a lot more adventures together to come.
What do you love the most about traveling?
Those moments of real wonder when you see something so different and so striking that you lose yourself. I also love meeting people from different cultures and backgrounds and making a connection.
What is it you don't like about traveling?
Flight delays, bad coffee, when the locals are unfriendly.
What is the most common misconception about being a traveler?
That it's always glamorous - it's often hot and sweaty and tiring first and then great. The best places are often the trickiest to get to.
What is the best way to experience a foreign culture?
To meet locals, especially if you can have a meal with them. Make detours, check out that side street. Drive when you could fly. Bike when you could drive. Do as much as possible to get out of your comfort zone. Go for that elephant ride. Say yes.
What are the five things you can't travel without?
My dark glasses, I-phone and charger, good walking shoes, top quality moisturiser with an SPF factor 30 and a soft scarf. And if I can add just one more thing - a bottle of water.
Which destinations are at the top of your bucket list right now?
I want to go back to India. I was just in Rajasthan in the north and loved it and the people. I'd like to see the Taj Mahal, Varanasi and Calcutta. I have read that India is like several different countries, the states are so different. I want to see that for myself. While not a real lover of big game, I'd like to go on a safari in Africa. Too many of my friends have described it as magical, worthwhile trip. I also want to see Stockholm and Copenhagen because I love design. Closer to home I'd like to visit Charleston and Savannah. My daughter goes to Duke in North Carolina so I am picturing this as a long weekend girls' trip in the spring when the cherry blossoms are out. I did love Vietnam and thought the food was extremely delicious - light, not greasy with an interesting blend of spices - so I'd like to see more of that country, perhaps on a bicycle.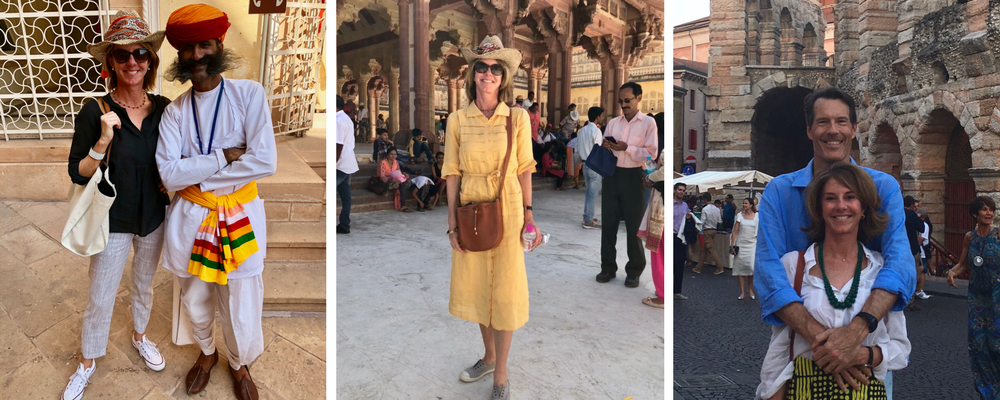 If you had an unlimited travel budget for 24 hours, what would your itinerary look like?
I'd like to see the Taj Mahal with my family and close friends, no crowds, at sunrise and sunset with a great guide explaining to us the relevant history, stay at the nearby Oberoi and have a pampering spa treatment with some spiritual element to it during the day, plus a fabulous dinner with some pageantry (not excessive) and Coldplay performing afterwards. You said unlimited.
If you should decide today, which country would you pick for retirement?
I hate the word retirement. It sounds so final. I prefer to think that as I mature I'll live between some of my favourite places - London, New York, and California. I'd like to use London as a jetting off place for the continent, especially Italy and France. New York is good for theatre, museums, restaurants and general buzz. And I have lots of family in lovely, sunny but faraway California.
What is the most overrated country or location you've been to?
Miami.
What is the most underestimated country or location you've been to?
Portugal (although it's getting more attention now).
Thank you Elena!
Simona from Sygic Travel
Sygic Travel has been helping people plan travel itineraries since 2011. Millions of people all over the world use their web planner as well as their iOS and Android apps.