GPS navigation not only helps couriers to find the recipient, but it has lot to offer on the side of productivity gains and increased customer satisfaction.
Save fuel costs
Most importantly, high quality routing provides optimal postal routes that translate into reduced fuel costs and higher operational efficiency for post and parcel service providers.
Navigation software like Sygic, equipped with a comprehensive SDK interface, can do even more. Integrated with planning and scheduling systems, GPS navigation provides a valuable basis for accurate data collection, opening a whole new universe of features and useful functions.
Predictable delivery slots and dynamic scheduling
Sygic navigation provides very accurate ETAs (Estimated Time of Arrival) based on historical data about traffic and average speeds on the route for different times of the day. This function allows for effective planning of delivery slots which can be communicated to recipients, and more.
Using Sygic`s unique cloud based route optimization powered by ORTEC, the courier can dynamically optimize routes for an unlimited number of waypoints directly from the device within seconds. This feature turns out to be extremely useful in case of skipped deliveries when the recipient is unreachable or other circumstances prevent to respect the predefined delivery slots.
In combination with the enhanced itinerary management in Sygic Navigation, the driver can comfortably and independently manage time windows for each delivery to maintain the highest possible route efficiency.
Allow your customer to track parcel in real time online
Data collected from Sygic Navigation allows the post and parcel service provider to notify their customers not only with the exact time of delivery, but also with the location of their order.
The recently introduced Track My Parcel plugin (operating via API) can notify customers with a link, sent by email or sms, when the courier starts delivery of their parcels.
As the driver is approaching the destination, customers can see the actual position and the estimated time of delivery. They are also notified when the courier reaches the destination.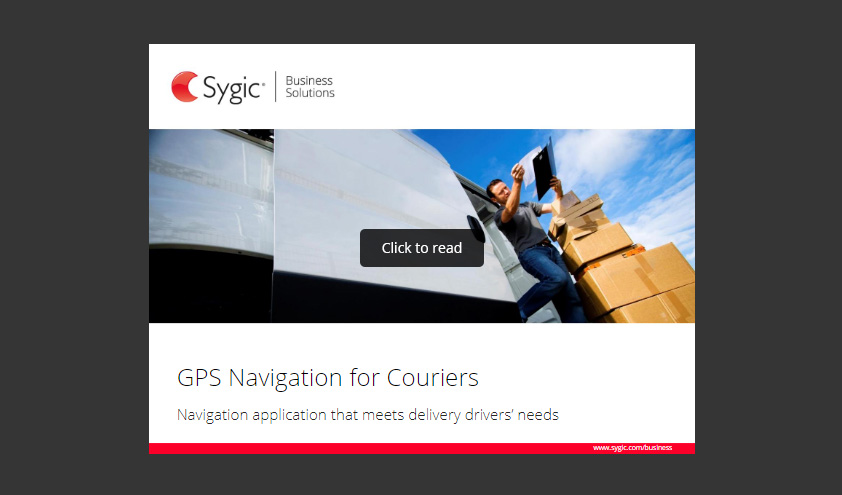 All necessary information available on the navigation screen
The professional edition of Sygic Navigation offers even more. The recently developed Sidebar feature allows for the display of various information from third party dispatch systems directly on the navigation screen. Information such as additional contacts and details about single deliveries is close at hand and can be operated without needing to switch between different apps.
Driver monitoring
Last but not least, Sygic Navigation with the SDK interface can collect information about the driver's current position and his actions such as parking, unloading cargo, changing directions, estimated time of arrival and the distance to the next stop.
To know more please contact our sales or meet us at one of the following events: