Up-to-date maps in your navigation significantly enhance the routing of the navigation and reduce kilometers driven. True.
According to premium map provider TomTom, roads change by as much as 15% every year. To ensure that your navigation calculate the best route, you need to update your maps.
Precise routing means less kilometers or miles driven and less time spent on the road. If you manage a fleet of vehicles, a single mile less for each vehicle can amount to significant cost savings.
Not to mention the importance of updated maps for the quality of your service if your business depends on precise ETA (estimated time of arrival). ETA is also significantly affected by the quality of your maps.
The good news
Twice a year, Sygic navigation for fleets provides the latest maps from renowned global and local map providers.
Currently we cover almost all countries in the world where there is infrastructure and available signal for GPS navigation.
Below you can find simplified table of Sygic Navigation for fleets map coverage.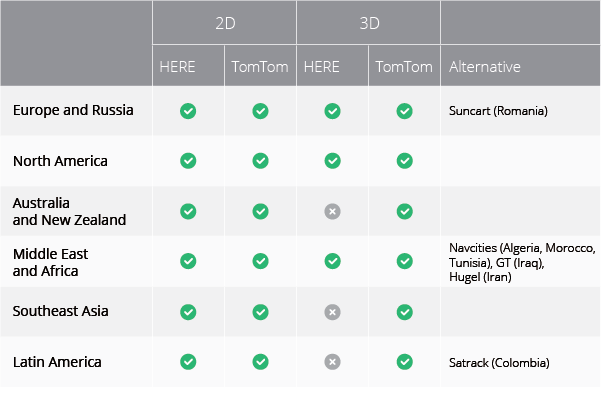 Feel free to ask for update to the newest maps for your Sygic Navigation, by contacting your sales manager or filling out the online form.