After hiring a new employee, it takes time before they become productive. Even though this is unavoidable, there are still ways in which businesses can help their staff members with the orientation. In this article, we'll focus on why it matters and how professional GPS navigation can ease mobile staff members into their new roles.


The coronavirus effect
The coronavirus has disrupted many lives and industries. A lot of people have lost their jobs practically overnight and had to quickly look for opportunities elsewhere, often without qualification. One option was to make use of their driver's licenses and apply for a job within industries experiencing higher demand, such as delivery.
For these companies, this means an influx of new staff members to train. Moreover, some of them can experience a quick and uneven growth in which the number of drivers rises, but the number of managers and dispatchers stays the same, thereby making it more difficult to scale up efficiently.


The cost of training
The difficulty of training cost estimation ranges from very difficult to practically impossible. But even if companies forgo the attempt to get some hard numbers, it's important to realize that the final cost might include way more than the wage paid during the initial unproductive period. New employees are more prone to mistakes (especially when they're on an assignment in the field by themselves), which may negatively influence the business.
Here are a couple of examples:
In services industries, such as delivery or taxi, not being able to get to your appointment on time negatively impacts customer satisfaction, which leads to lower customer retention.
In waste collection or field service, a specific area to cover/number of work orders are planned for each day. Spending way too much time on the road and not being able to meet the numbers means economic damage to the company.
In the emergency industry, mistakes can lead to endangering human health or even life.
Let's dive into the ways in which these mistakes can be avoided.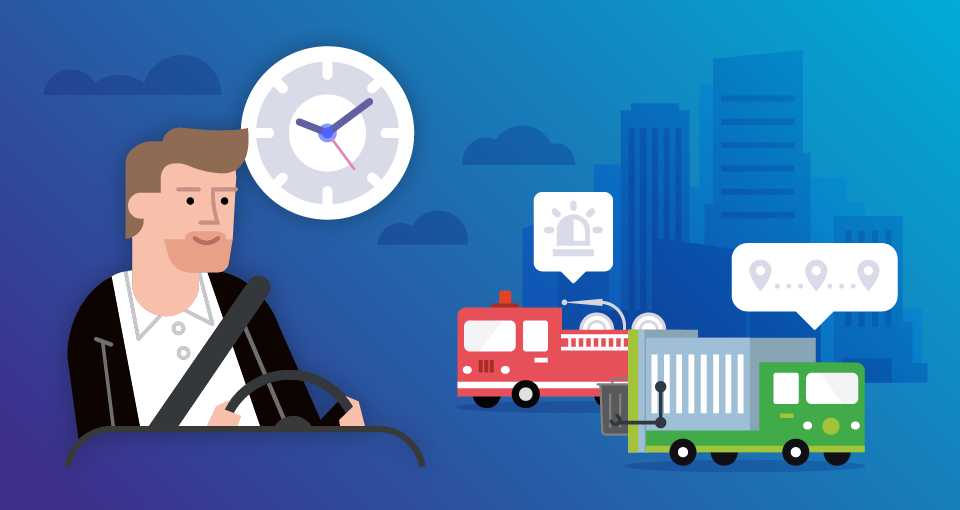 1. Navigating in unknown areas with ease
Newly hired professional drivers might not yet know their way around the whole city or their assigned territory. They might also not be aware of restrictions applicable to a vehicle they are not used to driving or might not expect a traffic jam in a certain location.
Professional GPS navigation takes the stress away from the driver in multiple ways, starting with turn-by-turn navigation including quick rerouting in case of a mistake, or a text-to-speech capability for guidance by voice. On top of that, various services make the driver's life easier, e.g. historical and live traffic information can be used to calculate the shortest possible route in terms of time.
In case minimizing fuel costs is a top concern, companies can opt for routes that are entirely scheduled by a dispatcher and can't be changed by a car's navigation. This leads to fewer mistakes on the road, as dispatchers usually take road closures and other restrictions into account when planning the route.


2. Providing the next steps after getting there
Good navigation doesn't just get you from point A to point B. It can offer further assistance to help you get the job done.
Off-road routing is one of the most useful capabilities in this category. It helps drivers reach their destination using the navigation in various off-road segments, such as unmapped roads, industrial areas, field paths, courtyards, etc. It is especially useful to long-haul truckers who have to locate the exact loading/unloading gate within a factory facility or to waste management, snow plowing and other municipal services that need to cover all of the roads within a city.
Another option is to enrich the maps with custom POIs, GIS layers (with additional infrastructure lines, pipe networks, unmapped roads, etc.), and even instructions for the driver (e.g. "collect the trash can on the right side of the road").


3. Offering support in the field
As already mentioned, it can be stressful for the driver to start a new job and embark on the first assignment alone. Luckily, there are ways in which the driver can stay in touch with the back office and other members of the team.
Professional navigation can send real-time GPS positions to dispatchers who can then quickly react in case of an unforeseen situation and submit a changed route to the navigation.
In case of police or other emergency vehicles, mutual visibility of vehicles can come in handy in case a backup of nearby team members is needed.


Want to learn more about increasing your field team's efficiency using professional GPS navigation? We can help.
Feel free to contact our sales or your dedicated Sygic support contact. You can also download the app from Apple App Store or Google Play and try it out for 14 days for free!