It's that time of the year again, the lord mayor of Munich will soon open the Oktoberfest with the famous "O'zapft ist!" (It's tapped!). We are already looking forward to the Oktoberfest-Bier and all the other attractions. Two weeks of great beer brewed in Munich, delicious Bavarian specialties, traditional music and amazing vibe attract millions of visitors every year. Roughly 7 million liters of beer are drunk annually, accompanied by the famous roast chickens, sausages and pretzels.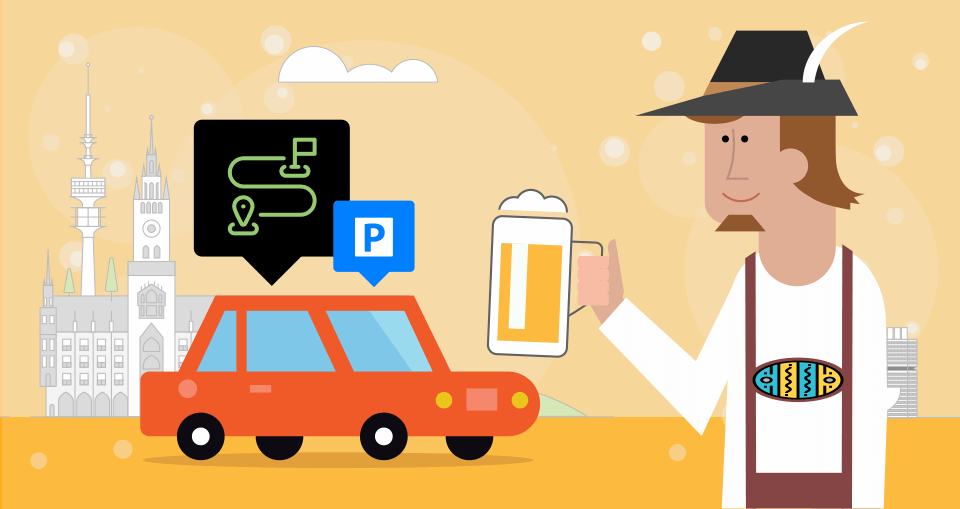 Don't let the name fool you, the festival actually starts in September. This year, the Oktoberfest begins on September 17th and ends on October 3rd. This beer festival has become an annual tradition that dates back to 1810. It all started with Prince Ludwig's marriage that was celebrated with huge festivities.
Nowadays, this iconic event attracts crowds of over 6 million every year. It is a huge carnival complete with rides, vendors and games, so even if you don't drink beer, you will definitely have a great time. It is also surprisingly kid friendly, children will enjoy entertainment of all kinds. And one of the most fun thing about the Oktoberfest is dressing the part! Both local and international visitors suit up in traditional German attire and you will probably regret if you don't dress up, too. For men, that means sporting a pair of leather Lederhosen and for women, a cute Dirndl.
Saturdays are known to be the busiest days, so try to schedule your visit for weekdays if you are not fond of huge crowds. But the more, the merrier – you will be rewarded with the extraordinary atmosphere during the weekends. No tickets are necessary, but you should plan your trip ahead. Sygic will help you get to the event of the season.
Book hotels
This is the first thing you should do when planning a trip to the Oktoberfest. It is the busiest time for Munich hotels, so be prepared for higher prices than usually and always book ahead to make sure you will have a roof over your head. We recommend you to stay close to the Central station so you can walk to and from the festival. There is a good selection of hotels close to the Central station, click here to find out how you can book your accommodation with Sygic in a couple of easy steps. The booking situation is usually more relaxed during the second week of the festival, so we would recommend planning your trip for the second half of the Fest.
Navigate there
You booked your hotel, packed all the necessities and you are ready to go. Save the address of your accommodation to your favorites so you can easily navigate there. You can rely on Sygic to find the best way to get you there in the shortest time.
Avoid Traffic
The streets will be busy. Depending on when you plan to arrive, the chances are pretty high it will be bad, worse or tragic. But you can avoid the congestions by driving with the Premium + Traffic Lifetime license that will help you avoid getting stuck in the traffic jams. The app will alert you when you approach a traffic jam and will give you information on how long it will take to get through it. You will also receive automatic faster route suggestions so you can take an alternative route to escape the traffic and arrive happily and in a good mood to your accommodation.
Find parking
Finding a good parking spot is always difficult in large cities. Usually, it's either too far from your final destination or too expensive. And when you want to park in time of such huge event, it's close to impossible, but Sygic is here to help. Our parking feature powered by Parkopedia with live info about 40 million parking spot prices and vacancies offers parking suggestions close to your final destination. When connected to the internet, you will get information about parking places availability and pricing, so you can make the best decision on where to leave your car.
Navigate on foot
Once you got to Munich, parked your car safely and checked into your hotel, it is time to explore the city and the festival on foot. The Oktoberfest grounds are called Theresienwiese, or just Wies'n, it is centrally located in Munich. Thanks to pedestrian navigation, Sygic can assist you with getting directly to the festival, too. Or back to your accommodation. After a couple of liters of beer, it might be very useful to have a friend in your pocket who still knows the way to get there. And the good news is you can take advantage of the millions of interesting Places stored on your phone, so you can find tourist attractions and great spots to eat once you feel you have spent enough time with the beer festivities. All that without the use of the internet connection. Read our blog about Places to get more information on how to use this feature to the fullest.
We hope you will have a great Oktoberfest experience! Before you head out, visit these websites to get more information about the beer event of the year and its program to plan the most memorable trip: