There are only a few things more frustrating than getting stuck in a traffic jam. Fortunately, there is a simple solution to this problem.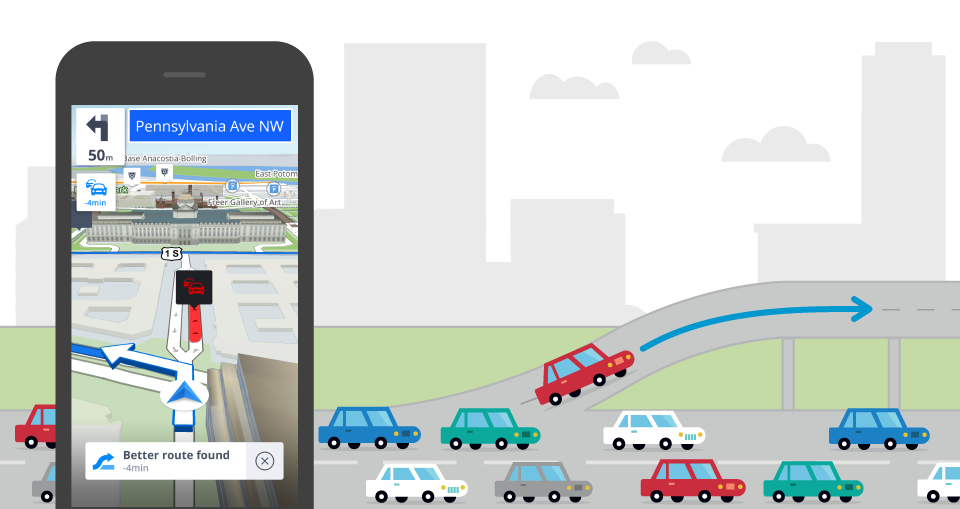 Sygic offers excellent Real-time Traffic information, powered by TomTom Traffic with data collected from more than 500 million drivers. The amazingly accurate traffic information is updated every 2 minutes, so you will always know:
where the traffic is
how long it will take to get through it
how to avoid the traffic jam with automatic faster route suggestions
But that's not all Premium + Traffic Lifetime license can do. It includes voice navigation, offline maps, speed limit warnings and many more useful features for safe navigation. Watch the video to find out how you can benefit from Premium + Traffic Lifetime license:
Head over to our eshop to check out our latest Premium + Traffic offer.
List of counties included in the Traffic service
Europe:
Andorra, Austria, Belgium, Bulgaria, Croatia, Czech Republic, Denmark, Estonia, Finland, France, Germany, Gibraltar, Greece, Hungary, Iceland, Ireland, Italy, Latvia, Liechtenstein, Lithuania, Luxembourg, Malta, Monaco, Netherlands, Norway, Poland, Portugal, Russia, Romania, San Marino, Slovakia, Slovenia, Spain, Sweden, Switzerland, Turkey, United Kingdom, Ukraine, Vatican
North America:
Canada, Mexico, United States
South America:
Argentina, Brazil, Chile, Colombia
Africa:
Egypt, Morocco, South Africa
Middle East:
Bahrain, Kuwait, Oman, Saudi Arabia, Qatar, United Arab Emirates
Asia:
Hong Kong, India, Indonesia, Macau, Malaysia, Singapore, Taiwan, Thailand
Australia & New Zealand
Please note that you need an internet connection to see the traffic information. Smart technology minimizes the amount of data needed to update traffic information on your device.