Travel maps for trip planning from the navigation company Sygic are now available in Romanian. Both the web planner Sygic Maps and the mobile apps for iPhone and Android, which help people plan travel itineraries and discover interesting places, can be used by Romanians in their native language.
"Both in the mobile apps and on the website the language is set automatically based on the default language settings of the phone or the browser respectively. In addition to translating the user interface, we have also translated tourist descriptions of the most important sights," says Barbora Nevosádová, Senior Business Developer in Sygic.
The Sygic Maps web planner and the Sygic Travel mobile apps are available in 19 languages: Romanian, English, Arabic, Czech, Chinese, Dutch, French, German, Hungarian, Italian, Korean, Polish, Portuguese, Russian, Spanish, Slovak, Swedish, Turkish and Ukrainian.
About Sygic Maps
Sygic Maps is the first online map focused on traveling. Unlike other online maps, Sygic Maps displays places of interest directly on the map, making trip planning and navigation easier than ever. Thanks to its integrated itinerary maker, travelers can build a day-by-day trip plan or just save interesting places for later. The website also features handy travel guides for more than 10,000 destinations, photo galleries, 360° videos, a hotel search, and recommended tours and tickets purchase options. Planned trips and favorite places can be synced directly with the Sygic Travel app, which is available for iOS and Android.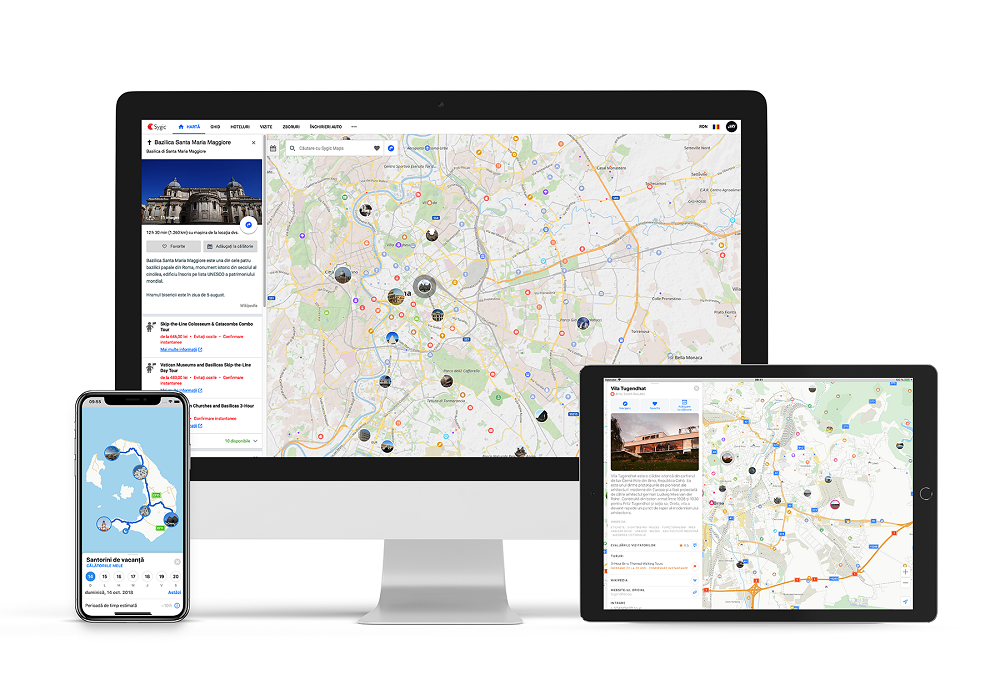 Romanian version:
Hărțile Sygic online acum disponibile și în limba română
Hărțile pentru planificarea călătoriilor ale companiei de navigare Sygic sunt acum disponibile în limba română. Astfel, românii pot utiliza în limba nativă atât planificatorul web Sygic Maps, cât și aplicațiile mobile pentru iPhone și Android care facilitează organizarea itinerariilor de călătorie și alimentează interesul pentru descoperirea unor locuri interesante.
"Atât pentru aplicațiile pentru telefonul mobil cât și pentru website limba este configurată automat pe baza setărilor de limbă prestabilite ale telefonului și respectiv ale browser-ului. În plus, pe lângă traducerea interfeței grafice, am tradus și descrierile celor mai importante obiective", declară Barbora Nevosádová, Business Development Manager al Sygic.
Planificatorul web Sygic Maps și aplicațiile mobile Sygic Travel sunt disponibile în 19 limbi: română, engleză, arabă, cehă, chineză, olandeză, franceză, germană, maghiară, italiană, coreeană, poloneză, portugheză, rusă, spaniolă, slovacă, suedeză, turcă și ucraineană.
Despre Sygic Maps
Sygic Maps este prima hartă online care vizează în special călătoriile. Spre deosebire de alte hărți, Sygic Maps afișează obiectivele de interes direct pe hartă făcând astfel planificarea călătoriilor și navigarea mai ușoare ca niciodată. Mulțumită opțiunii incluse de creare a itinerariilor, cei ce călătoresc pot organiza un plan detaliat al excursiilor sau pur și simplu pot salva obiective interesante pentru mai târziu. Website-ul include de asemeni ghiduri de călătorie pentru peste 10,000 de destinații, galerii foto, video-uri cu conținut 360°, liste cu hoteluri și opțiuni pentru tururi recomandate și pentru achiziționarea biletelor. Călătoriile planificate și locurile favorite pot fi direct sincronizate pe aplicația Sygic Travel, disponibilă în iOS și Android.