Sygic Gets a New Look.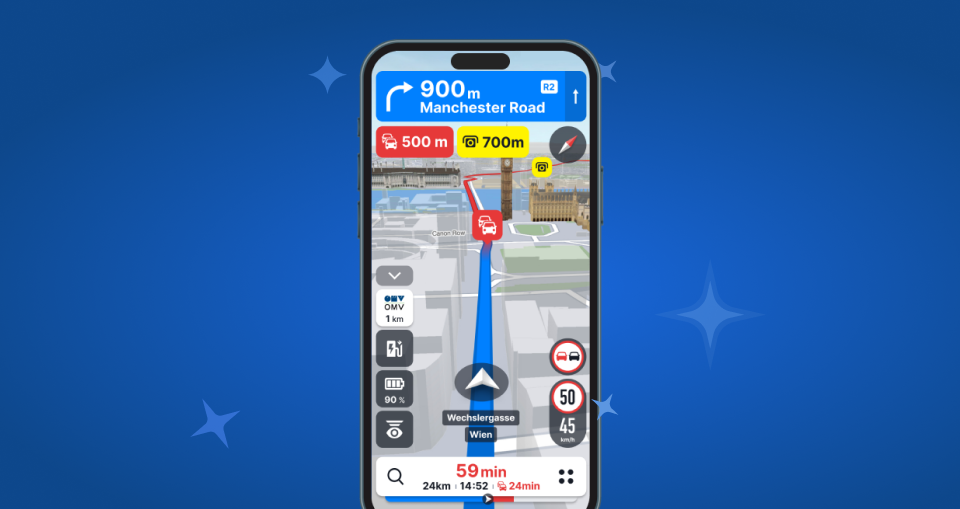 In the world of navigation, change is constant, and innovation is key. At Sygic, we understand the importance of staying ahead of the curve to provide you with the best possible navigation experience. That's why we're thrilled to announce a brand-new look and a host of enhancements that are set to revolutionize your journey with us.
Navigating Made Effortless
Our team has been hard at work, meticulously redesigning the Sygic app to make it more user-friendly and intuitive than ever before. We've taken into account your valuable feedback and combined it with our expertise to create a significant upgrade that goes beyond a change of colors and fonts.
MAIN SCREEN
Better Access to Search: You can search effortlessly, even while navigating or performing online searches.
Dynamic Info Bar: Customize your experience by adding your favorite home and work addresses.
Map Layer Controls: Easily switch between satellite maps, 2D and 3D views, and toggle 3D map buildings on or off.
Quick Menu Removal: We've streamlined the interface by removing the Quick Menu from non-navigation mode for a faster start to your navigation.
Faster Navigation mode: We've changed the navigation mode. Navigating starts to vehicle mode. There is no need to switch manually to free drive.
DURING NAVIGATING
Clearer Navigation Mode: We've eliminated unnecessary icons for a cleaner and more focused experience.
Interactive Map: Tap anywhere on the map to access additional features such as sounds, map layers, zoom options, report incidents, and route overview.
Enhanced Warnings: Speed cameras and warnings are now separated from Points of Interest (POIs) for improved clarity.
User-Friendly Search: The search button is now conveniently located at the bottom of the screen.
Live Progress Bar: Stay informed about your journey with a progress bar that shows your distance to the destination and real-time traffic updates.
QUICK MENU
New Quick Settings: Easily switch between day and night mode, select your vehicle type, and access other essential features.
Activate helpful features during your journey, including Help Nearby, EV Mode, Cockpit, and Travel Book.
Final Destination Always Visible: Your final destination address and waypoints are now prominently displayed at all times.
Effortless Waypoint Management: Adding and removing waypoints is now more user-friendly.
With these remarkable improvements, navigating with Sygic is set to become a smoother and more enjoyable experience. We invite you to explore these improvements firsthand and discover just how much easier and intuitive your travels can be.
So, what are you waiting for? It's time to upgrade your Sygic app and embark on a whole new level of navigation excellence. Join us on this exciting journey towards the future of navigation.