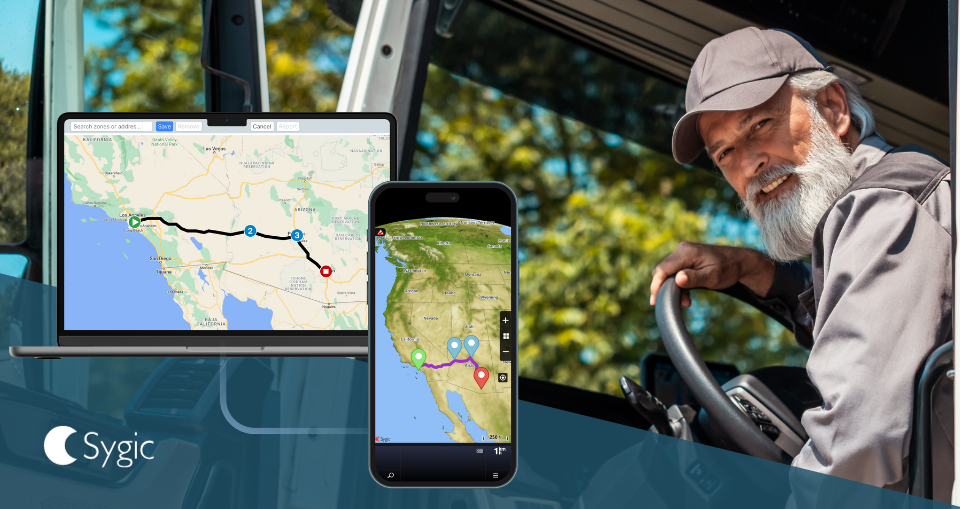 In fleet management, things often change unexpectedly. But what if you could make things more predictable? By using precomputed routes in Sygic Professional Navigation, you can make your operations more predictable and solve many tough problems in fleet management. This combination could be the key to making your fleet operations work better and more reliably.
Understanding Precomputed Routes
You're likely already familiar with the concept of precomputed routes. These are routes planned in advance using special calculations offering optimized fuel usage that directly translates cost savings and consistent routing that mitigates the 'wild card' element of human behavior. We're lucky to partner with industry experts who tackle the complex challenge of optimizing routes across many different situations. If you need this kind of help, don't hesitate to reach out to us for a recommendation or consult our list of partners.
The Role of Sygic Professional Navigation
Sygic Professional Navigation presents these planned routes to your drivers. It offers:
Easy Navigation: The design is intuitive, helping drivers follow their route with ease and stay focused on driving.

Enhanced Safety: The system provides essential warnings for sharp curves, railroad crossings, and speed limit changes, as well as clear guidance on lane changes to ensure safety on the road.

Offline Functionality: Reliable navigation even in areas with poor or no internet connection, keeping drivers on track at all times.

POI & Amenities Access: Directs drivers to Points of Interest, including rest stops, fuel stations, and parking, improving the overall driving experience.
How It Works: The Technical Details
Sygic Professional Navigation uses an API function called LoadComputedRoute to put precomputed routes into the system. Our algorithm matches the coordinates to the Sygic maps to make a route that drivers can follow exactly. Waypoints mark stops along the route, such as locations for pickups and deliveries. The system recognizes when a driver reaches these points. Magnetic points guide the driver along the route. If a driver goes off the route, the system helps them get back on track. This system supports the standard route template, learn more about it here.
To Sum It Up
By using precomputed routes and Sygic Professional Navigation, you get more than a navigation system. You get a trusted tool that not only shows the right routes but also makes driving safer and easier.