Sygic Mobile Telematics is the ultimate solution for businesses looking to improve driver safety, reduce costs, and stay ahead of the curve in the shared mobility market. With its advanced driver behavior monitoring capabilities, customizable driver scoring, and in-app coaching notifications, businesses can ensure that their drivers are safe and efficient on the road.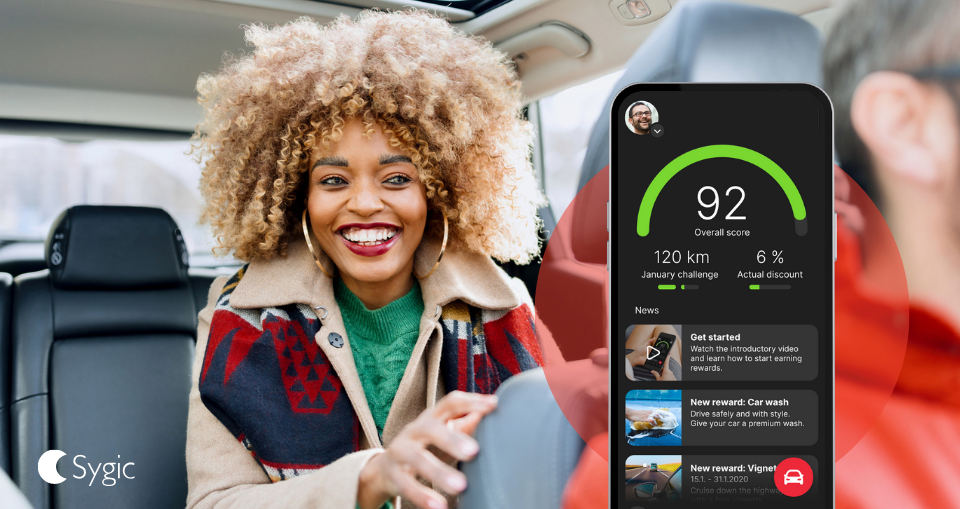 Are you looking to improve driver safety and reduce costs for your shared economy business, such as food delivery, taxi, or ride-hailing services? Look no further than Sygic Mobile Telematics, also known as Driver Scoring.
What is Sygic Mobile Telematics and Why It's the Smart Choice for Businesses?
Sygic Mobile Telematics is a smartphone-based solution that measures various aspects of a driver's behavior, including acceleration, braking, cornering, and speeding. It can even detect distracted driving, providing real-time coaching to improve behavior. By measuring these parameters, Sygic Mobile Telematics helps to ensure that drivers are safe on the road, providing customers with peace of mind knowing that they are riding with a safe driver.
With customizable driver scoring, you can create a system that matches your goals, whether it's reducing insurance claims, lowering vehicle wear and tear, or improving customer conversion and engagement. Plus, you can create different scoring for different vehicle types, such as cars, vans, light trucks, or heavy trucks.
In-app coaching notifications provide an additional level of driver education, notifying drivers about speeding, cornering, harsh braking, and other events in real time. Automatic trip recognition ensures that each start and end of a trip is registered automatically, with no additional driver interaction needed.
Sygic Mobile Telematics even includes dashcam functionality, allowing you to use a smartphone as a dashcam to record the road and save money on buying additional cameras. In case of an accident, the last minutes of the trip will be automatically saved, providing information about the accident while not exhausting the phone's storage capacity.
Detailed trip history includes a report with trip details, travel time, distance, average speed, and maximum speed, as well as trip events such as acceleration, braking, speeding, cornering, and distracted driving. By providing this information, Sygic Mobile Telematics enables companies to see which drivers behave safely, so they can reward them.
By using Sygic Mobile Telematics, businesses can identify and engage with low-risk drivers, improve driver behavior, and reduce costs. It represents an easy-to-integrate solution with fast returns on investment by avoiding costs for hardware black boxes, installation, and time when the vehicle is off the road.
Choose Your Own Adventure: Customizing Sygic Mobile Telematics
White-label solution & app: Sygic's white-label solution allows businesses to create their own branded telematics platform with advanced features such as real-time vehicle tracking, driver behavior monitoring, and remote diagnostics. The white-label app can be customized to match the business's brand identity and integrated with other software solutions to provide a seamless user experience. This means that customers can enjoy a safer ride without having to rely on user feedback.

Bundled with Professional Navigation: Sygic Mobile Telematics can be bundled with the company's award-winning professional navigation system, providing drivers with accurate and up-to-date maps, traffic information, and turn-by-turn directions. This integration enhances the overall user experience and makes it easier for drivers to navigate to their destinations safely and efficiently.

Mobile SDK: Sygic's Mobile SDK / Software Development Kit: a set of tools and resources that enable developers to integrate Sygic's telematics and navigation solutions into their own mobile apps. With this SDK, businesses can leverage Sygic's expertise and technology to enhance the functionality and performance of their own apps without having to build everything from scratch. By improving the driving behavior of their drivers, companies can provide customers with a safer and more reliable experience.
By offering these solutions, Sygic Mobile Telematics provides businesses with a comprehensive set of tools to improve the safety and efficiency of their shared mobility operations.
What are the benefits for customers?
Customers can have peace of mind knowing that they are riding with a safe driver who has been coached in real-time to improve their behavior. They no longer need to rely on user feedback to assess the safety of their ride. Additionally, companies can reward safe drivers, ultimately contributing to safer roads for everyone.
  
 
Don't wait any longer!
Take advantage of Sygic's Mobile Telematics solutions. Contact us today and discover how we can help your business thrive.