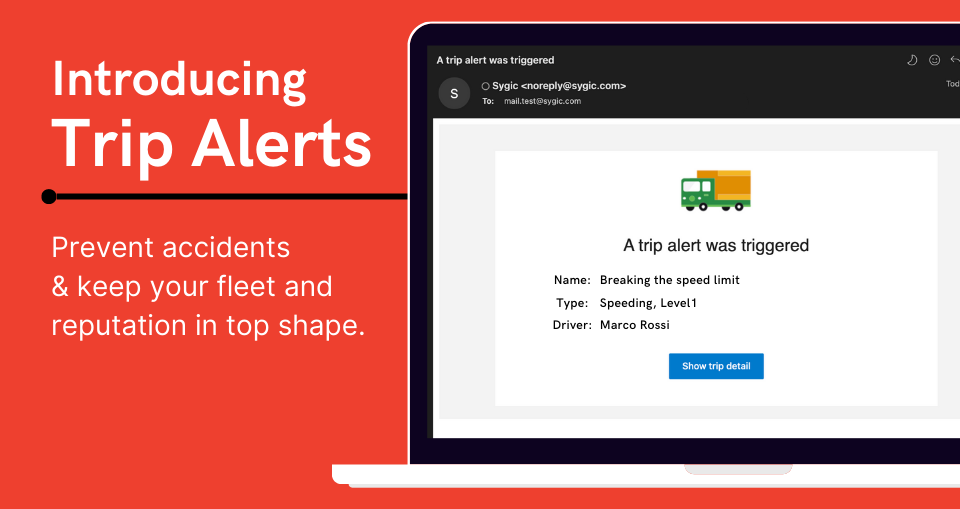 As a fleet manager, you need to know what's happening on the road. That's why we're excited to introduce Trip Alerts, the newest feature of Sygic Mobile Telematics.
With Trip Alerts, you'll receive notifications when drivers engage in risky behavior on the road, such as speeding or distracted driving. You can customize who receives the email alerts and which events trigger them, ensuring you're always in control of your fleet's performance. This way, you can take measures to correct any problematic actions, prevent accidents, and keep your fleet and reputation in top shape.
But what is Sygic Mobile Telematics, and how can it help your fleet?
In short, it's a driver-scoring solution that analyzes driving behavior and provides insights for you to improve your drivers' safety and efficiency. Sygic Mobile Telematics tracks and scores driver behavior using GPS and accelerometer data from smartphones or tablets. This information is then displayed on a dashboard for you to see, along with driver profiles and individual scores.
By monitoring the driving behavior, you can keep a close eye on your drivers and identify any potential risky behavior on the road that could lead to crashes and higher insurance costs. By doing so, you can educate them and keep your insurance costs to a minimum while also maintaining your company's reputation. Moreover, you'll always be in the know about what's happening on the road, and this helps in keeping the roads safer.
What's Next?
We're always working to improve our features and make them more personalized for you. That's why we're excited to announce that Trip Alerts will soon have customizable email content. This means you'll be able to receive alerts that fit your needs and preferences, making it even easier to stay on top of your fleet's performance.
Want to see Sygic Mobile Telematics in action?
Contact us now to schedule a demo and experience the power of Sygic's Driver Scoring solution.