See how AddSecure's fleet and transport management system and Sygic's Professional Navigation enhance transport operations, uncover the obstacles that come with the territory, and discover the benefits for large-scale transport operations.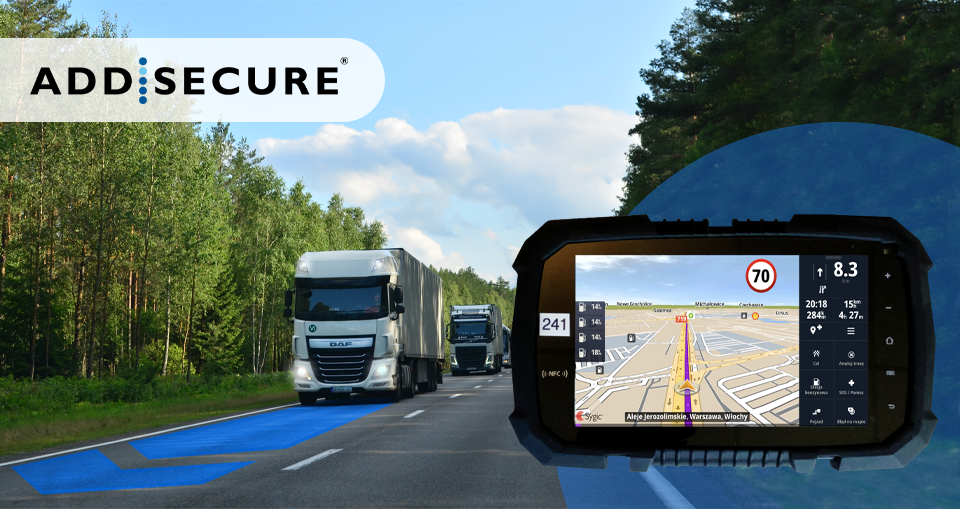 Who are the customers?
With 99 percent of their customers having trucks and courier trailers , AddSecure's services are tailored to transport companies ' needs, particularly those operating internationally between European countries. Even their small percentage of customers driving vans also focus on international transport. AddSecure's primary focus is providing solutions for companies looking to optimize their fleet operations across borders.


Why do they opt for AddSecure solutions?
Customers typically already have an established system before using AddSecure's fleet management system. The shift happens when they require a higher-quality TMS and FMS system with a strong emphasis on fuel control with fuel probes in the tanks for high accuracy. At the end of the process, communication with the drivers is included in the package when it's needed.


Who opts for an FMS system with navigation, and why?
Companies opt for a TMS system with navigation because they understand that it provides a proper service for their drivers and helps them to control the routes taken by their drivers, which can result in significant cost savings. These companies typically have many trucks and require a fully integrated system that includes precomputed routes (or so-called tunnels).
"Unlike smaller companies that may have drivers who only drive the same route back and forth, larger companies recognize the importance of having a reliable and accurate navigation system to ensure that drivers are taking the most efficient and cost-effective routes,"
Michał Ferfecki points out, Product Manager for Mobile Communication at AddSecure Poland.
The resistance seen in smaller companies is sometimes present also in larger companies that prioritize efficiency and cost savings.


What functionality are the customers using?
The customers mainly use precomputed routes (tunnels) or send the destination point to the Sygic navigation, which then calculates an optimized route for large-sized vehicles. The integration with Sygic also includes receiving ETA (Estimated Time of Arrival) information, which customers use to get a more accurate prediction of when their shipments will arrive at their destination. This information is crucial for planning and coordination, as it allows customers to manage their resources better and plan for any contingencies. Online data such as real-time traffic and speed cameras are also integrated and in use. Some customers use TomTom maps, while others rely on HERE maps.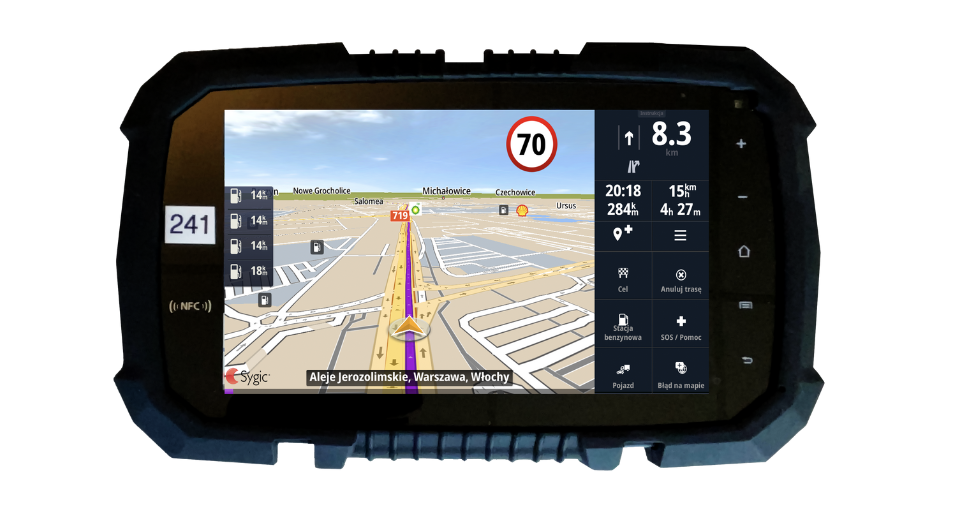 What are the obstacles along the way?
The process of implementing a TMS solution is complex and expensive, and the map is often viewed as an add-on rather than a contributing factor in the decision-making process. That being said, some companies include a few of their reliable drivers in the process and give them the mobile application to test and report back to them. Some drivers may be hesitant to adopt Sygic navigation because they are fixed in their ways of using their own or outdated navigation systems; however, they seem to like that the app is readable and has detailed information. And with the integration, the route is just one click away, which makes it easy to use and adapt.
What is your experience with Sygic as a whole?
AddSecure cooperation dates back several years ago. What AddSecure values is finding a solution that fits their specific needs, the ability to integrate the SDK with their systems, and the effective communication between the two companies. They acknowledge that no solution is perfect, but overall, they have had a positive experience with Sygic, and that's why they continue to offer it and recommend it to their new customers.
About AddSecure
AddSecure, is a leading European provider of secure IoT connectivity solutions with a focus on secure critical communications and secure data. The reliable end-to-end-solutions are based on secure critical communications technology that combine IoT connectivity platforms, software, and services, tailored to meet customers' needs across different industries.
Today more than 50,000 customers within the security and safety industry, rescue services, building security and automation, digital care, construction, transport and logistics, utilities, smart cities, and more, safeguard their life- and business-critical operations with IoT solutions from AddSecure. This helps save lives, protect property and vital societal functions, and drives business.
AddSecure currently applies its expertise within secure critical communications and secure data in Smart Alarms, Smart Care, Smart Rescue, Smart Surveillance, Smart Transport, and the emerging technology area Smart Grids. The headquarters are located in Stockholm, Sweden, with additional offices across Europe. The company employs more than 1 000 people in 15 countries. AddSecure is majority-owned by Funds, managed by Castik Capital, a European private equity fund with a long-term approach to value creation. Learn more at addsecure.com
About Sygic
Sygic specializes in GPS navigation software and location-based services for smartphones, tablets, and in-dash infotainment systems. With over 200 million downloads globally, it's one of the world's most popular offline navigation apps. Its solutions for the enterprise sector are navigating more than 3,000 fleets and 4 million professional drivers. The company offers turn-by-turn navigation, real-time traffic information, speed camera warnings, truck-specific routing, and other advanced functionalities that help drivers safely reach their destinations. Learn more at www.sygic.com/enterprise