Truck Routing
Sygic Truck routing offers the latest truck specific maps and routes. It automatically avoids all roads unsuitable for trucks, special cargoes, or hazardous materials by setting the vehicle's parameters and truck-related attributes.


You can set parameters for your vehicles like: vehicles length, height, width, etc.
Car - Van - Truck Routing Comparison
Car
Normal navigation for cars with no need to set any vehicle parameters. With car navigation you will never be navigated to a pedestrian zone.
Delivery Van
Compared to Car navigation, this will let you navigate in delivery zones. If you navigate to a delivery zone within its delivery hours, you will be navigated to your destination. If you try to navigate there outside the delivery hours, you will be navigated to the closest reachable point as with car navigation.
Truck
Compared to Van navigation, this includes: extended truck parameters (axle weight, axle load, nubmer of trailers, hazardous materilas, ADR tunnel codes), routing optimized for truck vehicles, information about time restrictions for truck delivery in cities, truck restrictions in maps.
Low-emission zones routing
Having information about emission zones in map data allows Sygic Professional Navigation to calculate routes that avoid emission zones restricted for individual vehicles or notify the driver that they are entering such a zone if the destination is in the restricted zone.
Emergency Routing
Normal vehicles
Route takes into consideration all road restrictions.
Emergency responders
Navigation allowing vehicles with special permission to enter pedestrian zones and roads closed to regular vehicles to get to the incident faster.
Guided routes
The Sygic Guided Routes feature helps to avoid discrepancies between planned and traveled kilometers. This feature offers the possibility to import routes from your planning tool into the Sygic Navigation app. You can import routes in JSON format, generated by external tools such as PTV xServer or Google Maps.



The navigation suppresses its own routing algorithm and rather accepts the directions provided by the planning tool. This way the driver can follow the route exactly as planned by a 3rd party planning or optimization tool, avoiding any undesired driving deviations.
Taxi Routing
Normal vehicles
Navigation takes into consideration all road restrictions for normal vehicles.
Taxi route
Navigation application with special maps that contain taxi lanes and other features for better and faster service.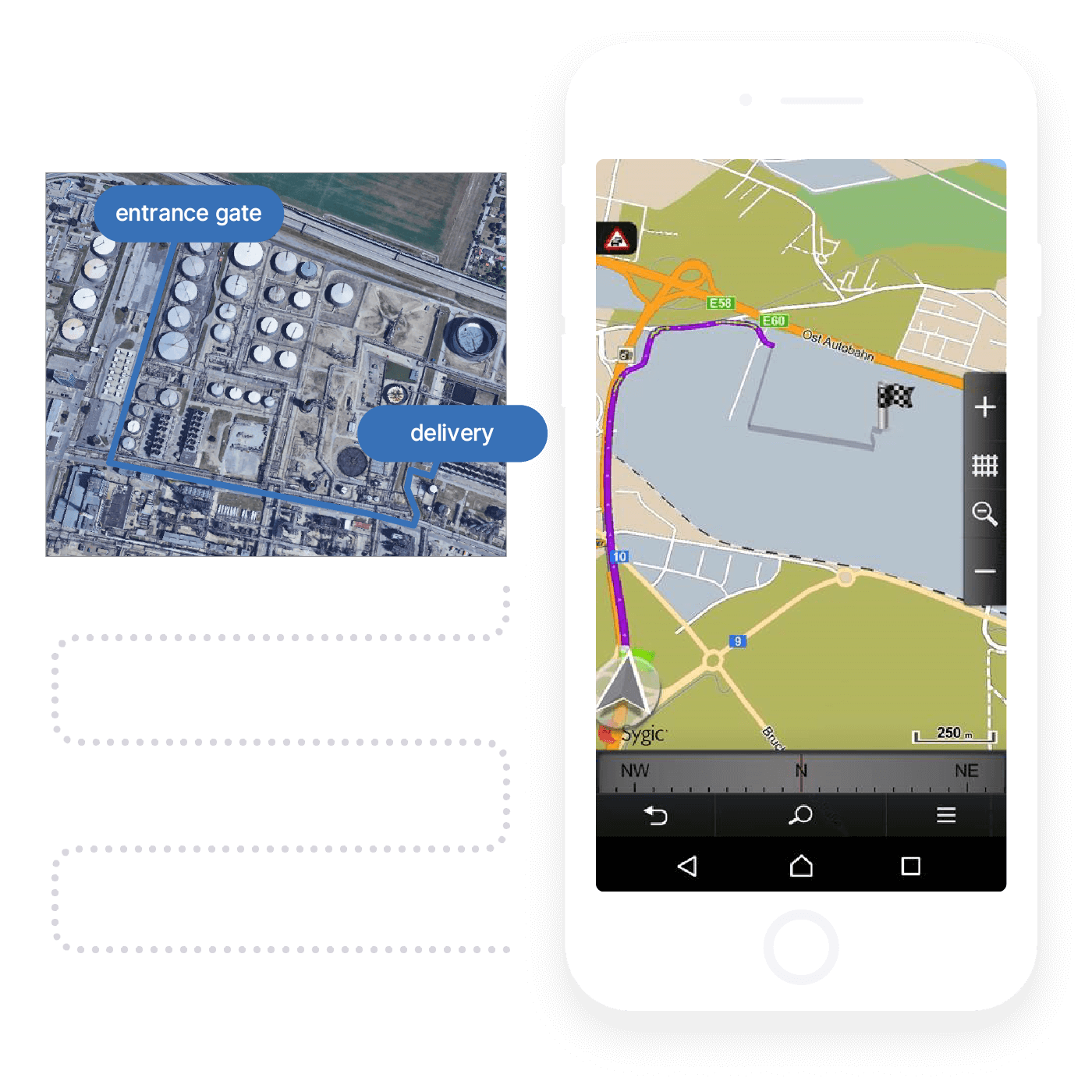 Last mile off-road routing
The feature called "Last mile off-road," or as some might call it "Yard navigation," will help all truck drivers to get oriented within an unmapped area of any factory. Sygic Professional Navigation can get a truck driver to the entrance gate of this area, and continue to the point where the truck needs to be loaded/unloaded, as an example.
Predictive Traffic Rerouting
By combining real-time and historical traffic data in the route calculation, we can predict congestion well ahead of when you reach it. This way Sygic can start to consider alternative routes long before the congestion point and avoid even future congestion.


The algorithm verifies the traffic data and alternative routes every minute, considering the actual distance and ETA from incidents.
Turn-by-turn voice instructions & Spoken Street Names (TTS)
Timely turn indicators with the precise distance to each maneuver will guide you to your destination.


It provides voice instructions using text-to-speech (TTS) technology, including street names, so the driver's eyes never have to leave the road.
Let's Talk
Need a quote?
Want to try out the solution?
Need expert guidance?
Fill out this form, and we'll get back to you as soon as we can.
Not here for business?
Hop into our Support Center.