Key features
Sygic Truck Navigation is designed to meet truck drivers' needs.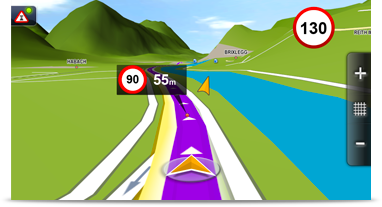 Offline app, with maps stored
on the device and free map updates
Latest maps are stored directly on the device, so internet connection
is not required. Sygic offers only maps from premium providers
and provides frequent map updates at no additional cost for 3 years.
---
Multiple waypoints for loading and unloading
With Sygic Truck Navigation it's easy to plan ahead for the entire day and set-up routes with multiple waypoints for loading and unloading.
---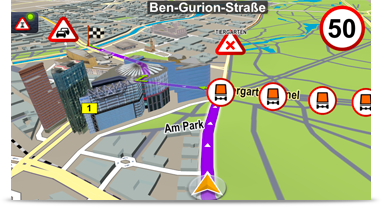 App with truck attributes
Truck parking and petrol stations stored on the device as points
of interest (POI) allow drivers to easily locate a place to rest or refuel. Drivers can enter attributes such as the maximum truck length, height, width, weight or hazardous materials restrictions into the navigation system to avoid roads that are not suitable for specific trucks or cargo.
---
Real-time traffic information
Avoid delays on the route and save fuel. With real-time warnings
about traffic jams and accidents the driver can choose an alternative route when needed. Available as an add-on service.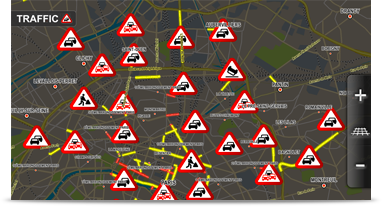 ---
Details
Maps

Sygic Truck Navigation comes with the latest maps from premium global and local providers

Languages

User interface and voice guidance are available in 36 languages.

Arabic
Bulgarian
Croatian
Czech
Danish
Dutch
English UK
English US
Estonian
Finish
French
German
Greek

Hebrew
Hungarian
Chinese – simplified
Chinese – traditional HKG
Chinese – traditional TWN
Indonesian
Italian
Kurdish
Latvian
Lithuanian
Malay
Norwegian
Polish

Portuguese BR
Portuguese PT
Romanian
Russian
Serbian
Slovak
Slovenian
Spanish
Swedish
Thai
Turkish
Join our affiliate program
Integrate Sygic Truck Navigation with your solution or earn referral commissions by sending customers to our app.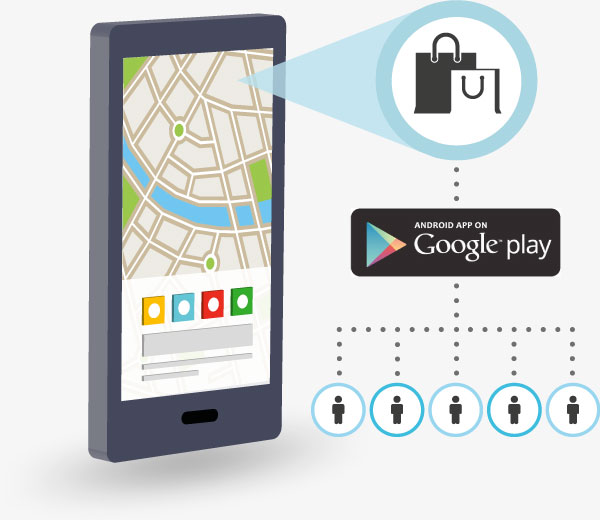 Integrate Sygic Truck Navigation with your application
Sygic Truck Navigation can be seamlessly integrated with other
trailer tracking applications to enhance the efficiency of your system.
After integrating Sygic Truck Navigation into your app, the drivers working
for you can purchase the navigation software from Google Play – making
distribution to your drivers' devices easy, and saving you time and money.
Affiliate program
If you have your own application on Google Play store,
advertise Sygic Truck Navigation in your app and you will be rewarded!
How does it work?
1. Contact our sales team representative to join the program
2. Use a unique tracking link to redirect users to Sygic Truck Navigation
on Google Play
3. When your users purchase full license you will receive a share of the profits

Contact us
With each business product you will also get:
Easy updates to the latest maps


Your customers can get the latest maps with our Sygic Update Assistant. For customers using Sygic Truck Navigation, updates are delivered directly to their device vie Google Play store.

Professional support


Our dedicated support team is ready to help you configure our products for your device or integrate our SDK.
Contact us
---
Other professional products