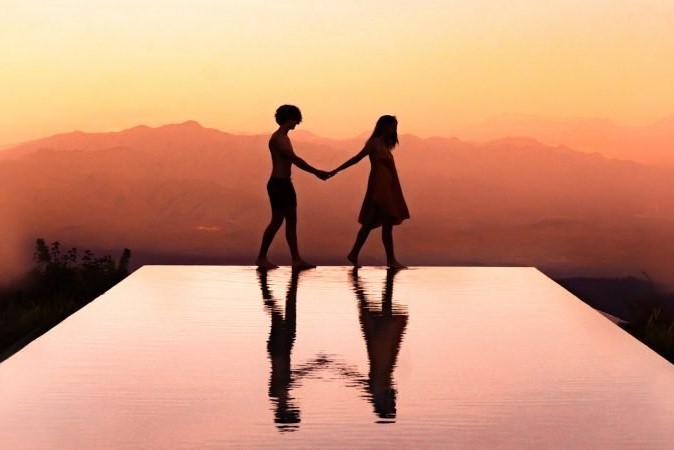 Trip and holiday planner Sygic Travel asked travelers Nick and Hanna a few questions. Check out their blog called Salt in our Hair or follow them on Instagram.
How would you describe yourself in 5 sentences?
We are two creatives who love to travel the world together but also with friends. If we're not travelling we're in a restaurant tasting the best food in the area. And we can get ourselves easily into a lot of work because we're perfectionists.
What is your greatest personal accomplishment?
Being able to travel and build a life (think about the future) at the same time.
You have beautiful pictures on Instagram. Who is taking them (especially when you are both in a shot)? Who is editing them?
Most of the time Nick takes the photos and I (Hannah) edit them. We put our camera on a tripod when we both want to be in the shot.
I see you are using a drone to make your videos. Is it safe? Do you need a permission to use it in various countries? Btw, your videos are just amazing!
Thanks! It gets harder and harder these days. This year it has changed a lot when it comes to drone rules. We always search on the internet to find out what the rules are in the country but sometimes the rules change so fast. We had this problem in Morocco. Our drone was confiscated at Marrakech airport. We didn't knew it wasn't allowed so we had to leave it there. :(
How is to travel as a couple?
We really like it! It is so much fun to share all these experiences and when you feel a bit down there's always someone to cheer you up.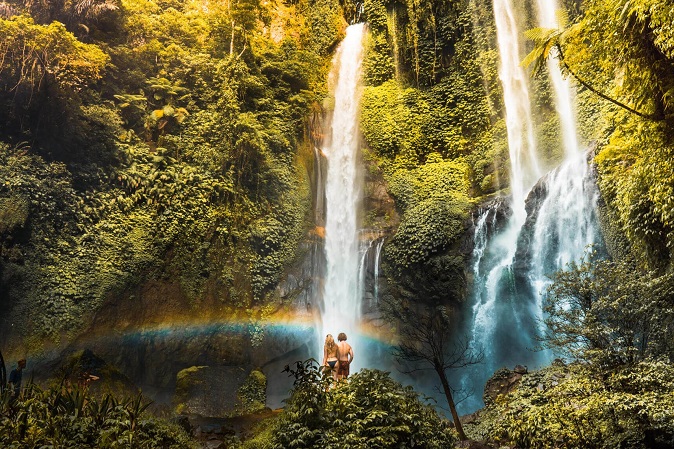 Is traveling your full-time job?
Yes, it is! So happy to finally say this, because we just quit our corporate jobs at the end of last October, so that is very recently.
What do you love the most about traveling?
Meeting other travelers and local people, hearing their stories and being able to get real new friendships.
What is it you don't like about traveling?
Sometimes you get so tired of going from place to place. Especially in Asia when everything is going so slow. If they say: this bus ride will take you 3 hours, most of the time it ends up to 7 hours. When we started traveling these simple things were quite hard for us since we're from the Netherlands where everything is going so fast.
What is the most common misconception about being a traveler?
That we are on a relaxing holiday haha. Travelling drains energy but it is worth every second the moment you have arrived at a new location.
Why should people travel?
To learn about the world, themselves and see that there is more than their 9-5 job. We don't mean they should travel full-time but traveling a few times can give you some new perspectives on life.
Which destinations are at the top of your bucket list right now?
Indonesia and Nicaragua! Last year we traveled through Bali but there are so many more beautiful islands in Indonesia so we really love to go to East-Java. Nicaragua is a country we like to visit later in 2018. We've heard great things about it and we like the fact that it isn't that popular yet.
If you had an unlimited travel budget for 24 hours, what would your itinerary look like?
Not sure if this is allowed but we would probably fly to a country in Africa in business class since that is one thing on our bucket list. Spend all the money in one day on building a school + playground where kids really need this.
What is the most overrated country or location you've been to?
For now, we would say Marrakech. Although Hannah covered up perfectly, people in Marrakech weren't really friendly and too much used to the tourism. On the other hand in other parts of Morocco, the people were amazing! For example, we really loved the Chefchaouen (the blue city) this in our opinion a way cooler place to visit in Morocco than Marrakech.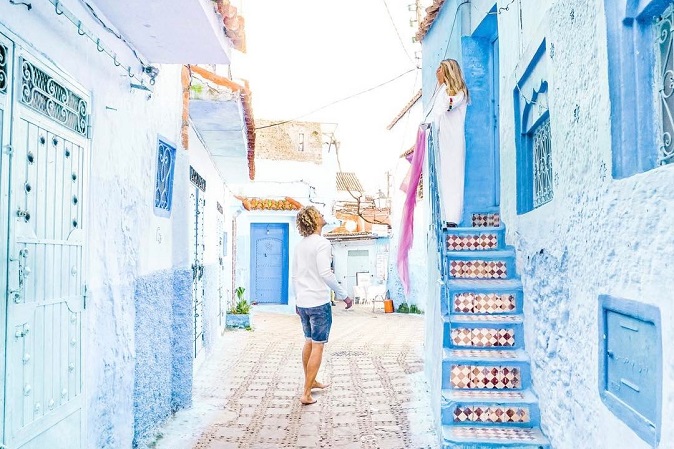 What is the most underestimated country or location you've been to?
Well, it's not really underestimated but we would say Bali. Now you could think: huh? But we've seen Bali in a whole other way than most tourists. A lot of people are saying 'Bali is the trash island of Indonesia, so touristy' and all that. We have visited a lot of waterfalls in the North and there were literally 5 other tourists next to us and our friends. Other than that we've visited Nusa Lembongan and Nusa Penida (which are two islands of Bali) these islands were incredible! Especially Nusa Penida is so laidback and has the best sights we've seen so far.
Thank you Nick & Hannah!
Simona from Sygic Travel
Sygic Travel has been helping people plan travel itineraries since 2011. Millions of people all over the world use their web planner as well as their iOS and Android apps.