Times when infotainment systems in cars and trucks were just a "showcase" of old technology seem to be gone forever. At last.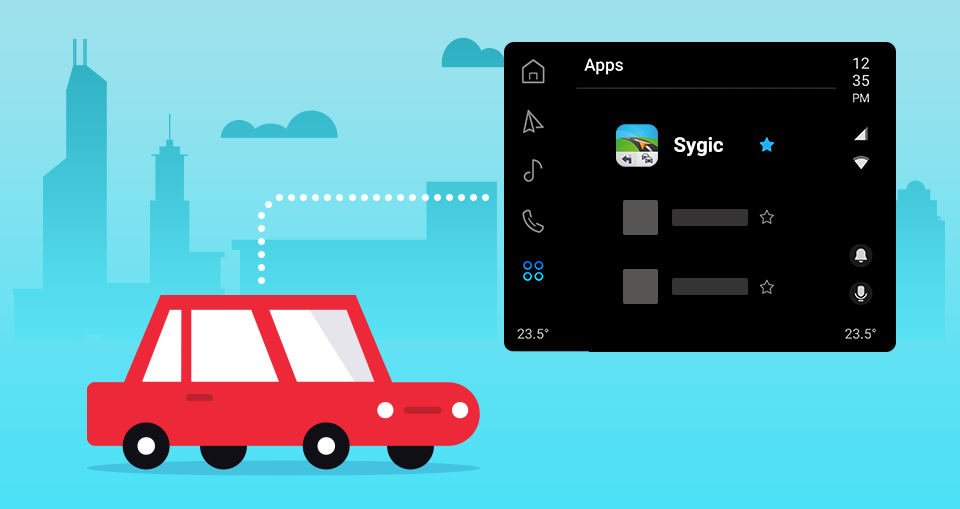 Our demands, as consumers and drivers today, are much higher than five years ago. The digital experience in cars should be at least the same as in our mobile devices. Connected, tailored, safe to use, and intuitive.
OEM-controlled in-vehicle Ignite app store from HARMAN International, powered by Android Automotive OS, meets all of the above. And we are happy to say that Sygic was among the first companies asked to join this special project with our navigations for electric vehicles and trucks.


Connected navigation
Connectivity is not just about connecting your smartphone to your infotainment system and projecting the contents of a mobile app anymore. Today we are talking about full-scale connectivity - not a mobile app, but a car app. Regularly updated, fully integrated, and with access to built-in car sensors and cameras.
It is the next logical step to the next-gen navigation for cars and trucks. We are currently working on an advanced neural network capable of leveraging front-facing built-in car or truck cameras, predicting dangerous situations en route, and warning drivers about them. While showing the directions in the real-world environment, the network is able to detect road signs and update map information at the same time.
Additionally, with access to car data, our navigation can read the battery information in electric vehicles and use the information to calculate the most efficient route. With over 300.000 available charging points in Europe, drivers can easily pay for the services directly via Sygic navigation without installing additional apps of various charging service providers.


Tailored, intuitive, and safe to use experience
One of the biggest advantages of the HARMAN Ignite Store is the curated content. Each app is unique in its own way but presented on the same layout. Drivers can quickly get used to it, resulting in a user-friendly and safe experience displayed directly in the car's in-dash device.
On the other hand, OEMs can benefit from expanding the user experience without paying high NRE and infrastructure costs. The navigation product features are easy to configure, delivering a unique proposition for premium groups of users and cost-savvy solutions for price-sensitive products.
With Sygic Truck, a GPS navigation for commercial vehicles, users can customize height, weight, fuel, and load of their vehicles to avoid narrow roads, low bridges, or penalties for entering low emission zones.


Join free Harman webinar and learn more about Sygic navigation solutions
For over 20 years, Sygic has been the industry leader and innovator in the navigation industry for cars and commercial vehicles. Register for free to webinar Cutting Through the Hype: Creating Apps for In-Vehicle Use, organized by Harman (Wednesday, July 21, 2021), where our colleague Martin Elexa will talk in detail about our solutions and visions for the future.


Sygic GPS Navigation and Sygic Truck Navigation
You can find more information about Sygic GPS Navigation and Sygic Truck Navigation on our website. Both apps are also available in the Apple App Store and Google Play store if you would like to give them a try before downloading in the HARMAN Ignite App Store.